Are you a DIY marketer struggling with Ecommerce Marketing?  Without correct details and information for a successful approach, it can be difficult, but this article by guest author, Patrick Foster, will put you on the right road…
Guest post by Patrick Foster
Need help understanding Ecommerce Marketing?
By definition, Ecommerce marketing is the process of driving sales by raising consumer awareness about an online store's brand and product offering. Marketing is required for any Ecommerce brand, and the best Ecommerce marketing combines traditional marketing principles with a multi-channel and data driven digital approach.
Let this article simplify Ecommerce marketing and help you navigate the waters of Ecommerce: it's really not as difficult as you think…
Core Ecommerce Elements
Ecommerce marketing can be broadly divided into two bitesize chunks that can be discussed separately. These are:
Driving website traffic

Optimizing website UX for conversions
Both are crucial components to any growing Ecommerce business: You can't fail in one without undermining your success in the other.
How to drive website traffic?
These form the three pillars of Ecommerce web traffic.
PPC Advertising (search engines)
Pay-per-click advertising is quite a simple concept: Search engines like Google or Bing offer businesses the opportunity to purchase listings at the top of a search engine results page (SERP).
These listings appear alongside or above organic (non-paid) search results. The search engine makes their money every time a user clicks on the sponsored listing. The end result will look much like the New York plumbers SERP screenshot below: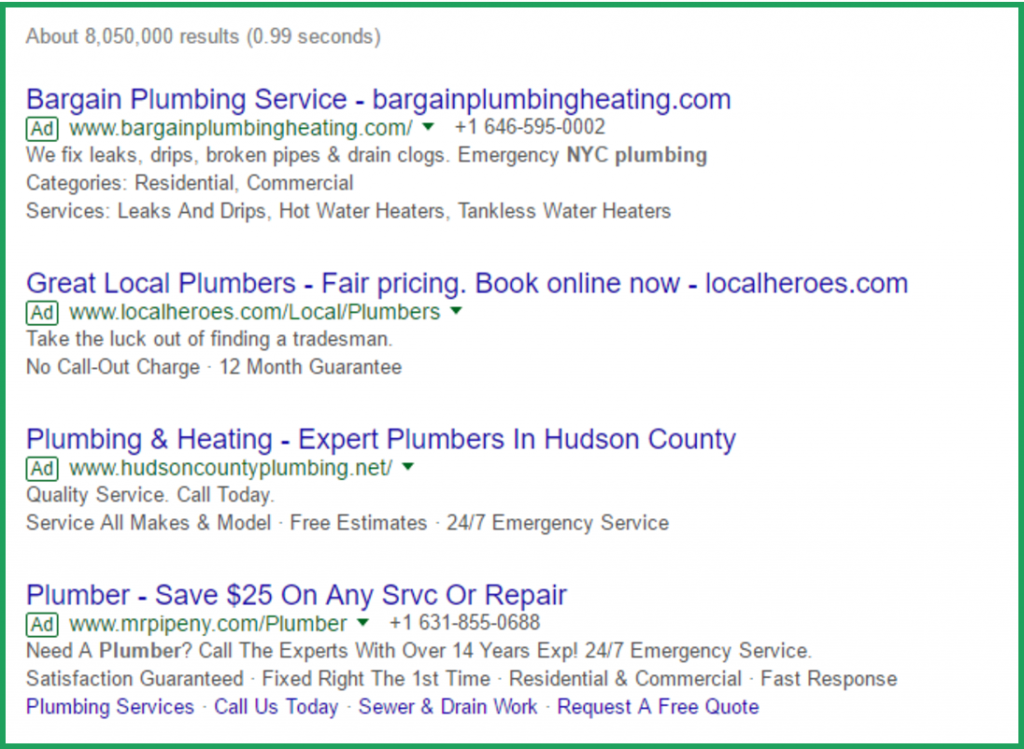 These ad spots are sold at auction and the highest bidder wins. Here's how to get PPC to work for your Ecommerce brand:
Research the key phrases your customers search for to find products akin to the ones you offer, and bid on these. There are so many ways to research keywords, such as the Google Adwords Keyword Planner tool, or free web-based tools like Übersuggest
If you bid on a keyword, you get the chance for your website to show up on the SERP. You will get some click-throughs the moment the ad is activated
Sometimes you can find niche long-tail keywords which have less competition and are a more cost-effective way to generate traffic
Spend time writing awesome ad copy and creating targeted PPC landing pages. You have to entice the user enough to make them click, and then make sure the page they land on meets their expectations
For ecommerce brands, PPC is often most relevant during a brand or product launch – it's also a pretty good long-term strategy for many B2B brands
PPC advertising does not scale – the more traffic you get, the more you have to pay.  Considering your Ecommerce marketing strategy, in the long term, it may be worth investing in other more cost-effective ways of generating traffic.
Let's take a look at those Ecommerce marketing ideas…
Social Media
The jury is in: Social media is one of the most powerful tools in your marketing arsenal, and you need to understand social networks to get to your customers.
With 2.8 billion people using social media by 2016 (up by 21% from 2015), it is clear that platforms such as Twitter, Facebook, and more recently Snapchat, are fantastic ways of reaching your target audience. 
However, social media is constantly evolving. It is worth investing time and money to learn how to use these platforms correctly. Simply tweeting or posting regularly a few times a week is not going to help you grow your Ecommerce brand.
Forget demographics and focus on engagement: No longer can marketers and entrepreneurs rely on certain demographics being active on a particular social network. Drew Benvie of Battenhall, a communications agency, declared that

we are in a new social media age

: Demographics no longer apply. Your target audience is most likely to use multiple social networks in different ways. Benvie elaborates that brands should aim to learn more about consumer behavior and study the way their customers use the networks. For example, he suggests that Snapchat is a fantastic way to creatively engage with consumers with witty and humorous video content to drive them to your online store. Do the same and focus on creating meaningful and platform-relevant content like beautiful product pins for Pinterest, great pictures and hashtags for Instagram, or funny memes and videos for Facebook
As an ecommerce brand, you will also need to get to grips with customer care on social – it's all out in the open, so make sure you are good at serving your customers
Social media should be anchored in content strategy, not just something you approach on a reactive basis. It's important to have an overall social plan for your store that promotes key products during their peak seasons, but you should also plan to share user-relevant content and attract social proof
Social media advertising and selling on social are great ways for budding entrepreneurs to find their Ecommerce feet –- keep your target audience small at first, and make sure your visuals are appealing as they will massively impact conversion rates
Organic Traffic With SEO
In the long term, it is probably worthwhile to set aside some time to work on the SEO of your online store. SEO is one of the most cost-effective Ecommerce marketing strategies; and it can be really easy to do (once you've had some guidance).
Sending more organic traffic to your web pages is the hallmark of SEO. If you're looking to grow your organic traffic above all else, this is the strategy to implement. The benefits will help you to cut costs on ecommerce marketing and advance your online presence. 
Here's some advice:
On-page optimization: Use your keyword research to decide what keywords to focus on for each individual product page. Check out this previous post for an in-depth guide on

how to optimize content pages
Consider what other SEO content you could include on your site to add value to the customer and rank for more keywords. Category descriptions, buyer's guides, relevant blog posts, and product videos are all great examples of easy-to-achieve ecommerce content
Don't forget about the power of links for SEO, but do not overuse them. Internal links within your site to other relevant pages assist Google to crawl your site and rank you for more keywords. Remember to vary your anchor text and consider using broad-match terms to add more context. Getting backlinks from other sites is also really important for an online store – content marketing and working with bloggers is probably the best way to manage link building for your store
If you're in a hurry or strapped for cash, use an ecommerce platform that ticks most of the SEO boxes so that you can focus on content and social media instead.

Shopify is an example of an online store builder

that enables you to easily SEO-optimize your store by modifying details such as URL slugs, alt texts and meta descriptions
Optimize Your Site's Mobile UX
Let's be honest, the modern customer is a fickle character: They expect an easy online shopping experience on every device, and will move to your competitor if your site is not up to scratch. And 87% of millennial smartphone users state that their phone never leaves their side, day or night, so you better be capitalizing on mobile commerce…
It's time to optimize your store for mobile users.
Here's how:
Adopting a fixed navigation bar including easy links to a homepage, online basket and checkout is a must – everything your customer needs should be there on the first screen. If you get this first touchpoint right, your customers will cruise through their purchase journey with ease, and you will make more sales
Work on how your product imagery will translate to a mobile device. Using a grid format or positioning your product images front and center will keep your store looking professional
Minimize the use of text with your mobile design. Mobile users are far less likely to read reams and reams of text – cut to the chase with bullet point lists and attractive product photographs
Have you heard of a sticky 'add to cart' button? This is the best way to constantly encourage your customers to purchase your products, as this button follows them around the page
For more information on how to improve your Ecommerce website, check out one our previous articles for advice.
For Ecommerce Marketing Success Keep On Top of

 

Online Trends
The online world changes at a rapid pace, so it's really important to keep on top of changing trends if you want to stay in the game.
For example, Google's algorithms constantly undergo incremental changes which are (unfortunately for SEOs) unannounced. These changes can be to your advantage. For example, Google's Hummingbird update has increased the importance of semantic search, making exact keyword matching less important, enabling greater creativity when optimizing online content.
The best way to stay on top of the latest news in tech, Ecommerce and social media is to stay plugged in to the online communities. Peruse news websites and sign up to social media groups to keep yourself in the loop.
Ecommerce Marketing Roundup
Ecommerce marketing really isn't as difficult as you may think, but it does require constant work. Here is an Ecommerce marketing plan sample & the key points of this article, for you lunch-break scrollers:
Driving website traffic can be done in many ways, including PPC advertising, social media and SEO

Optimizing UX is the key to increasing conversion rates: your customers should be able to quickly and simply glide through their purchase journey

Staying up to date with current digital trends is really important: this will help you with everything from business development to marketing
What have you learnt about Ecommerce marketing from this article?
How will you improve your online store?
Let us know in the comments below…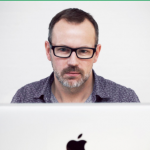 Author Bio
Patrick Foster is am Ecommerce entrepreneur,  freelance writer, and contributor to multiple marketing and Ecommerce blogs.  He is passionate about business, start-ups and all things social.  Connect with him on Twitter and Facebook.