Growing your business and looking for ways to scale your eCommerce startup? Here are five proven ways to let customer experience add to your bottom line…
Guest post by Kunjal Panchal
Hoping to scale your eCommerce startup? Here are 5 clever tactics you may not have considered!
Congratulations on opening your online eCommerce store!
But is your eCommerce store gaining momentum?
Anyone can create a startup or run an online business. The challenging part is to grow it and turn it into a profitable venture. Scaling an eCommerce business is one of the hardest jobs. It takes a lot more than just a beautiful website and some products…
Herb Kelleher, Founder of Southwest Airlines put it best:
"If you're an eCommerce business, you must be very persistent and patient. Just because you have a great idea, doesn't mean that people will shower gold coins on you. You have to work like crazy to bring that idea to the attention of people. People are not going to buy your product unless they know about it."
In 2016, eCommerce sales in US grew by 15.6% to $394.86 billion.  
BI Intelligence research predicts that U.S. consumers will spend $632 billion dollars online in 2020. Thanks to smartphones and tablets, we live in the digital age.
If you're one of the top 25 promising e-commerce companies you can use the tactics that follow.  Most certainly, for small businesses – Here are 5 quick (and clever) ways to scale your eCommerce startup.  An eCommerce startup guide, if you will…
1. Automate Your Marketing
Let's imagine you're sitting on the couch, playing with your kids, while your eCommerce business takes care of its own marketing. Lovely thought, right?  The good news is that marketing automation can make this possible.
eCommerce Startup Tip: Big brand eCommerce retailers like Amazon use streamline their marketing tasks with marketing automation.
What is marketing automation, you ask?
A definition from Hubspot:
"Marketing automation is a software that exists with the goal of automating marketing actions. Businesses have to automate some regular tasks such as emails, social media, and other website actions. Marketing automation can help you to make these tasks easier."
Marketing automation can:
Help nurture your leads
Generate conversion
Increase ROI
On average, 49% of companies are currently using marketing automation.
ECommerce Startup Cost Tip: Possibly the best part – This is usually a budget-friendly option.
Take a look at this email received from Amazon. They recommended some books for him based on his browsing and purchasing history.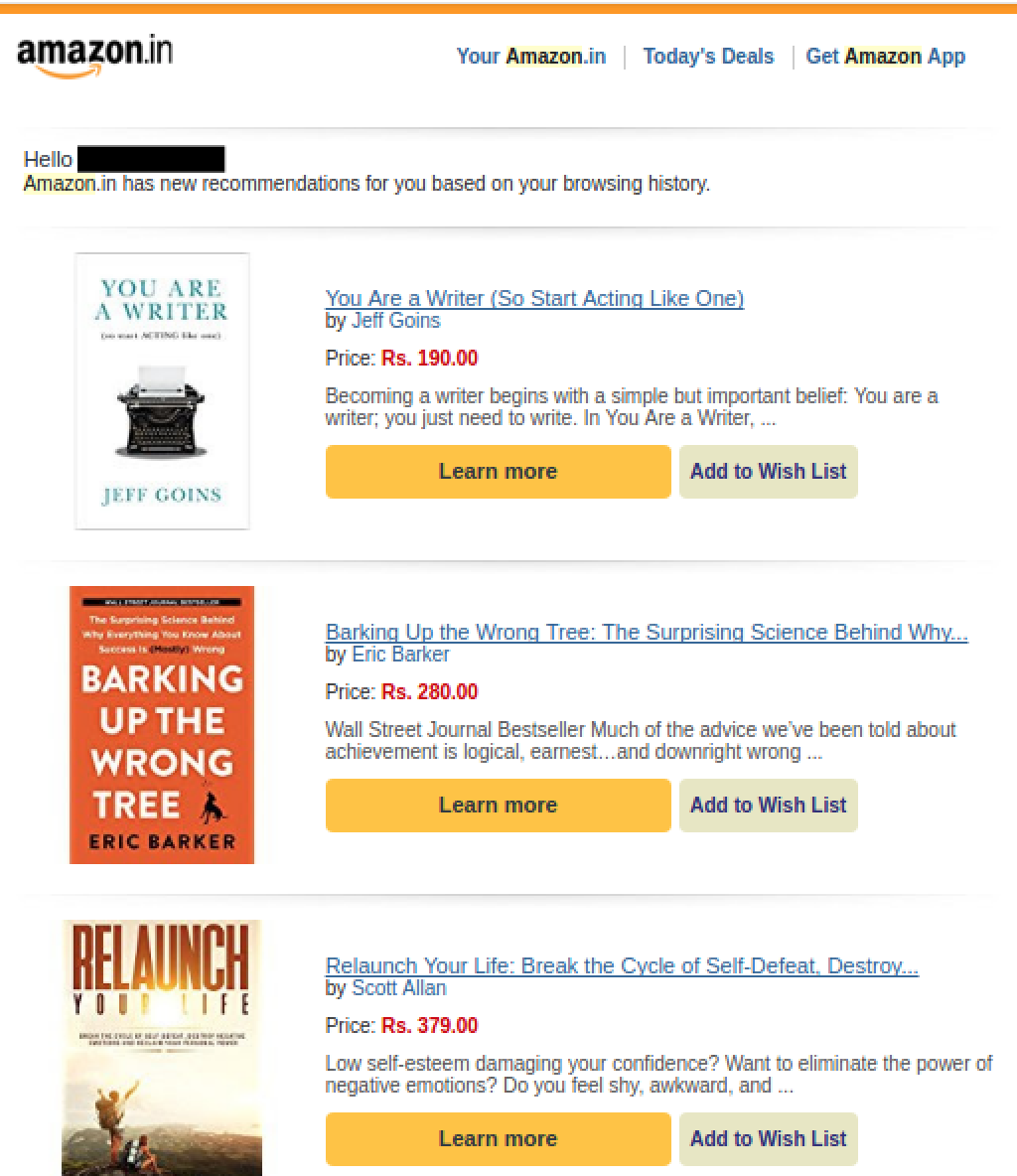 2. Provide Next-Level Customer Experience
Jeff Bezos, Founder of Amazon, put it best:
"If you do build a great experience, customers tell each other about that. Word of mouth is very powerful."
Providing stellar customer service should be your number one priority — No matter what type of business.  Building a trusted relationship with customers is essential to make your startup successful.
Now, consider your favorite brand…
Why that brand is your favorite?
Chances are, because you feel they have a customer service relationship with you!
Do you still require some proof?
Ponder this business savvy fact:
Happy customers tell nine people about their experiences with a company.  (Unhappy customers will tell double, triple, and sometimes quadruple that – Social media only amplifies those numbers)
eCommerce Startup Tip: Listen to your customers, understand their needs, and always solve their problems. Take it step further and make it even better because customer service is the new marketing.
Amazing customer experience can be nurtured through your:
Website

Email

Social media

Blog content

Live chat
See how Nike provides support on social media: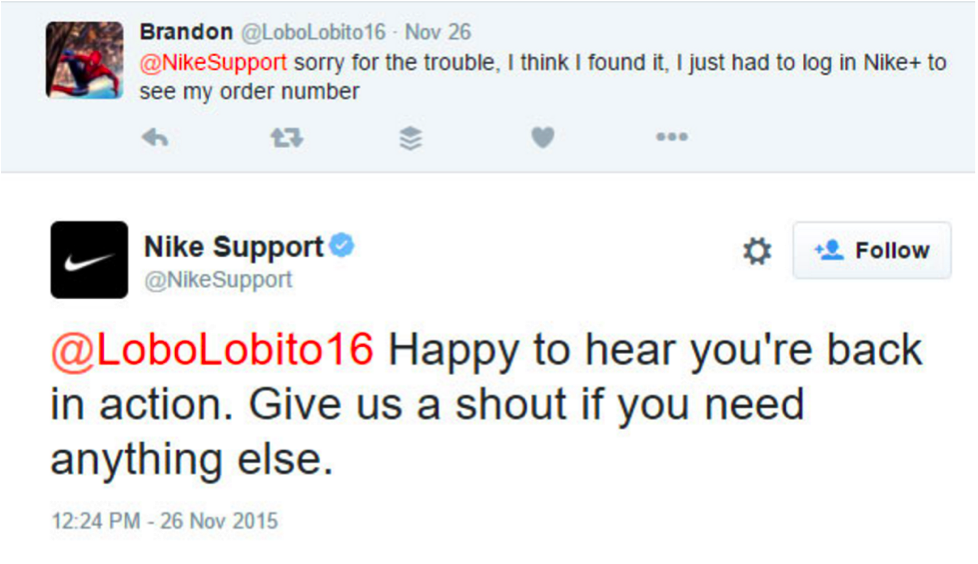 3. Deliver Value Through Email
As an eCommerce startup, you should always be looking for the opportunities to improve your conversion rate. And email marketing is one of the best opportunities available for you!
eCommerce Startup Tip: If you're not using the immense power of email, then you're leaving the money on the table.
To back that up…
89% of marketers indicated email as their primary channel for lead generation.
Email is a great channel to:

Educate your audience

Nurture your leads

Deliver something valuable
And build a close a relationship with your customers.
Never try to sell, always try to help. Always provide the best and actionable value in your industry. Tell them a story and try to connect emotionally with your audience.
You can grow your business by making small changes in your strategy as you go.  Always provide some benefits and incentives in your every email. Show your subscribers that you care their inbox.
Check out this email from NatureBox. They provide a "Free Box" (incentive):
4. Start A Referral Program
Imagine you have a lovely online store. You offer the great products and are always ready to help your customers.  Remember, just by doing those things, you decrease the chances people won't love your products or customer service.
A challenge may be, unfortunately, that people may not be hearing about your store or quality of your products unless they've purchased from your business.
Solution: You need to find a way to reach more potential prospects (and let them find you).
A referral program can be of big benefit. Your happy customers are your best promoters and brand ambassadors, right?.  Give your customers the opportunity to refer your company to their friends and family. Offer them irresistible incentives in return – they'll appreciate it and be enticed to oblige.
eCommerce Startup Tip: Referral marketing can help you to reduce your business expenses, get new leads (or clients), and generate ROI.
Mark Zuckerberg says it well:
"People influence people. Nothing influences people more than a recommendation from a trusted friend. A trusted referral is a holy grail of advertising."
Here's an example of Gilt offering a $25 referral reward for customers: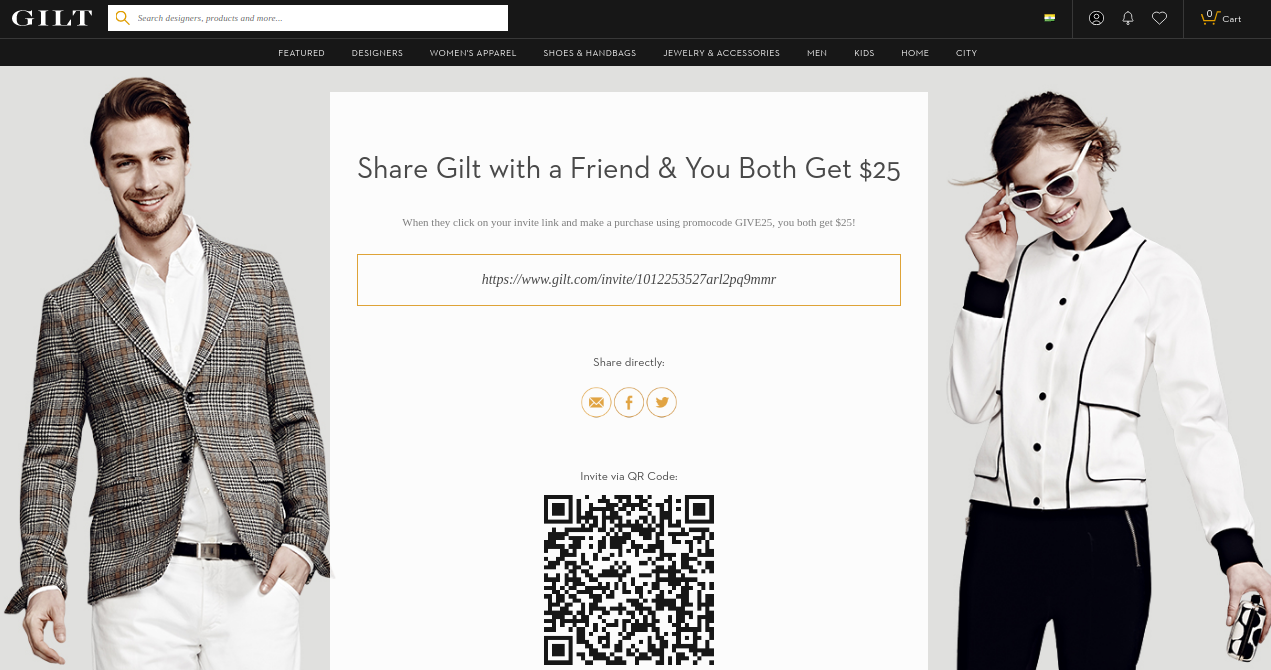 5. Show Love For Chatbots
If you have an eCommerce business, then you probably heard about chatbots and their role in online marketing and customer service.
Here is a quick and simple definition of a chatbot:
"In its most basic form (we'll use basic as a relative term here), a chatbot is a form of artificial intelligence that combined with rules and algorithms that allows for a text-based chat interface to communicate with others. A chatbot lets brands interact over chat with their prospects and customers."
Did you know? 90% of our time on mobile devices is spent on messaging platforms.
So you might imagine, chatbots are a HUGE opportunity for your eCommerce startup to build something your audience wants. At the same time, the implementation will take your customer service to the next level.
As an example, DOM is the chatbot of Domino's Pizza: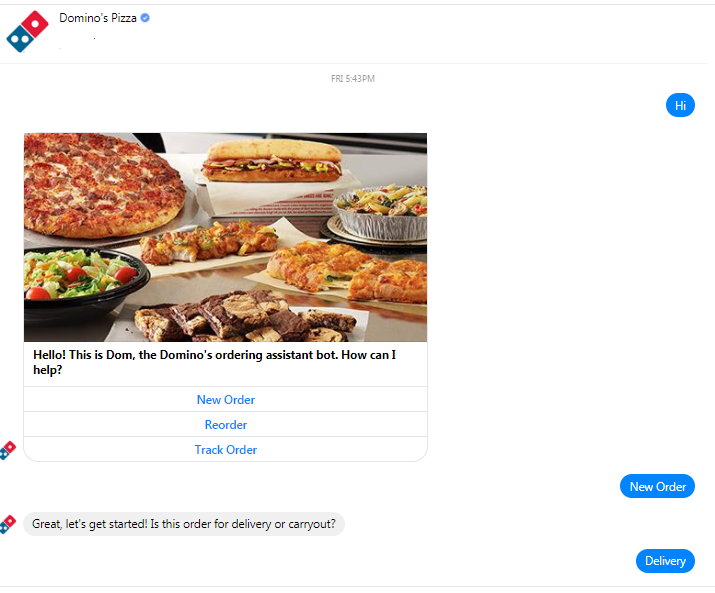 eCommerce Startup Ideas – Some Final Words
We have gone through details of five quick (and clever) ways to scale your eCommerce startup, and hope you find this list helpful for your eCommerce business.
Care to share your favorite tactic?  Which technique will you try first with your eCommerce startup?  Please drop your thoughts and questions in the comments area below.
Regardless of size – New, small business or big brand – Good luck with your eCommerce startup! 🙂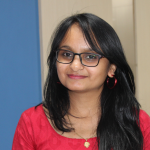 Author Bio
Kunjal Panchal is a Digital Strategist and a social media geek. She is passionate about content marketing and strongly believes in the power of storytelling for marketing. A perfect day for her consists of reading her favorite author with a hot cuppa coffee. Find her on Twitter and LinkedIn.