Do you publish content online, and looking for the best way to organize and share it? Then The Content Planner by Angela Crocker is your go-to resource.  Here is a personal, honest review of the book and it's tips & tricks…
Have you been looking for a content planner that includes everything you need to know and do?
Then read on – This book will help you:
Create your own content planner template
Identify best content planning software for your specific goals
Succeed at content planning for a website
Write, and create visual content more professionally
And organize and share your ideas online.  This book is what any online marketer or publisher needs to create an editorial calendar, and identify the right tools to continue effectively evolving it.
In short, it's a seven-step guide to help you build a better content plan.
The Author Of The Content Planner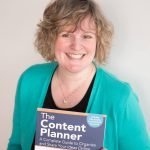 It is only fair to disclose that I know the author, Angela Crocker.  We met at Social Media Success Summit 2011 – Back when these events were only online.  She and I have remained in contact since then, and even participated in some of the same personal and professional development activities.
There is a personal element to Angela's published projects – Her approach is personal, treating the reader as she would hope to be treated herself.  I know Angela to be intelligent, well-meaning, helpful, resourceful, and pleasant.  You will definitely find evidence of this in The Content Planner.
Familiar with Angela's previous publications, this is her third book.  What do I especially like about it?
Lets crack it open…
The Content Planner: Your Content Strategy Guide
A Known Author
As stated above, this is someone I know and can recommend this book with confidence.  Additionally, she is both self-published and published by others.  Her works continue to delight audiences with more to come.  So, readers can enjoy this book knowing they have something really great in hand and eye.
Clever Introduction Chapter
Chances are, if you are reading this post, you create content for social media, blogs, and other online platforms.  So, you know that the online world is constantly changing.  Creating content can be a whirlwind…
Angela provides an introduction chapter on how to use the book.  Her recommendations help you, the reader, understand how to use the book — for the long-term.  You'll extend the life of your content, and your investment in the publication itself.
Author Tips
Throughout the book you will see an icon with a person sitting at a desk with a laptop computer.  Next to the icon are key points – takeaways from Angela.  Like golden nuggets.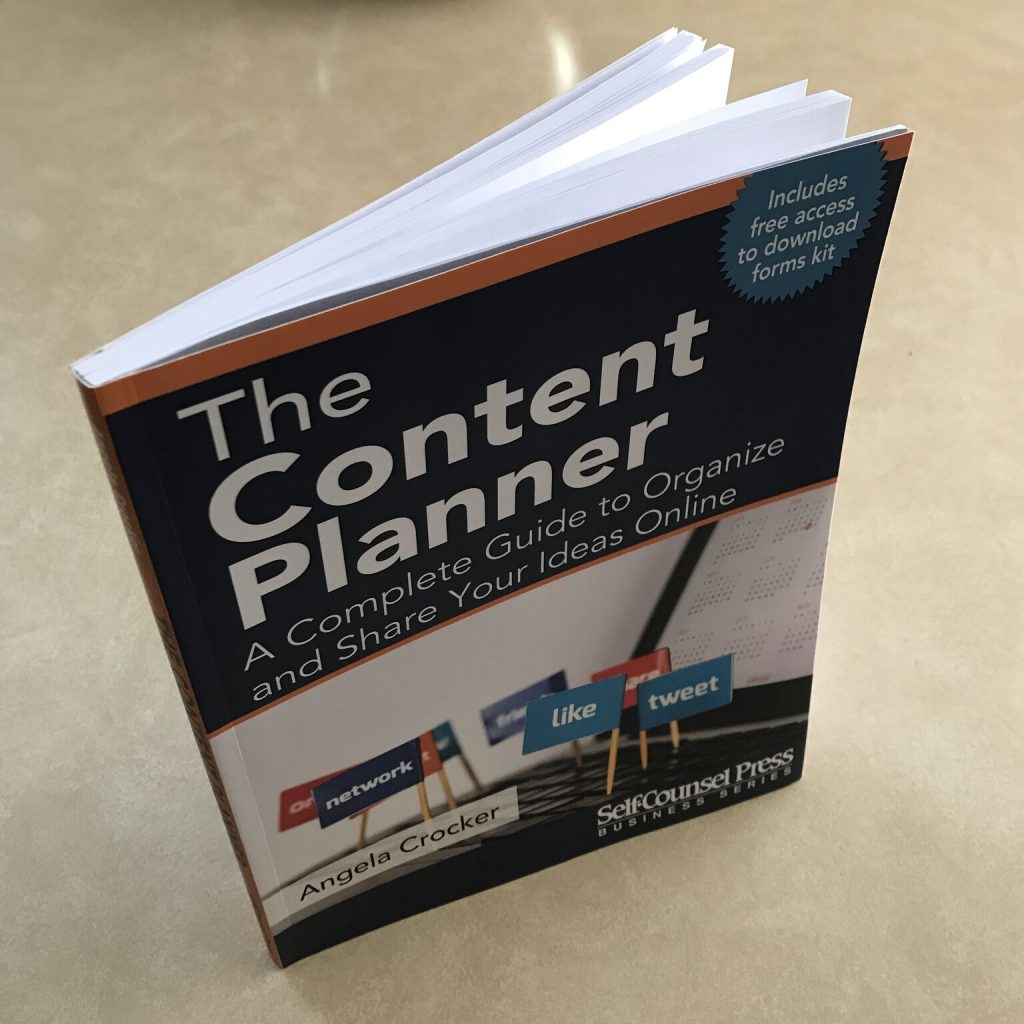 Clear & Concise
You get real language for real people here.  Very efficiently written.  Not lots of jargon where you need a decoder ring.  Breaking it down:
Introductory how-to
Guide
Workbook
Download kit
Only 159 pages, yet all offering tons of value!
Image Examples
They say a picture is worth 1000 words.  Especially true when discussing content.
To help the reader understand essential concepts and recommendations, the pages include visual aids.  Not excited about using up all of your printer ink?  The Content Planner workbook contents are copier ready – All the charts, forms and worksheets!
All-inclusive
I was not kidding.  Everything you need to create and publish quality content, AND track results is in the book.  So, the companion Content Planner Workbook is right in the same book.
No shuffling or lugging around multiple items.  All-in-one!  (I love that)  🙂
Downloadable
Not only do you get a handy resource written clearly and efficiently with visual examples that you can copy for your own use, you get a free-access forms kit.  Yes, you can download the charts, forms, and worksheets from The Content Planner workbook!
Keep them on multiple devices, share with your team.  As long as you have Internet access, you're good to go.
Homework Optional
Like all things, your success will depend on what you do with the information in the book.
The Content Planner really is a complete guide to organize and share your ideas online!  Inspired?  Share it with your friends:
You can pick up The Content Planner from Angela or from the publisher.