January Jig saw the coming together of an experienced group of marketers who all wanted to give something back to their Facebook community. They provided free training which was hosted and organized by Idea Girl Media… check out some of the videos here…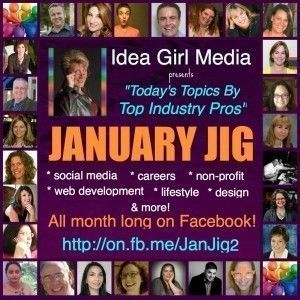 You know a project is successful when you hear words like:
"The pleasure is mine and I am amazed at the learning and sharing!"
and
"This was a blast and I'm thankful to meet new people and share ideas today."
Quotes like that have been common as we got deeper into January Jig and explored more business and real-life topics.
#JanJig
After the success of the Pre-Holiday Facebook: Game Of Like, January Jig was put together quickly as an experiment to test collaboration on Facebook among a group of professionals.  The goal was to bring new topics to people, providing them easy access to new concepts and tips that would help them grow their business.
January 2012 brought high enthusiasm and 26 high-energy professionals presenting their knowledge and expertise on my Facebook Page.
While fans have reported learning a lot, presenters have pushed their envelopes to grow as well.  We began to see some patterns emerge – The most interesting, the value of video!
Setting The Standard
January Jig panelist, Greg Welch of CVP Marketing Group, kicked off the event with the topic Video Marketing.  He shared resources, tips for DIY success, and provided examples of some of his company's videos produced.  So soon after the holidays, he offered their video Christmas Card:
Greg and his team proved that it is possible to produce high quality video and still be personal.
Christian Hollingsworth of Smart Boy Designs frequently uses quick video greetings to reach out to his circles.  Take a look at his introduction before talking about WordPress Plugins:
The message here is that it can be simple – Video is a perfect way to begin conversation.
If You Record It They Will Come
Karla Campos of Gig Logo, did a video introduction for her segment "Using Blogs & Social Media To Increase Your Online Presence."  But she also did a screen share to feature a tip:
A handy resource tutorial she can keep in her tutorial library!
Coming Out Of The Closet
Well, not really.  Maybe more like "Hide & Seek."
The video sensation was catching on with January Jig presenters.  Yet, most were shy and still "hiding" behind their laptop monitors…
Karleen Harp of ResumeSmith was the first to push the envelop and step out of her comfort zone to introduce conversation about Career Branding:
All the way from California to greet people bright & early in the Eastern Time zone!
The trend continued!  Before Alex Marie Manriquez of My Social Calling saw the sun, she recorded this special greeting gearing up to cover Facebook Ads For Real People:
Are all California girls morning people?  🙂
Nothing really to run from, Dorien Morin-van Dam of More In Media left her comfort zone to prepare her introduction for an eager audience:
You'd never tell our marathon runner in training was nervous!  Great way to say hello before discussing Social Media Training!!
Dave Gallant rocked Social Media Strategy hard, and came in mid-day with a friendly greeting:
Quite worth it to peek out from behind the computer, eh?
A Bit More Formal
…And action-packed!  Mary Beth Dunn of Consider It Dunn Strategic Connections shared a video made to highlight how she helps professionals make game-changing connections:
Curious about where YOU should speak, sponsor and network to increase your visibility?
Perhaps the most profound and touching video presented during the January Jig so far is one produced by Annemarie Cross.  Her "Self Belief Movie," provides a rock solid base of esteem for every aspiring woman entrepreneur!
DON'T MISS IT — PLEASE DO NOT LEAVE THE PAGE WITHOUT WATCHING THIS VIDEO:
If you are just beginning as an entrepreneur, or have overcome an obstacle in a self employed position, I know you will appreciate the video above!
Annemarie is a branding expert and business coach that specializes her work with women entrepreneurs.
Puttin' The Jig In It
We all scurried fast, and were having a ton of fun!
…And then my environmentally conscious friend, Michael Q. Todd, asked a question:
What if we really really were the ones we have been waiting for?
Listen even more closely to Michael…
"Welcome to 2012. This is the year in which the Mayans prophesised that the ones we were waiting for would appear more openly having connected in the past few years. I hope you will watch the video in the first comment which explains how things have developed in the past ten years. Things are about to speed up radically and we are at the centre of it. Changes that might previously have taken decdes may now happen in days,..
So what if a few things?
What if the best collaborators liked to do so in a random way? Did not like meetings and planning. Stuff like that.
Example.  My facebook friend Keri is playing bigger by profiling 25 of her friends for a day each this month. Keri is a random, open and supportive collaborator…
What if you did what Keri is doing this with 25 people you thought were worth promoting and supporting? What would happen if you did that? To learn more follow the hashtag #janjig on Twitter."
Michael gave gravity to his message with this video:
Makes ya think….with a beat.
I liked that he gave others a challenge!  Encouraged them to reach out and collaborate too!
That is what the January Jig is all about — Social Collaboration!! 🙂
But There's More!
The video highlights above are only most what made it to video for this online, Facebook event.
Other presenters offered great insights through photos, text, and published posts.
And too…
There are several more days left of the January jig where other fabulous professionals will share some of their best tips.
All on Facebook — Where you're already hanging out!
Want in??
Click here to see each presenter and topic — Each day until January 31, 2012.
Here's the Facebook Page they're hi-jacking, so we all have a ton of fun: http://on.fb.me/JanJig2
Follow the conversation and get updates on Twitter: #JanJig
What do you think of the January Jig idea?
Have you attempted any type of social collaboration?
Please share your thoughts in the comments box below…