Would you appreciate tips and tools to help you curate trending news topics?  Are you with conservative values and frustrated with trending news on Facebook?  This article will help you customize your own content curation efforts to always see trending topics of your preference…
Did Facebook really suppress Republican trending news on Facebook?
The jury is still out on that…
Before we discuss the "how," it is prudent to cover "why" it is important to understand accessing trending news on Facebook.
When the story broke about the possibility that Facebook was intentionally intervening to suppress conservative trending news on Facebook, it caused quite a ruckus.  So much so, that Facebook CEO, Mark Zuckerberg made a statement, and their Vice President of Global Operations also went on record adding to Zuck's words.
They were concerned…and appropriately so.
After all, it is a big election year in the United States, and details of the historic event will stay in trending news worldwide for a long time.  …Not a favorable situation for the biggest news distributor on the planet.
Get that?
Biggest.  News.  Distributor.
(On Earth)
The Controversy Around Trending News On Facebook
A copy of Facebook's Trending Review Guidelines was scandalously leaked to the press.  The document

describes how the Facebook editorial team should treat:
Real-world events
The review process
Content standards
Attribution
Procedures for hashtags and video
Topic importance level
Secondary topics
Blacklisting items
Workflows
Tools
And a few other things.
The main concern is with blacklisted items and how long those topics are suppressed and why.  The document specifically mentions the "Manual Trend Curator."  In other words, actual people that manually curate these topics.
Guffaw…?
Uh huh.
From here you will discover:
How Facebook works
What that means for conservatives
Insights on Facebook's meetings with the conservative community
Facebook's "remedy"
Tips for managing trending news stories
All as it pertains to trending news on Facebook.
How Facebook Works
As this news evolved, correspondents reported the story, talked about trending news topics, yet they kept saying, "but I don't know how Facebook works."
So, for those curious, here's the map:
Clear?
Well, if you have a big purple question mark floating above your head, you are not alone!
The above image is "the formula" for Facebook's algorithm, "Edge Rank."  In other words, how Facebook works.
Lets break it down…
Rank  =  Affinity  x  Weight  x  Decay
Rank: Pertains to which of your connections' stories you see in your Home feed, and in what order.
Affinity: The score between the viewing user and the edge creator (post source).
Weight: The weight for this edge type (create, like, comment, tag, etc.).
Decay: The decay factor based on how long ago the edge was created.
Even if this does not totally clear things up, you at least have some understanding that Facebook marketing requires some technique, and it really matters how your posts land in the news feed.  Engagement means everything for earned media.  And you don't see engagement if people don't see your posts.
So, if your story is top trending news and you are doing everything right to get your information to the masses, but someone at Facebook is purposely holding back your trending news articles it would make a big difference on how people perceive trending news on Facebook!
Further, trending news topics would hang around longer in the Facebook news feed allowing more people the opportunity to view them because they would attain a more favored Edge Rank.
Let us also keep in mind 44% of US adults get news via Facebook. (Pew Research Center)

Trending News About Facebook Became Trending News ON Facebook
The news of potential manipulation of Trending Topics spread fast!
Mark Zuckerberg quickly reached out to well-known conservatives and invited them to meet with him at Facebook's headquarters.  This became news, and it was indeed part of the trending news on Facebook.
Some opted not to accept his invitation, as they felt the effort was not genuine, and just an attempt to calm the waters.  In their defense, it may have seemed more credible if more were invited to attend the meeting and conversation was planned for a day or two, instead of a mere few hours.
Others went enthusiastically, and were interested in building a bridge.  A few at the table were:
Dana Perino
Tucker Carlson
There were positive comments following the meeting.
From Mark Zuckerberg:
His words seemed fair and genuine.  This surprised me:
"…Fox News drives more interactions on its Facebook page than any other news outlet in the world. It's not even close."
Dana Perino and Tucker Carlson – Both of Fox – Took to the new Facebook Live feature to share their experience:
They made me smile.  Facebook Live is so much fun!
Facebook Follow-up
The headlines reporting the meeting with conservatives at Facebook were closely followed.
Pundits quickly had their views to share – all pretty similar.  Initially the main message was that Facebook's CEO vows to level the playing field regarding trending news on Facebook.
Okay.
Facebook finished their two-week internal investigation of the original allegations, and found no evidence of systematic bias.  But that is still debatable, based on Gizmodo's original news report including words of the opposite from former Facebook employees.
Following the meetings with conservatives at Facebook HQ, Gizmodo reported Facebook's announcement of sweeping changes to the trending section including:
Facebook will no longer rely on external news websites or RSS feeds
Facebook is also renaming some of the tools its curators use
While avoiding a noteworthy claim of responsibility, the social network's team stated that their investigation did uncover opportunities to improve their service of trending news on Facebook.  In addition, they wish to remain open to all groups and individuals and restore trust in the Trending Topics feature.
Okay.
Face The Facts
Let us keep in mind that there are potentially more liberals using Facebook.  In turn, if there are more liberal users interacting with trending news topics, then Facebook's Edge Rank algorithm will naturally show more liberal-oriented news.
Also, any good business is going to react to serve their active and enthusiastic customers.
What's a conservative to do?
How Conservatives Can Access Trending News On Facebook
Below are five ways to easily access trending news on Facebook with conservative interest.  You should walk away with tips to implement right now, and also improve, according to your preferences, into the future.
1) Use Facebook
That's right – Use Facebook.  Engage: Like, comment, and share.  The more you do those things, the more catered to your interests Facebook will be for you.
Facebook will show you more stories like the ones you interact with.  So, if you want to see more from your friends, interact with those friends' posts.  If you want to see more from Facebook Pages or, specifically, conservative news stories – Yes, you should engage with those posts.
In other words, you will influence your very own trending news on Facebook!
Journalists have a special opportunity…
At no cost, Facebook lets "journalists use Signal to surface relevant trends, photos, videos and posts from Facebook and Instagram for use in their storytelling and reporting."  They can:
Discover what's trending
Display leaderboards and compare
Search Instagram and Facebook for specific content
Curate content and data
Embed online and offline
It's a pretty cool looking tool!  (I requested access awhile ago, but have not heard back.  Perhaps Facebook is looking for a different kind of journalist?)  😉
If you're a journalist, sign up to be a part of trending news on Facebook with Signal right here.
2) Secure Your Facebook Settings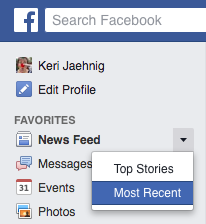 Facebook allows you to see "Top Stories," and "Most Recent" stories in your news feed.
Top Stories are those that your connections are reacting to most over the past few days.  Most Recent is pretty self-explanatory — If you want up-to-the-minute, this is for you.
TIP: Ironically, Top Stories will not always be the most current.  Every few days scroll to the upper left of your Home screen and check to make sure this is set to Most Recent.
Note: This is not the same as Trending news on Facebook, seen on the right side bar of your Home screen in the Trending Topics area.
3) Customize Your Own Trending News On Facebook
You probably already know that Facebook allows you to organize your contacts into lists so you can control your privacy and decide who sees your posts.
You can also control which posts you see first on your Facebook Home screen.
For example, I've decided that I want to follow Mark Zuckerberg and see his posts first.  His stories appear at the top of my Facebook news feed with a light blue star at the upper right corner: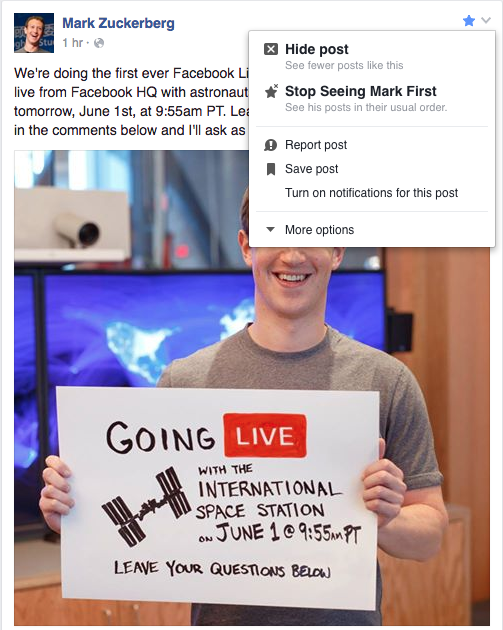 By clicking the arrow, I can change this at any time, designating which posts I see, or do not see, first on Facebook.  Basically, this is customizing my own trending news on Facebook for stories I care about.
That function is good for friend connections, however…
Lets say you want to see my posts first in your news feed (I'd be honored).  You would:
Hop over to my Facebook Page
Click the Like button
Hover over the downward arrow
On the dropdown, click "See First," highlighted in the example image below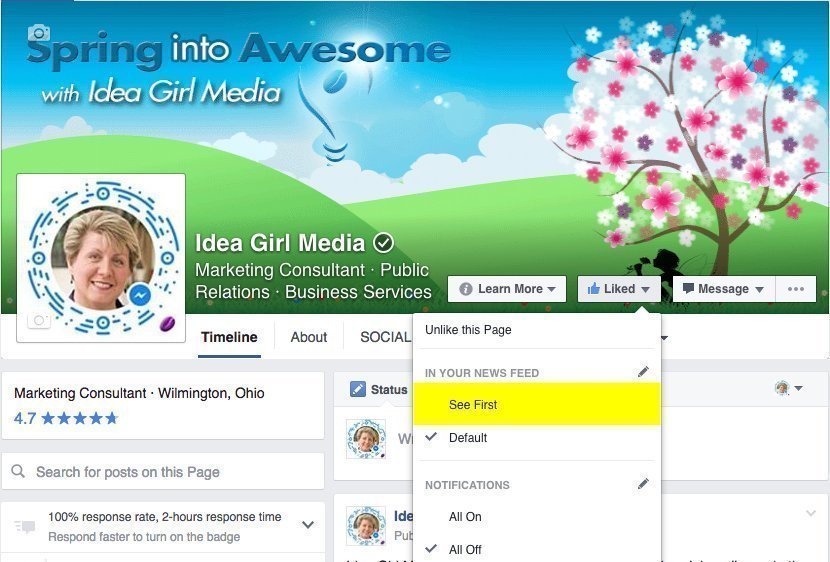 From there, until you edit this, my posts would appear at the top of your Facebook news feed with a light blue star at the upper right – Just like Mark Zuckerberg's post above.
You can give a blue star to any individual or conservative news source with a Facebook Page.
4) Create And Subscribe To Facebook Interest Lists 
This is my favorite way to organize topics on Facebook.
It is easy
It is fast
It is completely customized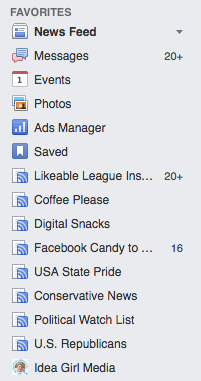 For Facebook Pages, it is perhaps a better method than the one above.  Reason: You will want to access multiple news sources, and they won't have to battle for the top spot in "see first" mode.
Once you create or subscribe to a Facebook Interest list, your view is awesomely a customized section of trending news on Facebook.  You can prioritize your Facebook Interest Lists in your Favorites on your Home page, and from there, it is just a simple click to access latest news on several topics — Curated in a format customized to  Y-O-U!
To the right, I've given you a view of my Favorites organized for the purpose of this post.  I've arranged them in this order according to my preference and desired convenience.  You can re-order yours too at the left side bar of your Facebook Home screen.
Focus toward the bottom of the list:
Conservative News is a list of Facebook Pages and Profiles that I created specifically for this article.  This gives me a view of Facebook stories published by my preferred listing of current conservative news sources – A very customized portal of trending news on Facebook. I can just click and view!
Political Watch List was created in 2014 and is more a global view for sources I found relevant at the time, when I was considering the possibility of managing social media marketing campaigns in the political niche.  The list is by no means complete, but it served as part of my research – Something you could easily implement too (on any topic).
U.S. Republicans is a list I subscribed to by Katie Harbath.  It is a pretty good list, where I can save time by tapping into her curation efforts.
You can feel free to click and subscribe to any of the three lists above.
The beauty of Facebook Interest Lists:
Create on any topic
Organize as you wish
Edit or delete at any time
Include in your Facebook Favorites for easy access
They are where you already spend time (on Facebook)
TIP: Especially in 2016, any news related to conservative topics and political issues will be hot, and posted on Facebook Pages.  By curating your favorite Pages into a list, chances are you may see the information BEFORE it is trending news on Facebook.  Pretty slick, eh?  🙂
You do not have to be a wizard to create your own customized feeds of trending news on Facebook.  The interface is pretty simple…
First, find your Interests section on Facebook: https://www.facebook.com/bookmarks/interests.
Second, click the button to "Add Interests."  You may be surprised that you have items there and did not know it.  It is okay either way.
Editing and managing your lists is also easy. Click on a list name that you have created, and in the upper right, click the button, "Manage List."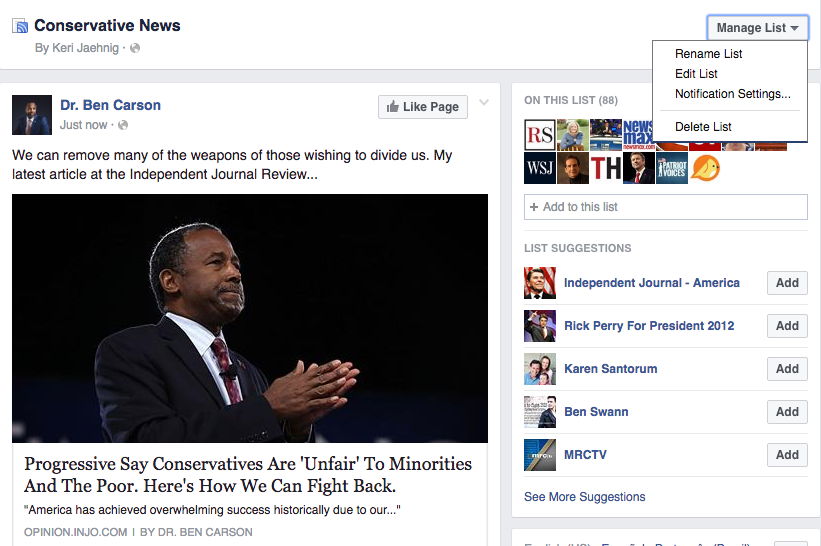 Note: You can curate only pages you like, or pages you do not like, but want to watch, and any combination in between.  Depending on your chosen topic, Facebook's suggestions for other Pages and Profiles to include can sometimes be helpful.
5) Rebel – Jump Off Facebook
You may be surprised, but not everything happens on Facebook.  It's okay to use other resources too.  😉
Consider creating your own RSS feed in a reader like Feedly.  It integrates with other popular online resources, and you can also download the mobile app for your smart phone.  Clever users could probably figure out a way to include their trending news on Facebook, and even curate videos from YouTube too.
But for breaking news?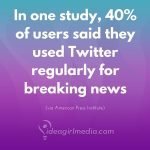 Many times, I go to Twitter first.  I'll check:
#BreakingNews
Trending Topics
The news stream I set up in my social media dashboard
Anymore, Twitter is a juicy news aggregate.
TIP: About 40% of users say they use Twitter regularly for breaking news.

People interested in Conservative news will want to search these hashtags:
#ConservativeNews
#PoliticalNews
#DailyCaller
#Conservative
#Republican
#GOP
#RNC
#tcot
#teaparty
#Trump
#PJNET
#WakeUpAmerica
#RedNationRising
#WeThePeople
Watching those hashtags will certainly help you discover others.  #Election2016 will lead to more centered on all 2016 election topics and candidates.
Trending News On Facebook – Summing It Up
Facebook is a BIG place with more than one billion users, and it caters to a lot of needs and wants.  It very well may be that the combination of content creators and users will naturally skew trending news on Facebook in a more liberal direction.
In my opinion, Facebook's simply changing the names of tools will be of absolutely no impact.  And, the fact that Facebook will no longer depend on RSS feeds for their Trending Topics could swing things even more liberal, depending on their process.
As the biggest distributor of news on the planet, I have to say that I would manage this differently.  Trending news on Facebook would be curated from a "war room" like set-up with multiple sources: Television news, RSS feeds, Podcasts, radio, print news and magazines, YouTube and other video, human sources, and other.  At the helm, should be directors – One from both conservative and liberal affiliation, much like they run the polls on election day.  Staff would be equally mixed and always with both affiliations on site.  Fair.  Objective.  No bias intended.
Facebook is the biggest distributor of news on the planet — They should walk the talk, darn it!
At the end of the day, we are all responsible for the result of our quests.  We have to use our available tools to do our own research and inform ourselves.  We cannot depend on others to do that for us.
Above are tools and tips to help — Again, for any topic.
Trending Over To You
Your turn!
What are your thoughts about trending news on Facebook and how these topics are handled?
Did you learn any new, useful tricks?  Or do you have a tip you would like to share?
Share your question and comments with me in the box below…  😀
Want to bookmark and save this article?  Just click the save button!