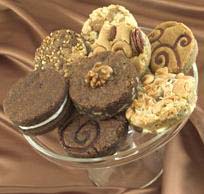 Don't bring me a teddy bear.
Jewelry is okay.  Flowers are nice, but they wither.  Dinner out with a glass of wine is…fine.
But, Valentine's Day…is a one to indulge!
Who can turn down a Godiva truffle?  Not me, unless…
…you have a deep purple box of Vosges chocolates!  Their unique flavors are innovative and fun!!
Better still — If you're anywhere near Columbus, Ohio, you won't want to miss a treasure I stumbled upon:
Sugardaddy's Sumptuous Sweeties
Doesn't it even sound wonderful??
They have 16 brownie and blondie flavors.  Cut in circles, not squares, each flavor is decorated with it's own signature – like chocolates.  My favorite flavors are Dark Berry, Fiery, and Chai Spiced.
These delicious treats are available in several forms…
The owners are genius – what is left over from cutting circles from the pan is bagged and offered as "pocket change."  You can also find brownie biscotti on their shelf, as well as truffles wrapped in eye-pleasing foils.  The gifts selection is colorful and attractive — Personalize them or mix-n-match them.
I've not had the opportunity to try the ice cream and cheesecake, but I would bet my last piece of pocket change they're terrific!
All the Rage
Sugardaddy's Sumptuous Sweeties have been seen in InStyle Magazine, Modern Bride, and at Brides.com — Billed as a best wedding favor.  So, it is any wonder they've also been featured on Ellen, Today, and Rachel Ray?  Would you be shocked to learn that they won THROWDOWN with Bobby Flay??  A star was born: The Tahiti Blondie.
A quote: "They have a great reputation and a great style." ~Bobby Flay, regarding Sugardaddy's.
Get There
They have two locations in the Columbus, Ohio area.  Dressed up with pink and brown hues, even walking in will make you smile.  I got so excited, I checked in on foursquare!
The good news is that they pride themselves on "Oven to door in 24," — They'll deliver how and when you want.  So, really, buckeyes beware, you can get them from anywhere!   🙂
Already been?  Keep up with them on Facebook!
So tell me…  What's your "hearty" weakness?  On Valentine's Day…Who's YOUR daddy??