In early 2011, I asked the question, "Do Ohio Elected Officials Kick Social Media Butt?"  I extended an open invitation to all Ohio political candidates on the ballot for the November 2011 election to submit a guest post to help citizens become aware of their platform.  That original post inspired a series of informational posts.  This is the tenth in the series on how Ohio Political Candidates can ROCK Their Social Media.
For those finding this post first, here are the first nine ways:
Grab your Ray-Bans and head for the red carpet – The 10th way Ohio political candidates can ROCK their social media is…
Va…Va…Voom…Video!
Not comfortable starring in moving pictures?  Overcome your fear!
Here's why:
There are 86 million viewers looking at video daily on the Internet.
51% of Internet traffic is video (2010, Limelight Networks).
YouTube is the second largest search engine.
Video is 53 times more likely to appear on a 1st page Google search (Forrester).
Reel 'Em In Close
In a previous post, we talked about the increasing trend of people accessing their Facebook, and other social media, through their mobile phones.  In fact – checking Facebook before they even get out of bed!
It is predicted that within four years mobile access will outpace desktop usage.  Read that again.
So, while trends are still evolving, being available by video conditions your constituents – your growth demographics – to keep you right in their back pocket. 🙂
Everyone Else Is Doing It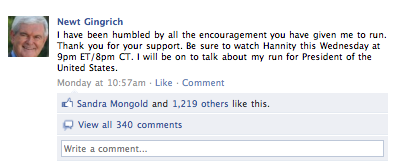 I am NOT so comfortable in front of the video camera.  But my website visitor traffic increased five-fold when I implemented video. And I have requests for more!
Newt Gingrich announced his run for President in 2012 via Facebook.  Wonder why?
Here's a factoid:
48% of video referral growth is from Facebook!
So, ya think Gingrich Productions will soon start piping video through Newt's Official Page?
Mitt Romney made his announcement via YouTube Video:
Think Mitt's ahead of the game?
Victory Tips
Keep clips short – no more than a few minutes.
Find a Flip Video quick, or invest in a mobile phone with video capability.
Post Video (and pictures) to Facebook on Saturday.
Mix Your Media – Adding video to email boosts audience interaction 200-300% (Brightcove.com).
Yeah – WOW!
Words From Voters
I did a shout-out via Facebook…
Your constituents want to see video.
So…
Add some verve!
Be virile!
Try vivacious!
Vamp it up!
Get vexy!
They're ready for Voracious!!
Social Media is about them.  So give it to 'em! 🙂
Did I miss anything above?
Amazed at some of the statistics?
Curious why Saturday is the best day for posting video to Facebook?
Let me know your thoughts below!