Fridays offer a great opportunity for social media optimization!!
Small business owners and nonprofit directors can super-charge their public relations efforts and energize their inner social media manager!
Here are 3.5 ways to optimize social media on Friday:
1) Participate in Follow Friday!
What's that, you ask?  It's a weekly tributary conversation on Twitter that allows tweeters to appreciate each other.
So, if you engage on Twitter and develop relationships, you can let other tweeters know who you think is groovy and can signal others to follow them too.
Hopefully you have established enough enthusiasm that they will reciprocate, and you will earn the #Follow Friday, or #FF, from others on Twitter.  This increases the opportunity to gain new followers.
If you follow me, I will follow you, and we might use these #hashtags together!
2) Get out of the office!
Arrange your appointments to take you to networking events, or meet with clients.  End your day with your most favorite contact or group of people to finish work on a positive note.  This  enhances your public relations, encourages your positive attitude, and prepares you to celebrate the weekend!
Be sure to take your mobile phone — preferably a smart phone.
3) Still got that smart phone out?  Take pictures or video!!
Statistics show that on Facebook, Saturday is when the most sharing occurs.
People are most intrigued with pictures and video.  Using this type of media increases the possibility for others to interact with you online.  So, by thinking ahead on Friday — taking pictures at interesting places or gatherings — you can also be optimizing your social media content for  Saturday too!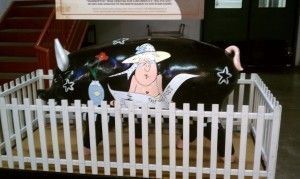 Take a look at the picture I took with my smart phone last Friday while in Columbus, Ohio.  The big, black pig is originally from Cincinnati, Ohio's "Big Pig Gig," and is available at the North Market in Columbus to raise funds for their future on-site entertainment.  The post received some really funny comments which allowed me to continue developing important relationships.  Which is what social media is all about!
3.5) Join in or host Facebook Chats!
You have to look for these, but new Facebook features are prompting more Facebook chats.  You should even consider hosting your own.  Here, you can find out about a new topics and build relationships.
What did I leave out?
Post your ideas below on how to optimize social media on a Friday! 🙂