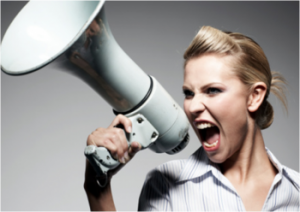 In early 2011, I asked the question, "Do Ohio Elected Officials Kick Social Media Butt?"  In that post, I extended an open invitation to all Ohio political candidates on the ballot for the November 2011 election to submit a guest post to help citizens become aware of their platform.  That post inspired a series of informational posts.  This is the fourth of thirteen on how Ohio Political Candidates can ROCK Their Social Media.
For those finding this post first, here are bullet points that got us here:
So what's the 4th thing Ohio political candidates should keep in mind when approaching social media?
It's Not Broadcasting!
Have you ever stood right in front of an enthusiastic person with a megaphone?  As someone trying to win acceptance and gain votes at the polls at the May Primary or November Election, 2011, you need to consider how the listener considers your message!
Lets take a quick look at a very recent video made for social media marketing purposes:
Now, lets discuss what we saw…
Questions for you:
What was Charlie Sheen's focus during the video?
Was he engaging you to respond?
What was your impression when he wasn't looking into the camera?
Do you give #tigerblood a lot of credibility?
My guess is…  Probably not.
Here are some reasons:
The entire clip was about him.
He spoke AT the audience the entire time.
He asked no question about anyone to learn their views.
There were no real questions that he answered.
There is no evidence that he was engaging anyone.
Even #tigerblood was centered around his purposes.
He was not on his game the entire time, and sometimes didn't even meet eye to eye with the camera.
Social Media Is About Being Social
It's about engaging a community.
Finding out where they hang out.
Listening to what they want and how they want it.
Giving them their information on their terms.
Asking questions, waiting for answers.
Answering back!
And about one out of twelve times, including a self-marketing message.
If you miss those points, and simply yell messages at your audience, it's simple.  You risk being known as the Charlie Sheen of political campaigning.
Your Followers Don't Have To Follow You
In the most previous election, I tried to engage Ohio political candidates.  I tried to ask them questions, and keep them informed of information concerning their consistuents – On Twitter, On Facebook, and on LinkedIn.
Some of  them responded.  Some of them didn't even know I was talking to them.  After awhile, I un-followed, and I un-engaged.
Interestingly enough, I think they were so busy broadcasting their message, that they didn't even notice.
What an incredibly big missed opportunity to use social media to their advantage!
What kind of candidate do you want to be?
Are you interested in engaging your potential voters?
How does the megaphone fit in with your campaign plans?
Now, lets hear from you.  Please post your questions or comments in the box below! 🙂
My invitation previously missed those on the May Primary ballot.  At this time I would extend the guest post opportunity to those candidates as well.  If you haven't done so, contact me to arrange your spot.