Get my next post in this series delivered right to your Inbox – Subscribe to my RSS Feed.
In early 2011, I asked the question, "Do Ohio Elected Officials Kick Social Media Butt?"  I extended an open invitation to all Ohio political candidates on the ballot for the November 2011 election – and again for the May Primary – to submit a guest post to help citizens become aware of their platform.  That original post inspired a series of informational posts.  This is the eighth in the series on how Ohio Political Candidates can ROCK Their Social Media.
For those finding this post first, here are the first seven ways:
Curious about the 8th way Ohio political candidates can ROCK their social media?
Be Likeable AND Sendable.
What does that mean?
Are You Likeable?
First, you gotta be likeable.  In person, yes.  But also in text.
If you're posting lengthy articles that are all political mumbo-jumbo and boring facts, you will lose your audience.
With an online visitor, a few things are possible:
They will be energized to "Like" your content and share it.
They will read and go on their merry way.
They will stop reading and go on to their next online destination because you've bored them to tears.
Lets aim for the first one!
Gimme some groovy.  Or some graphic eye candy. Put something in print that attracts me to you – makes me know you're human, and not just an encyclopedia of political lexicon.
Is Your Website Likeable?

If you've been following since the first post in this series, you know that I will recommend your website be set up in WordPress.  And, that you blog (keeping your information moving, not only static).
As suggested above – Your blog becomes your social media headquarters!
A WordPress website with your blog right there with all of your other important information keeps your readers' interest.  It also makes it easier for you to be likeable…  🙂
WordPress is highly customizable with a plethora of available "plugins."  Said another way: Things that make your website do what you want it to.  Plugins often fuel social share.
Ya know, the Facebook Like Button…? That's a plugin!  Very easy to install in WordPress!!
You can add the Facebook Like Button to a static site.  But it is not as easy or user-friendly. It requires you to grab code to update, or wait have your web developer do it for you.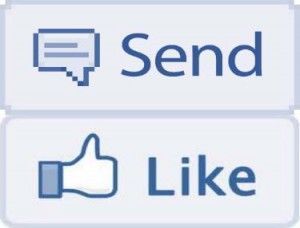 Is Your Blog Sendable?
I'm not talkin' UPS, FedEx, or the US Postal Service.  I'm talking social media. More specifically….Facebook.
Everyone's favorite social network announced a companion to the Facebook Like Button just a few days ago:
The Facebook Send Button.
This little honey can sit right next to – or near – the Facebook Like Button.  But it's functions are a tad different…
Facebook Like Button – Places your face on the page you like, goes out onto your Facebook Profile, and also into the news feed of all of your Facebook Friends.
Facebook Send Button – Encourages one-on-one sharing.  Messages go right to a personal or Facebook Inbox.  Shares do contribute to a page's "like count."
Both great options; Different ways to share.
Note: Facebook Send is uber-quick!!  🙂
So, Are You Likeable AND Sendable?
Chances are you wouldn't be a political candidate running for an elected office if you weren't somehow likeable.
Your website – I can't make you convert your static website into WordPress.  But if Ford, Cisco, and Sony have all done it, you might consider that there's something groovy about WordPress.  Just sayin'.
If you already have a WordPress site – awesome!
If you're a bit nervous about blogging — get help.  A surprisingly high percentage of corporations and small businesses outsource their content generation. 
But get a blog going! It will increase the chances of your being both likeable AND sendable online.
Your content – here's the harder one…
Take a look at your material.  Objectively.
Are you salivating with excitement enough to want to click a Facebook Send Button and get your own material to a close friend with Facebook speed?
…Do you think someone else would?
Being Likeable AND Sendable
Make your constituents smile and feel listened to in person.
Make their eyes smile with your website.
Give them an opportunity to share with their Facebook Friends via the Facebook Like Button & the Facebook Send Button.
Get their mouse clicking to share your content!  Pretty simple, huh? (tell me your answer below)

Here's the link for the Facebook Send Button code.
If you have WordPress, search for Facebook Send Button – You'll have two choices for WordPress plugins.  I tried both – see which choice works best for your site.  (I'm using the standalone).

A Likeable Recommendation
** Ultimately, your goal is to empower others to like you and send you. **
To encourage that, educate your social media-ites on how to best use these Like and Send features.
If your constituents become swamped with Facebook Inbox messages, eventually they'll tune you out.
The key is a good balance between Like and Send.
Now it is your turn…
Go ahead – experiment!
Take a look below and find the Facebook Send Button.  Pick a few trusted Facebook friends, and try it out (you may have to log in, and then click again to actually send).
If you're really up for some fun, send them this post.  I guarantee they'll respond! 🙂
Please tell me your thoughts on the NEW Facebook Send Button in the comment box below…
(And to ALL registered voters – VOTE on May 3, 2011 in the Primary Election!!)