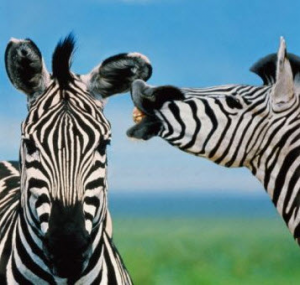 I'm sure you can identify…
Situation #1: You're looking for hotel accommodations for your summer vacation.  You do a search for lodging in the area and are given a hefty number of choices.  After clicking around, you come up with a small handful of plausible options.  From there, you search for reviews on each site, and even plug into sources like Yelp, Google Places, and Facebook Places, to see what people have to say.  You make your choice based on advice of your peers.
Situation #2: You're with a group of friends.  One of them talks about a project they're involved with.  They talk about their volunteer work, what it means to them, and what the personal satisfaction they find in making a difference.  Your friend shows you a brochure that includes pictures and a great story about the work that the organization is doing.  And you decide to donate because you believe in what you see on the pages of the brochure, and you want to make a difference too.
In both cases, the action taken is no accident.
Decision-makers in charge of the message are orchestrating efforts to make sure their story is told, and it draws you in.  There are books and blogs to help organizations do it.  Social networks now even encourage the sharing of stories for the benefit of consumers.
So it is no surprise to see the creation of Zahmoo – Billing itself as "Your Story Bank." "Never lose a story again," as their Zebra says.

Zahmoo has positioned itself to offer opportunities for gathering and storing stories for businesses, families, and even communities.
For business, "Zahmoo provides your organisation with one place to store, organise and access your valuable stories, and it's simple to use."
For family (and community), "Families around the world are exploring their ancestry. Zahmoo offers the ideal platform for bringing this genealogy to life with the stories that made a difference."
Terrific stuff!
The Zebra theme is cool, and the opportunity to preserve important stories is certainly meaningful.  The platform has the following features:
Capturing (entering the story's details).
Titling – Each story, to add intrigue.
Rating – Decide how exciting it really is!
Tagging – Key words and phrases.
Commenting – Allows for more to the story.
Search – Find from the archives, and by topic.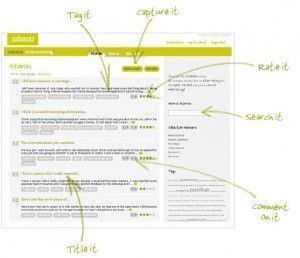 The website is pleasant and simple.  They even note their user-friendly functions — "even for grandparents!"
It gives the impression of being collaborative blogging, but for stories.
I found this valuable for large businesses and large non-profits (operating at the national or international level).  It's fairly basic and appears to be user-friendly, yet offering great features for collection and storage.  And preserving essential messages and stories  that instill an organization's message is indeed important!
I agree with their companion website's quote: "A company without a story is usually a company without a strategy." (Ben Horowitz).
But considering this service is offered for a monthly fee, I did not see Zahmoo's plausibility for the average small business, community, or family.
They do offer a 30-day free trial.  Plans are between $5 and $49 per month.
I'm not doubting the value, but I'm a bit stumped by the approach.
For the average contemporary family, community, or small business: What can Zahmoo really offer that a well-run Facebook Group could not?
I'm asking for your help…
Have you Zahmooed?  Do you agree with me?  Disagree?  What am I missing?