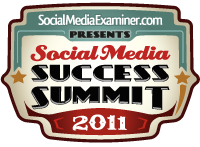 My readers should remember two previous posts about Social Media Success Summit 2011: An introductory description of the completely online event, and an update about Guy Kawasaki being added to the list of presenters.
********************************** **********************************
This Thursday (April 14th) is the LAST DAY to save 50% on tickets to Social Media Success Summit 2011 — the online conference for businesses that want to master social media, brought to you by Social Media Examiner!
This online conference is all about using social media to gain more exposure, increase traffic and better engage customers and prospects.
Already 1400+ of your peers have signed up, including professionals from General Mills, Microsoft, Honda, SAP, Tyco, 3M, Mayo Clinic, Coca-Cola, Wells Fargo, Disney, Visa, Intuit, Warner Music Group, Party City, Yahoo!, Kraft Foods, Autodesk, ConAgra Foods, Teradata, Four Seasons Hotels, Carnegie Mellon University, Cardinal Health, Comcast and hundreds of small businesses!  Click here to save 50% (expires Thursday), and get a free sample class.
The summit includes 24 well-known presenters including:
Jeremiah Owyang (Altimeter Group)
Brian Solis (author, Engage)
Frank Eliason (Citigroup)
Mari Smith (co-author, Facebook Marketing)
Erik Qualman (author, Socialnomics)
Michael Stelzner (founder, Social Media Examiner)
Dan Zarrella (author, The Social Media Marketing Book)
Andy Sernovitz (author, Word of Mouth Marketing)
David Meerman Scott (author, Real-Time Marketing & PR)
Jay Baer (co-author, The Now Revolution)
Hollis Thomases (author, Twitter Marketing)
Steve Garfield (author, Get Seen)
Mario Sundar (LinkedIn)
Ann Handley (MarketingProfs)
High-ranking professionals from Boeing, Intel, Cisco and Verizon
These social media pros will share how they use social media to beat the competition.
Join them at Social Media Success Summit 2011!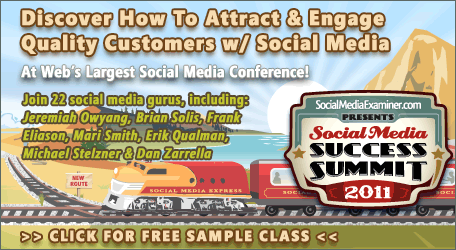 Click here to save 50% (expires Thursday), get a FREE sample class.
Here's a sampling of the topics the summit will cover:
* Finding and engaging your target audience.
* How to use Facebook, Twitter and LinkedIn for marketing.
* How to monitor and measure social media results.
Click here to see all the sessions.
This is more than just an online conference.  It's also a way for people just like you to come together, share their experiences, meet the experts and network.
At the last summit, 96% of attendees said they'd recommend the event to a friend AND attend again!  That's some endorsement!
FAST ACTION HAS IT'S ADVANTAGES
The event organizers added twenty-one great bonuses worth more than $1197 for early registrants.  These are high-value video courses.  When you sign up for the event, you get all of these included at no extra cost!
Here's a sample of the valuable bonuses they're giving away:
* How to Use Twitter As a Marketing Weapon.
* 8 Steps to Creating a Winning Social Media Strategy.
* How To Turbo-Boost Your Facebook Engagement.
* 20 Actionable Techniques to Enhance Your Blog's Content.
See the complete list of bonuses.
The BEST Bonus? This event does not require any travel. You simply attend sessions, meet the experts and network with peers from the comfort of your home or office. How cool is that? (To see how this works, go here)
There's even a "no-lose" benefit for finding out more information! As a way of saying "thanks" for checking out the summit, there's a gift just for you (valued at $59) called "8 Steps to Creating a Winning Social Media Strategy." Go get it.
SO, FRIENDS, I'M NOT GOING TO MISS SOCIAL MEDIA SUCCESS SUMMIT 2011
The half-off early bird sale expires THURSDAY!  Are you going to join me??
Here's to your social media success!
* Disclosure: I am a proud affiliate of Social Media Success Summit 2011.