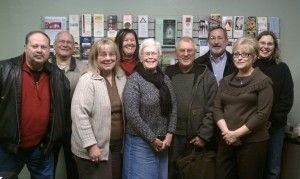 Yesterday evening I had the privilege of meeting with a group of 9 small business owners and local leaders on the topic of social media.  They are at different stages in promoting their business or non-profit, but each is motivated to hop onto the social media bandwagon to engage their clients as part of their marketing plan.
We met at the Wilmington Clinton County Chamber of Commerce.  As I am an alum of Kate Buck Jr.'s Lets Get Social social media manager program, we're calling the group, "Clinton County Lets Get Social."
The approach was very casual – this is a group with different levels of proficiency.  This first session was "computer free," more a Q&A and fact-finding expedition to decide together where we will go and how we will build upon their current knowledge.  We're customizing our path together!
Some of the topics we explored:
Facebook Fan Pages, Groups, & Admin Features
Quora
Checking in on Foursquare
QR Codes
Twitter Language
LinkedIn Groups
Klout & Online Influence
Sessions are free of charge, and anyone from Clinton County, Ohio is welcome at future sessions – the second Tuesday of each month at 7:00pm at the Chamber office.  The workshops are meant to compliment Chamber membership and encourage the Buy Local First Clinton County program.
In February, bring your laptop and be ready to engage!!
A great group — I'm definitely looking forward…  🙂
Are you involved in a similar group where you are?  What topics and approaches have been successful?