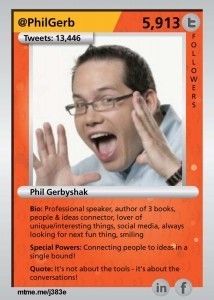 I enjoy getting together with Phil Gerbyshak.  He's a happy guy, always working on something fun, and his creative juices are on turbo-flow!  He's an author, a speaker, and…has been known as the "Make it Great" guy.  Even a bit of a social media rock star.
I originally met Phil in Milwaukee after following him on Twitter for a time, and learning he is from the same area where my sister currently lives.  We're both a fan of good coffee and and good local food!
At the time of our face-to-face introduction, I was in the process of re-branding my company – more of a "Brand YOU" concept.   On another occasion, I was really excited to hand him my new, groovy business card — complete with my picture, new colors, and even the QR Code — that I hoped would make my piece of card stock more interactive with potential clients.
When he was recently in my neck of the woods, we talked about our new projects over breakfast.  Always groovy news – Phil's got some great stuff coming up!
And then he passed me his social trading card.
When he began to explain, I was thinking, "Should I be hip to trading a Phil Gerbyshak for a Mickey Mantle?"
Nope –  Not what it is!
I've not yet had the privilege to attend the large social media events where these cards have been traded, so I was unfamiliar.  But after seeing Phil's social trading card, I was envious!  My QR-Coded, purple version paled in comparison!!
Unique
What I noticed first is how cool Phil's card looked!  It was two-sided, and high quality.  What I really liked was the size — You can't just stick it away somewhere.  It forces someone to connect and think.  The conversation that transpires from the exchange is profound.  And the new carrier is left with a great picture, personal bio, social links for future contact, and even QR Codes.
These nifty pieces are produced by Meet-meme in Milwaukee, and their goal is to replace traditional business cards.  I think they will be successful, because the social trading cards are conducive to bringing Brand YOU forward.  Additionally, they really do take conversation from online to offline, and back again — prolonging and deepening the personal connection!
I've already ordered mine!
My new social trading cards will include a conversation-provoking picture, a brief bio, my personal "special power," and a quote that tells people more about me.  All my social network links will be attached to the card, and I could choose from an array of attractive color combinations.  I chose four.
Here's the message they sent me:
"Thank you so much!
We're super excited for you! Your very own trading cards. A brand new website. It's been a big day for you! Well, sit back and relax…we'll handle it from here.
Check your mail box next week… your cards will be on their way! We'll make sure they are super perfect, just for you.
Thanks again,
The Meet-Meme Team"
Super friendly!
Will people be lining up to trade a Keri Jaehnig for a Micky Mantle?
Surely not!  But I'm certain that I'll have a new tool leading me to some great future connections!
***Note: If you haven't clicked on the "Brand YOU" links above, I encourage you to do so.  Chris Brogan offers some excellent words you won't want to miss.  In fact, I'm going to go back and read another time or two…
What about you?  How are you connecting with others?  Are there social traders out there that can comment on their experience?