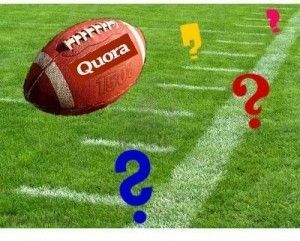 Quora: "a continually improving collection of questions and answers created, edited, and organized by everyone who uses it.  The most important thing is to have each question page become the best possible resource for someone who wants to know about the question."
That's how Quora describes itself.
My take: It's like the Wikipedia of questions, and HOT-HOT-HOT at the moment!  Kinda like Super Bowl XLV – a groovy little game played by the Packers and the Steelers.
Quora was founded in June 2009 by two former Facebook-ers, and by December 2009 it was launched in private beta.  Then, on June 21, 2010 it was opened to the public, and has been part of the top social media buzz ever since.  Quora's estimated value is $86 million and is backed by the same firm that invested in eBay, Yelp, Second Life, AOL, and 1-800-Flowers.  Whattaya think of those footballs?
Small business owners have been asking me what value it offers them.
For me it offers an opportunity to:
Learn about new ideas.
Become familiar with big-name experts in their element.
Understand what my contemporaries' questions are.
Let others observe me as a professional.
Follow topics and thought leaders, staying current with my interests.
Be a part of something big before it gets HUGE.
Take a look at recent growth in number of users (below, right).  Even though the blue line has a sharp incline, numbers are still below 500,000 (quite dwarfy to Facebook's 500 Million).  You can still get in while the gettin's good!
For those doubting Quora's value…
If you look at my profile, you can see what questions I've answered and those I am interested in.  By staying aware of my Quora activity, I can see that Kate Buck Jr. and I are following some of the same topics and have both voted up an post about appropriate ways to provide answers.
Already I have been able to interact with people that I admire in ways that I would not have ordinarily been able to.  I offered an answer to the question, "How can you tell a good social media strategist from a bad one before it's too late?"  My answer has been voted up twice and is on the front page of answers.  That makes me smile!
What would happen if you created that same situation on a topic related to your profession?
Do you see an opportunity to establish yourself as a leader in your field?  I do. That's worth a bit of time, in my opinion.
Queen Quora
Quora prides itself on authenticity.  If you ask a question about Quora, Facebook, or Twitter you'll likely get an answer from a high level executive or the founder themselves.  Ask a basketball question – Michael Jordan might shoot some insight your way!
While TIME Magazine doubts Quora has the stamina to run the field, article author Harry McCracken says, "[Quora] has a feeling of hip exclusivity and impending greatness that's reminiscent of early Facebook."
Kinda like the Super Bowl of social media.
Have you jumped on the Quora bandwagon?  Do you question the "Query Club?"  Put your comments about  Quora below.