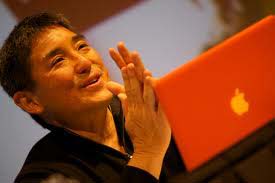 Imagine gearing up with excitement to spend an hour with the amazing, Guy Kawasaki.
Now imagine spending an hour with Guy Kawasaki while he shared how one of the world's greatest technology influencers…influenced him.
That was my yesterday evening.
Remembering Steve Jobs With Guy Kawasaki
Social media enthusiasts scattered across the globe sat ready to hop in to the always high-energy social media education sessions by Social Media Examiner.  Guy Kawasaki, our Keynote presenter, to speak on, "How To Use Facebook [Pages] To Enchant Your Customers And Prospects."
As we shuffled into the online conference room, it was the usual buzz of introductions and greetings.  But quickly, tweets fluttered of Apple's announcement that  Steve Jobs had passed away.  Just ten minutes before.  The conference took on a drastically different tone!
Facilitator, Mike Stelzner, informed us that Guy would be honoring his commitment to us.  Stellar Guy!  To paraphrase his own words – It felt more appropriate to feature Steve Jobs' contributions to our world than talk about Facebook marketing.  Absolutely!
How fortunate to be one of the special few that had the opportunity to listen to Guy share his meaningful memories of his time working with Steve Jobs at such a raw and sensitive moment!
Usually the summit sessions have me tweeting my fingers off.  But for a considerable time… I…just….listened.
Here are the tweets I did exchange.
Ironic, it was a social media success session, and we were talking about an "anti-social" company, eh?
#fbss11 Keynote Takeaways
Four things stood out to me:
1) "It's much easier to enchant people with great stuff than with crap."
Or, it's hard to spin crap into greatness.
Guy affirmed these words by explaining that it's not about painting lipstick on a pig, it's about putting out awesome stuff!
2) "Real artists ship."
They quit perfecting and get their stuff out to the marketplace.  So – "Ship, then test."
3) Optimal industry sector & social media niches
Guy Kawasaki recommends the following:
Twitter = Restaurants (retail)
Google+ = Photographers & Consultants
Facebook = Schools (and others that need community)
4) "If you are likeable, trustworthy, and you have a good product, social media can amplify what you do well."
Eloquent way to highlight the three pillars of Enchantment!
I'm thrilled to be able to offer you an opportunity to listen to the one-hour conference session with Guy:
Guy Kawasaki on the Death of Steve Jobs from Michael A. Stelzner on Vimeo.
Amazing – Guy was getting calls from everywhere, and we were able to share that time!
A sad occasion.  I was led to think about my present challenges, and how I might overcome.  I was led to ask myself…
What Would Steve Jobs Do?
A bit of hard reality:
I live in an area where there is a good amount of folks painting lipstick on pigs, trying to create a standard for spinning crap into greatness.  This is against everything I stand for, and it has been quite the uphill river swim trying to stay true to my ideals while managing a path of co-existence.
Unintentionally, I had become so focused on working on perfecting the details, that I forgot about one very important thing.  SHIP.  If you have some really groovy stuff, but it's not meeting the marketplace, what good is that?
Steve Jobs would have changed course.
So, enough.
There is profound motivation to reformulate and ship.  And no ifs, ands, or kissing pigs on the way there.
I also have a book review I promised to publish for the Facebook Success Summit 2011 facilitator – A commitment I will indeed fulfill.  🙂
Relevant Quotes
"I have looked myself in the mirror every morning and asked myself, 'If today were the last day of my life, would I want to do what I am about to do today?' And whenever the answer has been 'No' for too many days in a row, I know I need to change something." ~Steve Jobs
"Apple was a great place to work, because we were going to change freakin' history!" ~Guy Kawasaki
How had Steve Jobs influenced your life or work career?
Do you have a special memory or quote you would like to share?
Please tell me in the box below…