Have you ever been workin' like a dog, and just need a break?
I've been nose-to-the-grindstone for awhile.  My MacBook Pro knows me better than my pillow these days.  Social media flies by at light speed, and takes learning new things everyday to keep up with developments.
But it's all good – Projects in the works, and some concepts coming together idea-liciously!
So, I got out of the office.
Took some of my own advice.
My Friday workday went something like this:
Talked to a social media friend and stirred up some collaborative juices.
Attended a non-profit committee meeting for a community fundraiser in-person instead of via conference call.  Checked in on Foursquare – had a coffee AND a tea.
Ran into someone from the local Board of Elections office.  Got the up-to-the-minute scoop on the May Primary election, and plans for the November 2011 election.  Ohio political candidates, are you ready?
Might not sound like much of an afternoon, so…
I took my social media into Friday evening uptown to The General Denver for a fun euchre tournament!
Approximately 24 Innsiders played their best cards.  Me too, but my best might be considered mediocre.
But no cares – I had fun anyway:
I tweeted about my wins.
Enjoyed fabulous treats from Chef Jen.
Got into delicious libations from Bartender Brad.
Took pictures of my friends with my Android Phone.
Check it out: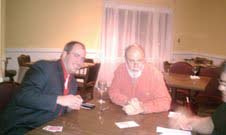 Pictured to the right are Matt & John, both of Wilmington, celebrating the evening.
They both agreed this picture could to be part of a demonstration video on uploading pictures to Facebook, especially prepared for a community leader that could not attend the euchre tournament.
What did you do with your Friday?
Did you get out of the office and tweet?
Want to know what Bartender Brad made special for me?
Post your thoughts and questions below, and I'll tell you! 🙂
Extra points: Be a Hero – Support the Red Cross.