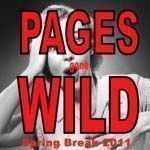 Wild about social media tips, are ya?  Subscribe to my RSS Feed so you don't miss a one!
Keeping my promise, today I'm going to give you a social networking tip — One you're going to go wild over!
Got your Facebook fingers ready?
Wait – Don't Go Wild…Yet!
A bit of background…
Lori Randall Stradtman of Social Media Design set out to do a little experiment on social networking.  She created, "an event that will introduce your own Facebook Page to more people than ever before at one time unless you've bought a LOT of advertising!"
At first I was skeptical — I wasn't sure what would come of it:
Would people "like and run?" (like and unlike)
Would there be pillaging of my friends and fans?
Would this simply attract more people just like myself, instead of a diverse group of fans?
While I invited some people I knew to GO WILD, the factors above initially kept me from shouting it from the rooftops to all of my Facebook Friends.
Going Wild Is Pretty Groovy!
I'll tell ya – I've liked all of the Facebook Pages on the list — And, it has truthfully been a GOOD experience!
I've met people from many different places, several different professions, with just as many interests, and I've begun establishing relationships that I'm happy about.  Most everyone has been friendly and appears to be genuine about "going wild with their fanhood."
So, I'm going to give you the Spring Break 2011 Ticket so you……..can go wild too!!
Here's The Groovy Scoop

:
Go to the Facebook Event Page called "Pages Gone Wild, Spring Break 2011."
Everybody shares a link to their Facebook Page.
Everybody likes everybody else's Page.
On Friday, April 29th at 5:00 EST Lori verifies who's liked everybody on the Page.
Monday morning Lori publishes a huge "Pages Gone Wild, Spring Break 2011″ post with everybody's picture and a link to their Page.
The post will go out to well over 100,000 people even if it doesn't go viral.
Go here for the list of Facebook Pages to like.
One More Groovy Thing…
The Facebook Send Button was released yesterday.  It is very similar to the Facebook Like Button, but offers you an opportunity for more one-on-one sharing of information.
I've installed it on my site — if you look below, you should see the little Facebook Send Button just below this post!  🙂
Do me and everyone on the list a favor, and click that button when you're done reading.  You'll be prompted to log in, and then you'll press again to send to a group of friends that you choose — Your friends that have Facebook Pages too! (If you are already logged in to Facebook, you may not have to click twice).
I'm sure Lori would like to get the biggest wild bang for her experiment as possible.  And you win on the Facebook Send as well, because you'll prompt even more people to get involved!!
So, there's your social networking tip: Go Wild On Facebook.
Ready….Get Set…..Go Wild!!!
(and don't forget to click the Facebook Send Button below and tell some of your friends!)  🙂
Here's the starting page again.