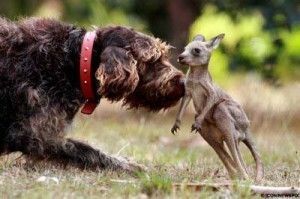 Did I really?  Nope.  But the experience was unique — as if I did! 🙂
Let me explain how it happened…
Triberr
Janet Callaway – The Natural Networker, invited me into her Triberr tribe.
Triberr is dubbed "the reach multiplier," for bloggers on Twitter.
Triberr focuses on dispersing quality content through collective circles of people with like interests.  In fact, the first tribe was formed form a group of people involved with dogs.  So the platform even has it's own virtual social currency – bones.
I accepted Janet's invitation, and am now a Networking Peep.
It took me a bit to acclamate, but quickly found that Triberr is delicious social media stuff!
How My Dog Got The Name Quora
Minding my own business, one of my Networking Peeps tapped me on the shoulder to express shared mutual enthusiasm for Quora – the social network.
Meet Saul.  Saul had read my answer on Quora about choosing the right social media strategist.  He encouraged me to make that a posting on my blog, and we discussed his invitation to do a guest post on his blog.
The post to my blog received a decent amount of attention.
Following, my guest post on Saul's blog received quite a few comments as well.
Walking My Dog Quora I Ran Smack-Dab Into A Kangaroo!
From the guest post on Saul's Blog evolved conversation within one of Saul's Triberr tribes.
Meet Annemarie Cross.  She is a Branding Specialist and Business Coach in Australia.
Annemarie does the Business Success Podcast – For entrepreneurs, solopreneurs, and business owners striving to grow their business.
She wanted to bring information about "the two Qs" to her audience – Quora and QRCodes.  so she invited me to be a guest on her podcast to talk about Quora.
Annemarie is a gracious host, an enthusiastic business professional, and someone I'm looking forward to getting to know better.
I can't wait to listen to her upcoming podcasts!  We have already recorded, and my session will be available to access on June 20, 2011.
Have you ever been involved with something that just kept getting better?
That is how I would describe my experience with Triberr so far.
And my interaction with Janet, Saul, and Annemarie!
Have you participated in online tribing?
What about podcasting – have you given it a whirl?
Tell me your thoughts on those topics or Quora in the comments box below…
Image credit: Interspecies Friends