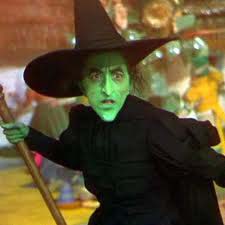 Hello!  If you're new here, you may want to subscribe to my RSS Feed.
You probably haven't asked yourself the question: Is my business more like The Wizard Of Oz or Burn Notice?
Until a handful of days ago, I didn't really think of it in quite those terms either.  My goal was to keep a classic, timeless theme to my work.  It is safe, "acceptable," and what we are taught in school.  I'd say a lot of my stuff was "Oz-esque."
But I think we should spend a few moments reconsidering our brands' presentation.
Here's why:
As our economy has shifted, more small businesses have popped up and entrepreneurs are making their run at their share of the marketplace.  Social Media plays to this!
At the same time, decision-makers are pushing the envelope, and the term "acceptable" is taking on new meaning.  We're seeing a little more of the Burn Notice mentality spill over into our business and marketing practice.
And why shouldn't it?  If we're not challenging ourselves, what are we accomplishing?
Asked another way, if we're not moving the needle, where are we going?
Organizations of all types are going to have to work a bit harder to catch the attention of their ideal customer.
Here's an example of aiming at getting peoples' attention and moving the needle:
Paper Record Player from kellianderson on Vimeo.
Cool, huh?
Larger businesses have a budget set aside, and lengthy meetings to decide how they'll move the needle.  Whether they'll go with the Wizard of Oz or Burn Notice method.
As a small business owner or entrepreneur, have you allotted the same type of budget?
Do you have that kind of time?
My guess is…probably not.
We're going to have to get a little more creative — Intellectually seduce our customers and potential clients!
After I saw the video above, I took the opportunity to think outside the record player, if you will, and put a seductive spin on my own email marketing.
For my bi-weekly Ezine, "Media Muffins," I featured this article and used the subject title, "Early Birds & Electile Dysfunction in Ohio."
The results??
Within a few minutes of sending I got a call from my sales coach with concern of potential open rates.  But interestingly enough, that message made it through the spam sensors and my open rate percentage was pretty good.
Even better?  My Facebook "like" factor went up, and people were approaching my family members in the community with pleasant, favorable comments.
So…
How The Song Ends?
A calculated edge can be beneficial — even draw positive attention.  But we must dare to step outside the box a little and meet our hopeful audience with less the ruby slippers and more a sizzle!
In our print.
In our audio.
In our email.
And in our social media.
Recommendation: Instead of the informative statement that ends in a period, approach the status update with an engaging question!  🙂
Now I ask you…
Will you have the green questioning face of the Wicked Witch of the West?
Or the raised eyebrow and breathless kiss of Burn Notice?
How can we move the needle with our social media?

Please tell me your thoughts below in the comments box!!
* If you're not receiving my bi-weekly Media Muffins – and would like to – contact me.