Any B2C business owner faced with adjusting their operations during the Coronavirus pandemic had to consider alternative payment methods. Expanding payment methods meant delighting customers. Here's how…
Worried about the "new normal?" Here are smart considerations for expanding payment methods to delight your customers.
Technology advancements have brought significant changes in different industries. Businesses are not running the same way as they were a decade ago. Obviously, technology has made its foray in the restaurant industry as well.
Restaurant service technology is also experiencing revolutions. There are significant changes that have already reshaped the restaurant and dining industry scene—from the various modes of payment options to food delivery with online ordering.
As technological advancements take place, consumers demand more convenience. Ease of paying and multiple payment options is something that diners look for from restaurants.
Needless to say, to stay competitive and improve customer experience is to offer multiple ways to pay. And with the ongoing pandemic situation, restaurant servers will want to have minimal contact with unnecessary surfaces and ideally utilize cashless transactions.
So, this is the right time to revamp your payment modes. Let's discuss smart ideas for expanding payment methods at your restaurant so you can make an informed decision.
Before Expanding Payment Methods Know Your Clientele
Before anything else, it is essential to know your clientele. Different transaction types work best for different kinds of restaurants.
For example, a tablet at the table will work well for casual dining, but it might not work for high-end restaurants. Similarly, a high tech payment option works well if you are serving a younger crowd.
The ambiance of the restaurant also matters a lot when it comes to determining the payment methods. So, you must do market research and analysis to understand your restaurant demographics and what model is ideal for your customers.
4 Ways To Pay At The Restaurant
There are several ways to pay at a restaurant, so diners don't have to carry cash along with them. Although each payment method works differently, the ultimate aim is the same for all of them. To offer convenience.
Traditional Credit Card Processing – This is the most common and is a global payment solution where the diner gives the card to the waitstaff who then runs the transaction. A credit card is easy and carried by most people.
Near-Field Communication Processing – Popular and convenient. The diner hovers their mobile device or credit card over a proximity card terminal, and the payment information is transferred from one device to the other using radio waves. Both devices or payment cards must have an NFC chip in them to complete the transfer. A simple way to think of NFC processing is to compare it to sharing data via Bluetooth but with much less power and headache.
Self-Ordering Kiosks – Self-ordering kiosks work well for fast-casual dining while there is usually a long queue. While waiting in a line can be annoying and turn off customers, a self-servicing kiosk helps to address this issue by reducing wait time and improving customer experience by offering many benefits like options for customization and paying at convenience.
On-Table Tablets – On-table tablets are yet another popular payment method in restaurants where a waitstaff brings in a table tablet for payment. Diners can split bills, provide instant feedback, and order food — all from the table. So, it offers a great personalized experience for your guests.
Ways To Pay Online
According to Forbes, the online food industry is estimated to have seen $82 billion gross revenue bookings in 2018, and by 2025, it is expected to more than double. That said, you need to explore different online payment options if you want to take your business online.
The restaurant industry is competitive, and there are many different ways to get an edge over your competitors. One way is by attracting more customers with the convenience of paying online while still maintaining the human touch in customer service.
Find out the Paypal final fee before incorporating this service to ensure it is worth your while. This will ensure that you are not losing any money on each transaction.
It's essential to research the payment methods available and decide which ones will work best for your restaurant. By expanding your payment options, you'll be able to attract more customers and increase your sales.
Expanding payment methods can help you attract more customers and increase your sales
Be sure to research the different payment methods available before deciding which ones will work best for your restaurant
Online Ordering for Pick-up or Direct Delivery Services
Online ordering for pick up or direct delivery services is popular, especially among younger crowds. But, if you are planning to expand payment methods at your restaurant, then you need to have a sophisticated website in place. It is also nice to have an attractive app for customers to order food online. Try an online ordering and payment software that is user-friendly and can be accessed from anywhere anytime on any device.
Order Through Third-party Delivery Services
You can also pay a fee for third-party delivery services to host your restaurant on their apps. A few of the well-known options are:
GrubHub
DoorDash
PostMates
Uber Eats
Utilizing these platforms helps increase your customer base as some customers might not have come across your restaurant without these apps.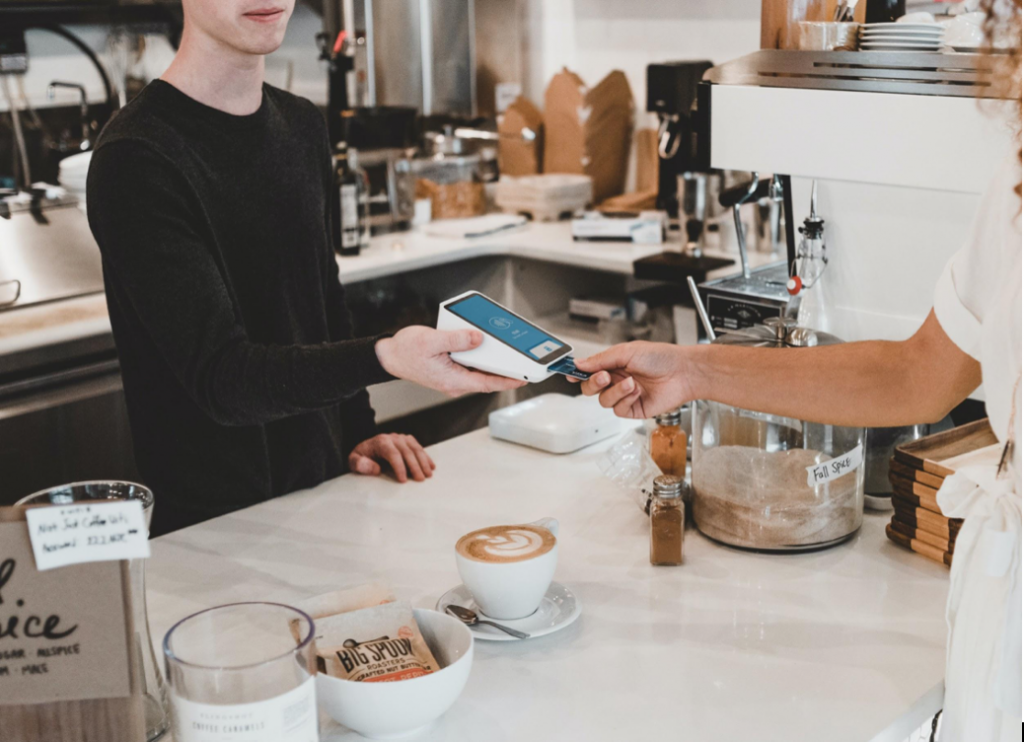 Choosing The Right Point-Of-Sale System
Regardless of which payment methods you choose, whether on-site or virtual, you still need a home base for sales at the restaurant. This is called a point-of-sale system.
You should implement a smart POS system that can communicate with any other payment method. So, if a customer orders on your app, it should still be sent to your POS system. It is helpful to have everything stored in one place, as it allows for simple communication between all restaurant staff.
Additionally, you should opt for a POS system that does a lot more for your restaurant business, including:
Offering online reservations
Analyzing data
Staff and inventory management
And more.
If you're going to invest in POS, then why not go with the most beneficial options so you get a positive ROI.
Delight Customers Across Generations
New-age customers love tech-based payment options, while the older generations still prefer traditional cash payments. Of course, you want to delight all that come through your door.
As a restaurant owner, you need to understand your demographics and choose to expand your payment methods to win the heart of many.