If you're working on a business expansion strategy, you may be looking for innovative ideas for company growth. This article shares six advantages and considerations to know before expanding your company to Hong Kong and the Asian markets…
6 Things To Know Before Expanding Your Company In Hong Kong
Are you looking to expand your business? Do you want to move into new, and maybe global markets? Historically, Hong Kong has been a good option for many companies and big brands. It could be a good choice for your new venture, especially if you are looking overseas. Like most big decisions, we recommend thorough research and consulting experts.
Is expanding your company to Hong Kong the right move? This article cover six considerations before going forward…
World's Freest Economy
The free economy in Hong Kong has really one of the main attractions. This is a location that has embraced the globalization of trade and services. Largely, trade barriers have not existed here:
No investment restrictions
No nationality restrictions either
No foreign exchange controls
Considering the potential need to grow quickly, in light of the effects the global Coronavirus pandemic has had on business worldwide, Hong Kong is a location where you can embrace new technology and trends. Dee Agarwal discusses this further.
World Class Infrastructure
It is well-known. The most of the state-of-the-art infrastructure is available in Hong Kong. From utilities to communications, it is really quite amazing.
When Expanding Your Company, Opt For A Skilled Workforce
Another reason to consider Hong Kong is the skilled workforce. Entrepreneurial, and savvy with technology, the workforce in Hong Kong is impressive. In fact, when it comes to management experience in international business, Hong Kong has ranked as one of the best places in the world.
At the same time, Hong Kong's workforce does face some concern from the Chinese flexing their muscle in the territory. Younger working generations have been most affected by this.
Strategic Position
Another motive for creating a hub in Hong Kong is the geographical proximity to Mainland China. The population of the country alone is an appealing factor.
Here, you also currently have access to multiple Asian markets. Vicinity and modes of transportation are your friend.
Taxes Are Low
You will find some of the lowest taxes in the world in Hong Kong. The Profits tax rate for both locals and foreigners is lower than a lot of other locations around the world. Plus, there is no capital gains tax here.
We wonder how things will go as China evolves its position with Hong Kong.
Where Should You Locate In Hong Kong?
Now that you have a good idea of the reality associated with doing business in Hong Kong, you need to think about where to put your operation. Of the great locations, Central is the most popular option. You will find professional services and financial businesses already there. Expect plenty of premium Grade A office towers.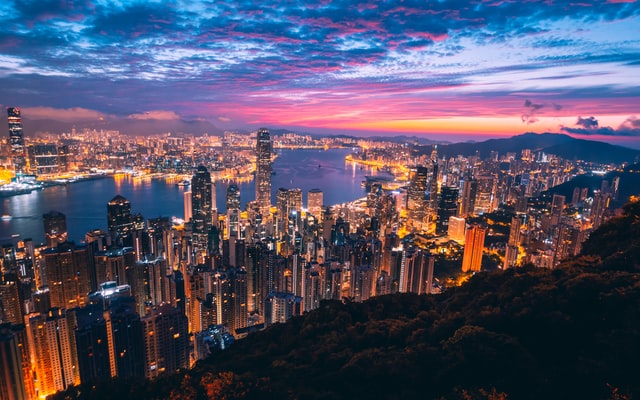 Other locales worth consideration include:
Causeway Bay
Wan Chai
Tsim Sha Tsui
The latter is especially advised if you work in merchandising or trading. You will have outstanding access to seaports and airports.
For retail stores, high on your list should be Causeway Bay. This is the shopping paradise of Hong Kong. Wan Chai is a great place for startup businesses. The main reason is because the operation costs are a lot more affordable in this area, which is critical when you are looking for offices to rent.
Above all, you want to make sure you are getting good value for the money.
Final Points On Expanding Your Company In Hong Kong
So there you have it: Insight into doing business in Hong Kong and why it can be a great place for your business to grow overseas. You should have a better understanding of why Hong Kong can be a productive catalyst to global expansion.
Doing business internationally comes with responsibility. Staying aware of world news and the political environment will be no longer an elective part of your days. The world relative to Hong Kong is changing quickly, and any good business leader will want to stay aware.