Which is best for your social media marketing strategy – Facebook Stories, Instagram Stories, or SnapChat?  We've got your social media marketings strategy guide for disappearing content right here!
Facebook Stories, Instagram Stories And Snapchat – Which Is Best For Your Social Media Marketing Strategy?
The idea of "disappearing content" seems wild to some. However, there are advantages.  At time of publish, there are three popular social media platforms that feature this type of media:
Instagram Stories

Snapchat
On each platform, the content disappears in 24 hours.
Like that?
Think it's silly?
Mystified why some personal and business brands include Facebook Stories, Instagram Stories, and/or Snapchat in their social media strategy?
This article will help you understand why using disappearing content in your social media marketing strategy is a good idea, as well as important points to consider for each platform.
Facebook Stories
Marketing opportunities: In-app ads, as well as sponsored filters, frames, and stickers.
Many see Facebook Stories as a move by social media's big blue to take on its yellow ghost rival, Snapchat. The interface and the behavior of Facebook Stories is very similar to Instagram Stories and reminiscent of Snapchat.
The main advantage: Facebook has included two story types: Direct and Stories.
Recently, Facebook also rolled out a feature that allows users – especially those involved in influencer marketing – to share their stories publicly, to everyone including subscribing followers. Direct stories are meant to start a conversation with an image or a video. Stories let users see what their friends have posted recently, which might include filters, frames and other creative imagery.
Below, you can see the interface for Facebook Stories authors to reply directly to those that reply – Personal interaction with a brand's ambassador until Facebook releases stories for Facebook Pages.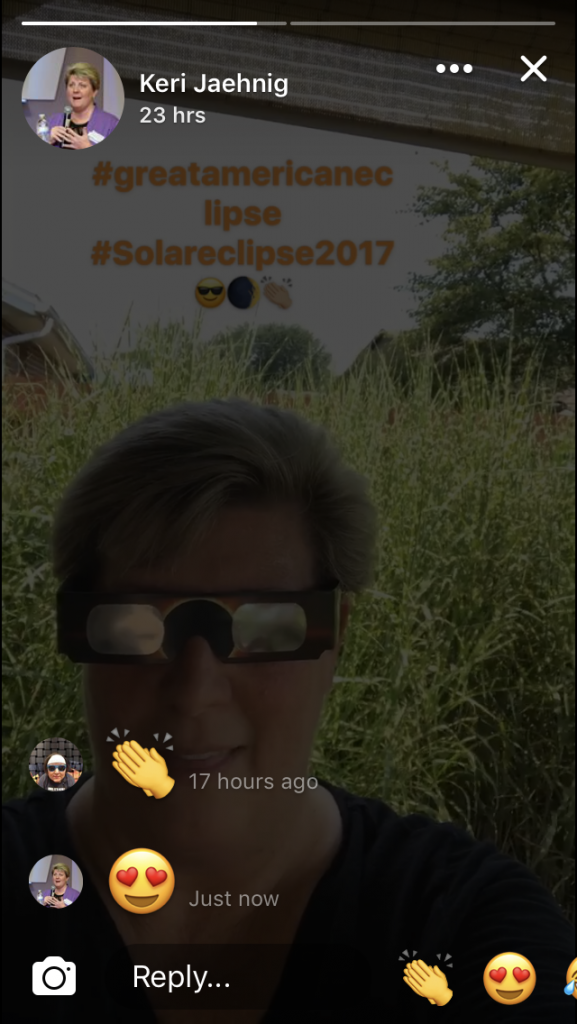 How does it help with social media marketing strategy?
Brands can use the built-in filters, frames and stickers to create ongoing campaigns. They can also use it to release exclusive snippets of content, like movie trailers, behind the scene sneak-peaks, etc., which will disappear in less twenty-four hours. This creates a sense of urgency and encourages the post to travel across the network, garnering more social media attention for the post, and, subsequently, the brand as well.
Instagram Stories
Instagram Stories was launched on August 2, 2016. Within a year of its launch, it has surpassed popularity of arch rival, Snapchat. 
Approximately 200 million people use Instagram stories every day (via Instagram), compared to 160 Million daily users of Snapchat. 
Facebook owns Instagram so users connect easily with identical features like filters, stickers and emoticons seen on both platforms.  A big advantage with the Facebook-Instagram connection: Marketers can opt for ads on both Facebook and Instagram together!  So, this streamlines efforts of your social media marketing strategy.
An Instagram Story syndicated onto Facebook (an optional feature many love):
The new Instagram Stories filters are fun!  Hop over & check them out – You can find me at @keri_jaehnig or @ideagirlmedia – See you there (filter or none!!

Posted by Keri Jaehnig on Tuesday, May 16, 2017
Instagram Stories trump rivals with:
Large pools of demographics who share images every part of the day

Videos & images that look great even if the user phone has a humble camera quality

Detailed statistics like number of followers, impressions, post reach, demographics, etc. (for business accounts)
At time of publish, Instagram recently released Story Search for location and hashtags.  Super fabulous for geo-targeting and finding influencers!  They have also released new ads options making Instagram Stories an irresistible marketing option, adding rocket fuel to your social media marketing strategy.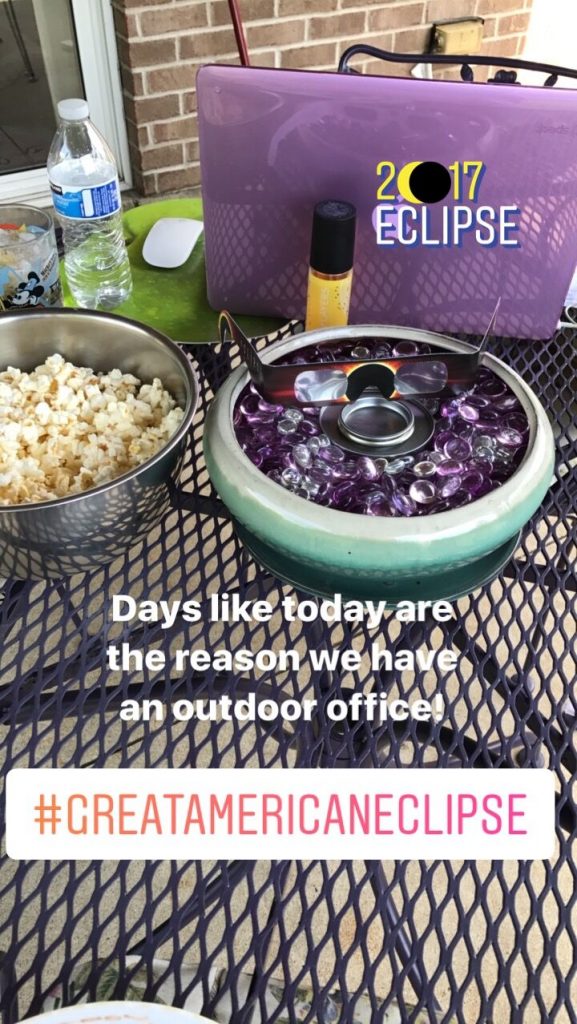 Above, a photo story on Instagram utilizing both text and hashtags options.
Snapchat
The originator of ephemeral content.  Recent reports site 166 million daily users! (via TechCrunch)
Millennials' usage is declining, but older demographics are now spending time on Snapchat.
US adults, 45-54 make up 6.4% of American users – The fastest growing demographic.  This could be influencers diversifying their social portfolio, or marketers looking to become more fluent on the platform.  Regardless, this is a growing market opportunity and something to consider in your social media marketing strategy.
At time of publish, Snapchat recently launched "Custom Stories" – Searchable under "Our Story."  These are collaborative opportunities to invite specific contacts or set a geotag to allow anyone in the geoblock to contribute.
Snapchat also recently rolled out three new ad products to Sponsored Creative Tools:
Audience Lenses (AR – overlaying 2-D & 3-D objects onto landscapes)

Smart Geofilters (Includes various location data)

Sponsored World Lenses (Targeting by demographic & snap lifestyle)
And a new self-serve ads platform.
People like the visual and audio filters on Snapchat, and the fact that the camera does not reverse the image on capture. 
Social Media Marketing Strategy Tip: Brands willing to invest part of their ad spend in custom filters have seen great value for the effort!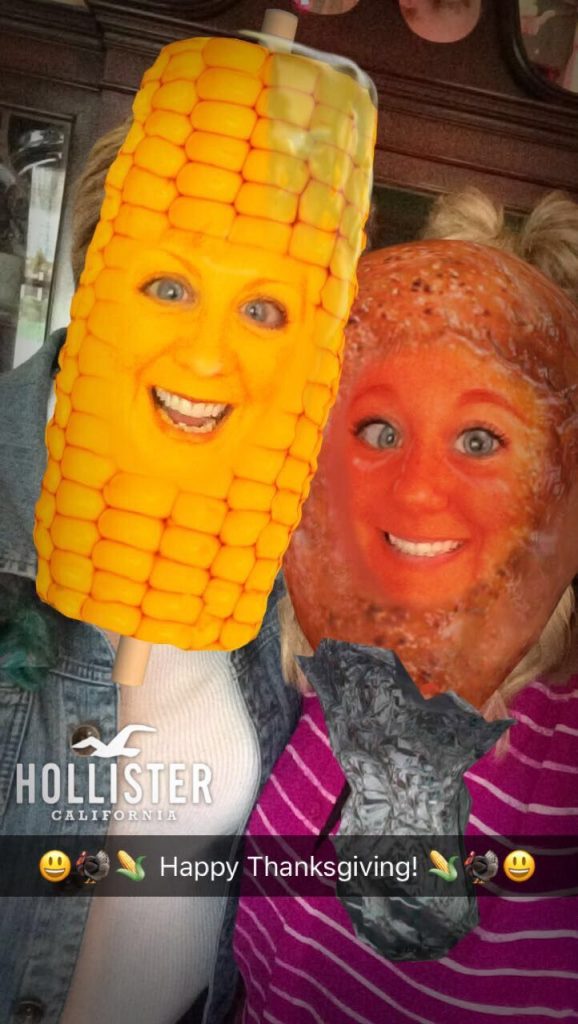 Above, an example of a sponsored filter on Snapchat – Hollister helped people celebrate Thanksgiving in 2016.
Ephemeral Content Summary
Facebook Stories, Instagram Stories And Snapchat – Which Is Best For Your Social Media Marketing Strategy?  It really comes down to this quick-list of questions:
What type of media does your niche support?

 

(Audio, video or static images)
Where does your target market hang out online?

 

(Find out, and be there)

How customized in approach are you willing to go? (Snapchat has the current edge)

Which advertising options would your audience be most receptive to?

 

(Remember, no one ventures online to look at advertisements)
Once you know those answers, you can best choose your path. 
Big brands may want to include all three platforms in their social media marketing strategy: Facebook Stories, Instagram Stories, and Snapchat.
The Untold Benefits Of Disappearing Content In Your Social Media Marketing Strategy
What makes Facebook Stories, Snapchat Snaps and Instagram Stories such a point of attraction for marketers? 
Here are some social media marketing ideas that should convince you to at least try disappearing content in your social media marketing strategy:
Demonstrate Subject-matter Expertise
Content marketing establishes you as an authority in your niche. Stories that contain quick tips or how-tos are always well-received.  You might consider a series of images with text overlays or video clips to help drive your meaningful message in a creative way.
Drive Traffic To Your Blog
Stories can be used as directives to drive traffic to your blog or website.  Just published a new blog post? Show it off to the world with a Story with a link attached, or in the caption, depending on the platform. 
Snapchat is already offering a direct link option on Snap stories.  Alternately, you can also use the built-in filters or overlays as CTAs to encourage your followers to click their way into your longer-form content from Facebook and Instagram.
Shout Out For Latest Offers
If your followers are enthusiastic and empowered, they might potentially buy your products. Announcing latest offers and incentives through stories would be a great way to maximize engagement…and your bottom line.
Summing It Up – Your Story
Above, you have a social media strategy outline of sorts – Consider it your social media marketing strategy guide to the disappearing content galaxy!
Facebook, Instagram and Snapchat Stories are a great way to showcase your content to your immediate social network. The time-sensitive content helps win short yet complete attention of your customers and has a real potential for impact to turn them into loyal brand advocates.
Keep in mind: Disappearing content might vanish in twenty-four hours. However, if you invest in the correct efforts, ephemeral content can uplift your brand's social presence for the long-term, and soon, your brand could earn the spotlight as a social media marketing strategy example.