A special list of super-savvy social secrets to turn YOUR light bulb on to successful social media marketing in 2013!
Will you hold it against me if I actually give you 25 super-savvy social media marketing tips?
This list is actually a countdown I did Advent Calendar style for my Facebook Fans in December, 2012.  It's now a tradition for Idea Girl Media, as it was a hit now two years running.
So, next year, if you want these as we count them down, just hop over to Facebook and click "like."  You'll automatically be included.  How's that for simple service? 🙂
I'll count them down (up) for you, just as I did on Facebook — and then dazzle you with a bonus!  The intention is to provide you with doable items that will build both your awareness and abilities.
Ready?
24 tips & treats to turn YOUR light bulb on to successful social media marketing success
1. SOCIAL SMART BUSINESS TIP
Make it a habit to check in & be social daily as yourself and your brand.  Respond to tags and  questions to keep your conversations flowing, and streams of communication leading back to YOU.
2. ONLINE MARKETING TOOL
MARKETING GRADER – See a complete "grade" for your entire online marketing funnel & learn how to improve!  http://marketing.grader.com/.
I like it because you get direct feedback via email pointing you to what works.
3. ONLINE PRODUCTIVITY TOOL
DO NOT TRACK PLUS – Stops ad pop-ups & online tracking. Effective, and has both Google Chrome and Firefox plug-ins.  http://www.abine.com/dntdetail.php
4. SOCIAL TREAT
$40.00 Off  One-hour Consult/Coaching Session booked by 12/15/2012 (Regular price: $99.00 US).
To Redeem: Head over to my Contact Page, or Email Me.  [$40.00 Off Consult in subject title]
NOTE: If you are reading this upon publish, I will grant this "social treat" if booked by January 31, 2013.
5. PERSONAL EFFICIENCY TOOL
WORKFLOWY – Keeps you AND your brain organized. Collaborative lists feature too. https://workflowy.com/.
I like it because you can share task details with people in other locations!
6. SOCIAL MEDIA TIP
Network on social media channels that are conducive to your niche.  Where are your ideal customers hanging out online?  Google+ is great for Real Estate Agents & consultants.  Everyone should be using LinkedIn groups with an updated profile.
Each business will require a different social portfolio.  Do you know what is best for you/your business?
7. SOCIAL MEDIA TOOL
POLICYTOOL FOR SOCIAL MEDIA – A policy generator that simplifies the process. http://socialmedia.policytool.net/.
Ready to begin customizing a social media policy that protects you and your brand?
8. FACEBOOK PAGES TIP
Posts with 80 characters or less see 23% more interaction (study by Buddy Media).
Remember the "KISS method?"
9. FACEBOOK TOOL
LIKEALYZER – Measure the success of your Facebook Page! http://likealyzer.com/
I like it because it tells you what you're doing well & suggests things you can do to improve engagement!
10. FACEBOOK PAGES TIP
Highlighted & Pinned posts get more attention.  Give your posts "mini-turbos" by highlighting them for about 3 hours, giving them greater visibility in the news feed.
This has proven to increase fan engagement on mine and other Facebook pages!  Should one-column Timelines become available for brand pages, this would change.
11. FACEBOOK AND PINTEREST TOOL
PINVOLVE – Bridges Facebook & Pinterest: http://www.pinvolve.co/
I like it because Facebook fans can pin from YOUR page to their boards!  Free & Pro versions.  My Pro Tab
12. TWITTER TOOL
MANAGEFLITTER – Twitter, smarter & faster!  http://manageflitter.com/.  Free & Pro plans.
I like it because you can follow & unfollow tweeps easily to keep your Twitter account free of fakers & your follower ratios optimal.

13. TWITTER TIP
Attend tweet chats to extend your brand awareness and let people know you.  There are hundreds to choose from – 7 days per week, at all hours of the day!
List of Tweetchats by Day Of Week by Gnosis Arts
14. LINKEDIN TIP
On your LinkedIn profile, customize your website and social media links to yourself and your business niche.  Choose apps to connect that make your credentials pop.  Important: Connect your blog via the WordPress app.
Is your LinkedIn profile optimized so you can be found by prospective clients and collaborators?
15. LINKEDIN TOOL
CLOZE – Find the best way to connect to desired new connections and close more deals on LinkedIn!  http://cloze.com.
I like it because it brings together email, business connections, social networks & address books into a single useful viewer.
16. GOOGLE+ TOOL
TIMING+ – Learn what time to post on Google+ —  http://timing.minimali.se/.
I like it because it also shows you your most successful posts, by time & day, in YOUR time zone.
17. SOCIAL MEDIA METRICS TOOL
CROWDBOOSTER – Easy social media analytics.  https://crowdbooster.com/.
I like it because it has pretty charts & gives suggestions to help you improve your connections efficiently.  (Now for a nominal fee).
18. SOCIAL TREAT
50% Off Online Presence Audit (must be booked by 12/31/2012)
Includes: Evaluation of your current web presence — Your website, blog, social media and video marketing.  We'll research and compare with others in your industry and/or geographic location.  30 minute follow-up call for review & questions.
Regular Price: $249.00 US
NOTE: If you are reading this upon publish, I will grant this "social treat" if booked by January 31, 2013.
To Redeem: Head over to my Contact Page, or Email Me.
19. GROOVY IMAGE TOOL
UNPROFOUND – Free images searchable by color.  http://www.unprofound.com/
Really!! 😀
20. CONTENT MARKETING TOOL
ISSUU – Create & share publications for your business; Free & business plans.  http://issuu.com/
I like it because it creates attractive content for your brand, and can be shared easily.
21. CONTENT MARKETING TOOL
POWTOON – Unleash awesome animated videos with a professional look; drag & drop features!  http://www.powtoon.com/
I like it because it offers something unique to your brand and whatever you want it to be!
22. SOCIAL NETWORKING TOOL
SPEAKPIPE – Let your website visitors or Facebook fans leave you voice messages; In beta.  http://www.speakpipe.com/
I like it because connects you with your fans via voice, further nurturing the relationship!
23. MOBILE TIP
Helpful iPhone apps for me:
For organization – workflowy, kindle.
For fun – foursquare, instagram, yelp, Words With Friends.
Professional resource – Facebook Pages Manager, Hootsuite, AudioBoo.
** I use these apps, several are available for Android too.
24. SOCIAL TIP
Create audio messages for your audience to give them another way to connect with you.  Offer tips that affirm your credibility in your niche, and share stories that relate the listener with your profession.
I recommend AudioBoo – It's easy & there is a handy mobile app!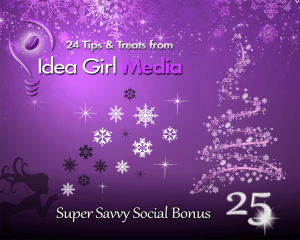 25th Social Media Marketing Tip
The Bonus To Dazzle You
I hope you like surprises!
Complimentary SEO & Online Marketing Mastery Session
with:
Kittie Walker of Indigo Girl & Keri Jaehnig of Idea Girl Media
Gain insights from an SEO expert.
Learn from LIVE examples.
Time for Q&A.
AND…
Earn your badge for attending!
PLUS
Sign up before January 10, 2013, and your website may be chosen as one of two featured during the one-hour session with Keri and Kittie!
The SEO & Online Marketing Mastery is on January 17, 2013 at 12:00pm EST. 
Details for exact online meeting link will be emailed to you before the complimentary session.  Grab your seat here!
I hope I'll see you on January 17th!
What are your favorite social media marketing tips and tricks?
Any social media marketing tips for small business you feel comfortable sharing?
Please share your thoughts in the comments box below…  🙂