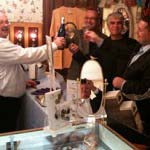 What did you get for Christmas?  Was your holiday sweet and simple, or extra-deluxe??
In cooperation with Clinton County, Ohio's Buy Local First program for their $25 Days of Christmas, Idea Girl Media gave away a social media services package valued at $1300.00!  The lucky winners are Terry & Pat Thompson of the Patterry, in the Main Street Wilmington district.  Yes, the same Wilmington, Ohio where  Glenn Beck visited in December, 2010.
An antiques and collectibles shop in Wilmington, Ohio carrying unique gift items including a full line of Vera Bradley quilted bags, OSU home decor and assorted items, Trollbeads and She Beads jewelry lines, primitive and formal antiques and complimentary selections.  The customer service is always excellent!!
Who are the Thompsons?
Terry and Pat are savvy small business owners interested in their own success, but also in the success of their local community.  They are long-time Wilmington and Clinton County, Ohio citizens.  When not working, you'll find them volunteering at the historic Murphy Theatre or talking Buckeye Football scores.  Whatever they do, Terry and Pat are passionate and professional!
How did they win?
Pat, Terry, and their staff collected in excess of 700 email addresses during the holiday season.  Now that's workin' the program! This expands their customer base and also increases the number of individuals that the Buy Local program can stay in touch with through their email marketingemail marketing campaigns.
Something to note: The Thompsons have been working with an email marketing program for awhile and have been using all the available bells and whistles to their advantage for some time.  Locally, they set the example. They also make it a point to know their products, available resources, and are always looking for additional sales and business training opportunities that will propel them ahead.  Ironically, we talked 2011 business goals before their win.
So…just what did they win?
From Idea Girl Media:

Online Presence Audit.
Set-up of 3 social network profiles in their company name.
1 Business Day or 2 half-days – Training on strategy & policy.
Product/service testimonial – Also posted to the Product Reviews section on Idea Girl Media's website.
30-minute follow-up coaching call (about a month after your social profiles are "live.")
The value of the prize is indeed $1300.00. More if you consider the hopeful publicity of the scheduled blog posts and Facebook Updates!
What can we look forward to?
The Pattery already does so many things well!  Idea Girl Media is looking forward to helping them optimize their online presence and helping them maximize results in bringing their email marketing and new social media effort together.  We're also looking forward to getting to know Terry and Pat even better!!
Pictured Above: Patterry owner, Terry Thompson, toasting with locals during Fall 2010's Wine Walk, a Main Street Wilmington event.
Are there small business owners that can share their experiences jumping into social media?
What would you recommend to the Thompsons as they develop their website and social network profiles?