Heading away on business for the first time … or first time in a long while? It is a good idea to keep a checklist of things to do and purchase before leaving to be efficient with time and resources. Not just a packing list, this business trip checklist is ideal for any remote worker…
Your Business Trip Checklist For Stress-Free Travel
Depending on your industry and niche, you may be required to travel for business purposes. Some of us have a routine that includes preparing for work trips, while others have none.
Business travels are stressful enough without considering the added job of dealing with any unforeseen events that may occur. No secret, your trip will be more fruitful if you have done your preparation before you leave for the road or airport. You really do need to prepare ahead of time.
Traveling securely and making a positive impression on your colleagues are both important. In addition, having all of the required work equipment on hand allows you continue taking care of your business responsibilities. Whether you are traveling domestically or internationally, you need to be able to guarantee your company will continue to run smoothly.
Here is the ultimate business trip checklist for success and organizational harmony while you're working remotely.
Make Travel Arrangements In Advance
Reserving your travel arrangements in advance is highly recommended for any mode of travel including:
Air travel
Ferry
Rental Car
Train
Hotel
As well as restaurant or entertainment reservations if clients will be with you.
Taking care of these details ahead of time assures you'll get the best deals possible. You'll also get first dibs on the finest available rooms and seats.
Getting a room at a hotel that is within walking distance of your meeting or conference saves time, which is a sufficient justification for making bookings as soon as possible.
When arranging travel plans for a business trip rather than a vacation or a short break, it is important to adhere to your organization's policies and avoid violating them. If you set the business travel policy, you should still follow it to lead by example.
Dress Professionally
What to wear on a business trip? Appearances are significant.
If your wardrobe is fantastic rather than baggy sweatpants and flip-flops, you are more likely to be honored with superior customer care. You are also more likely to secure a taxi in a crowded city. Avoid dressing sloppily or too casually on the aircraft since you never know who will be on the plane with you during the trip.
Naturally, you want your clothing to look clean and wrinkle-free the entire time you're away. For female business travelers, consider wrinkle-free cocktail dresses that fall either below or slightly above the knee and are appropriate for classy social occasions, just in case.
Remember, you are an ambassador of your brand. Dressing professionally helps you project a clear picture of your company to the public. A tidy appearance, and sometimes branded clothing, makes a big difference.
Ensure Your Electronic Gadgets Are Fully Charged
Before embarking on a business trip, charge all of your electronic devices at home. If you want to remain connected while you're traveling and working remotely, have portable chargers with you.
You'll often experience long wait times at airports waiting on flights. To optimize your time, fully charge devices before you leave. Also have extra batteries and power supply sources in your bag — especially if you will go for days at a time without certainty of when you can re-charge with a simple plug-in.
If you will travel a lot, higher end chargers might be a worthwhile investment if you need to connect your mobile devices when away from a power source. However, even if you're not a regular traveler, you may still find it advantageous to invest in extra batteries, and a portable charger with a lesser capacity.
Get A Comfortable And Functional Computer Travel Bag
Your business trips might be made or broken by the computer bag you choose to carry your laptop. Something so significant that you'll have difficulty stowing it under your flight seat is not what you're after. In addition, comfort is essential to avoid arriving with a sore neck or back. Additionally, you'll want a case that's both functional and attractive.
Choose the appropriate travel bag made of recycled materials. You will feel good about traveling with an environmentally responsible piece. They're lightweight and pleasant to talk about. You'll usually find them reasonably priced and be backed by a manufacturer's guarantee.
Additionally, your choice should be water-resistant, which offers further peace of mind for you.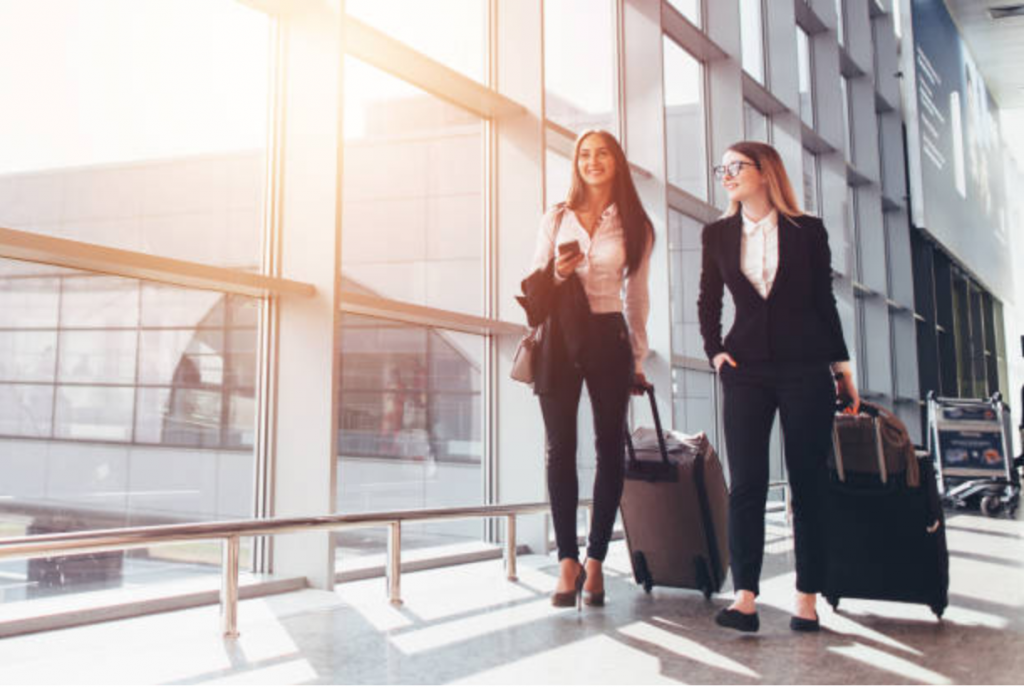 Check The Local Weather
Regardless of the season, it is prudent to check the forecast before departing on a business trip so you can pack accordingly. You'll want to be prepared for potential severe weather so nothing disrupts your business trip arrangements.
Consider layering your clothing in anticipation of unpredictable weather patterns. In turn, if the weather changes either daytime or evening, you can adjust your attire so you are always comfortable.
Closely evaluate the climate of your destinations before traveling. Our bodies are not prepared to deal with sudden shifts in weather conditions. Going to a different environment without proper clothing may result in illness from inability to adapt.
Top On Your Business Trip Checklist: Get Enough Sleep!
Because you're on a business trip, you must stay attentive, focused, and professional. If possible, schedule meetings after a period of relaxation. This is particularly critical if you're:
Traveling overseas
Going through a large time shift
Staying overnight
Sleeping well is the most vital of business travel advice.
Bring items that will aid your sleep. It's critical to get quality sleep, even more so when traveling long distances. Even more so if you will have appointments immediately upon arrival. 
Your hotel room's level of quietness can't be predicted until you arrive. There might be noisy neighbors or the air conditioner running all night. If you're a business traveler, earplugs are a must.
Make Use Of Airport Lounges
In addition to making your business trip more enjoyable, airport lounges may also improve productivity.
To the inexperienced, airport lounge associations may seem like a waste of money. However, regular business travelers see them as an oasis of calm amid a maelstrom.
Your business trips might be more delightful by making use of airline lounge amenities such as:
Power outlets
Comfy private chairs
Complimentary food
In addition, if you use the airport lounge, you are more likely to arrive for your flights earlier, decreasing stress as you board the plane at your gate.
In exchange for earning points with a certain airline, frequent flyers may get admission to airport lounges. Also, many credit cards provide free or low-cost admission to airport lounges.
You will probably have a budget to observe. See about submitting a lounge day pass as a reimbursable travel expense.
Make Safety A Priority
First, have your bag with you at all times when you are at the airport. Also, avoid discussing your hotel or room number with anyone in a loud manner, especially in public places.
Consider purchasing a portable door lock to keep you safer when taking a business trip. This will provide additional protection while staying in an unfamiliar location or hotel.
It is a wise decision to invest in travel insurance to cover unforeseen medical expenditures or other unwelcome occurrences while traveling.
The Only Business Trip Checklist You'll Need
Due to the interconnected nature of the global economy, periodic business travel has become essential. Therefore, it's necessary for you and your organization's long-term success to follow the tips above.
Even better, review regularly, and add or edit it as you find better options, resources and systems. Consider this your business trip checklist template.