We're not talking about starting an ecommerce business from scratch. But we are suggesting that including a storefront for your brand could be your next best move. Here are five things to consider…
You may already know how to start ecommerce business. Now decide if a brick and mortar will be your new advantage.
There are a lot of people out there that say retail stores are dying and ecommerce is going to completely take over. Many physical retail stores are making the move online to keep up, but is the traditional retail store really dead?
Contrary to popular belief, retail stores are not dying out, they are just changing the way they do things. Even though retail stores are in decline, there are many traditional retail companies that are still successful because they recognize that it's all about the experience.
People can easily find the products they need online, so why would they go out to a store? The answer is:
For the experience.
If you can create a unique customer experience that people cannot find online, they will still come to your store. So, if you run an ecommerce business and you are looking for new business growth opportunities, you should consider opening a physical location.
At the same time, main street is more competitive than it has ever been before. Many businesses struggle to get by. This means you need to strive to get it right.
Should you expand your ecommerce business with a physical location? We'll help you answer that question right here with important ideas to consider.
Invest In The Right People
We've already talked about how important the experience is, and your team are at the heart of that experience. People often think of retail work as a relatively unskilled job. But it's a mistake to think that you can get by with an inexperienced staff on a low wage.
If you want to give your customers a truly great retail experience, you need to hire the very best people. Look for candidates with excellent:
Interpersonal skills
Passion for the product
Organizational skills
The thing that people miss most when they are shopping online is the human interaction, so it's vital you spend time putting together a team that can provide an amazing face-to-face experience for your customers.
Focus On Efficiency
Online shopping is so great because it's quick and easy. In turn, it is important you replicate that in your store. Prioritize being well-staffed so store visitors can always find assistance if they need it. Also be sure the queue at the checkout is never too long.
Invest in a good point of sale system so payments can be taken quickly and easily. If you use a system that integrates with the point of sale on your ecommerce business website, that is the most simple and optimal for you. It also allows you to take payments on a phone or tablet, so you don't even need to use a traditional till system. The result? Customers can have a more personal one-on-one interaction with your employees.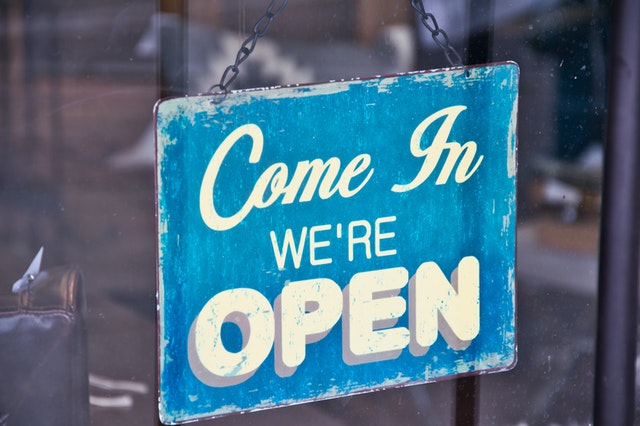 Keep Branding Consistent
If your ecommerce site is doing well and a good percentage of your customers are local, you should get a lot of existing customers visiting your store. The store will also push more traffic to the website, which is why branding needs to be consistent. Customers should feel certain they are interacting with your brand, online or offline.
Take a look at your ecommerce website design and try to emulate the main features in your store. For example, if it is a very minimalist site, your store should have the same theme and you should avoid overcrowding. Be consistent with color schemes, fonts and brand images as well.
Get The Layout Right
Finding products on an ecommerce business website is easy. There is either a simple menu system or you can just use the search bar to go straight there.
When you are creating your retail store, it's to your advantage to make it equally as easy, so think carefully about the layout. Use clear signage and put areas or sections in logical order so people can easily find what they are looking for. 
You should always have somebody waiting at the entrance to greet customers as they enter. Ask if they need any help finding something. This is essentially the physical version of your website's search bar. This one step makes the difference in your perceived customer service.
Last Words On Your Ecommerce Business Model That Includes A Physical Location
Many businesses are making the switch from physical retail to ecommerce. But there are still some great opportunities for ecommerce businesses that want to go the other way or include a storefront presence.
However, if you are going to be successful, it is important that you create a customer experience that matches the ease of online shopping. As long as you follow the tips above, you should be able to do that.