The more innovative your product or service, the more you need to consider out of the box ideas for marketing. Your purpose and technique should go hand in had, right? This article gives you four creative marketing ideas that outpace your competitors…
Creative Marketing Ideas For The Adventurous Small Business Owner
Growing your small business requires wearing quite a few hats. You'll have to figure out how to juggle all the tasks while doing them well. One of the most important is your marketing. Without that, you have almost no path for reaching your ideal target markets.
Many entrepreneurs do not know what they are doing in this regard. Marketing for small businesses can be more complicated than many people initially assume.
You'll need to make multiple decisions and determine what the best marketing strategies for your brand. Of course, your business plan and marketing strategy should be customized for your company.
Here are four creative marketing ideas to grow your small business and have fun at the same time.
Marketing For Small Businesses: Four Creative Ideas
1. Balloon Advertising
Talk about unique marketing ideas! Advertising with balloons might not be the first option that comes to mind. For many customers, however, it can be an effective option and is one of the more creative marketing ideas available.
If you think about it, probably not many of your competitors do it, despite how effective it can be. So consider the opportunities for your storefront to stand out. The goal is to positively stand apart from the competition.
We can recommend it because it is a surprisingly affordable advertising channel. Balloons can also be more versatile than you'd think. Use them both indoors or outdoors. When advertising a physical brick and mortar location, this is quite attention-grabbing.
2. Sell Mystery Boxes
Mystery boxes can be one of the more creative marketing ideas. When it comes to drawing in customers, if you do your research and execute a solid marketing strategy this option is effective because:
People fear missing out, making them more likely to buy a mystery box if their friends bought one.
The human brain loves surprises, so customers keep rebuying.
You can creatively decrease less popular stock.
Taking this approach can add an additional revenue stream.
It's worth being upfront about what potential customers can expect from these. Without spoiling the surprise, you could tell customers they're getting one of a certain product type. Or, describe a group of items that will be in their box – Even give it a theme.
Customize to your customers' interests will take this idea long-term.
3. Partner With Other Small Businesses
You might assume that partnering with other small businesses is a no-no. Under certain circumstances, however, it could be recommended. That's especially the case when their products don't directly compete with yours.
There are more than a few reasons why you might want to consider collaboration. First, you'll gain access to a market that could be interested in your products. If you're focusing on local customers, it is especially true. Second, you can share parts of the work.
Smart ways to partner include:
Co-hosting an event.
Setting up a pop-up shop with products from both businesses.
Mentioning each other on social media or in newsletters.
By collaborating with each other, you'll not only help yourself, but the other business and our community. In turn, you'll create a compound effect and multiply potential customers.
Remember, your partner should not be a direct competitor.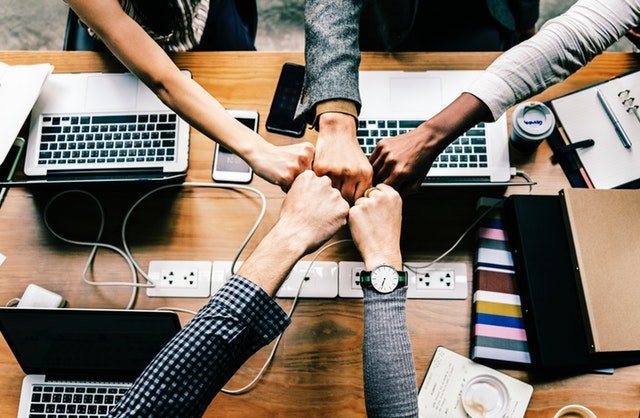 4. Give Quirky Product Recommendations
Shoppers may have several thoughts when they're visiting your store. Or, they could simply choose the products they normally do and be done. You can snap them out of this by giving them quirky product recommendations.
For physical retailers, try a display showcasing fun recommended products. If you're an online retailer, you should have a block section on-screen with related products or a carousel of products other people bought with a specific item.
While not everyone will add the recommended products to their basket, some will. Over time, that percentage of upsells will have a significant impact on your overall sales.
Wrapping Up
Marketing for small businesses can often be difficult. You'll need to take advantage of multiple strategies to meet big, hairy audacious goals.
Learn to delegate tasks you are not good at. Let someone that is do those things. Your entire operation will be easier, and you'll have time to plan and work ON your business … instead of IN your business.
Also consider hiring an expert digital marketing team to help you with marketing strategy and execution. If you do this right, they'll pay for themselves and you will look great at the same time.
Partner wisely. Growing your small business will be easier than you imagined.