Curious about Facebook f8 2017 and what platform features & technology they released at this year's Facebook Developers Conference? Here is a thorough set of essential notes for business owners & real people…
Essential Notes From Facebook f8 2017 For Business Owners And Real People
At f8 2016, it was all about Facebook's family of apps, as well as their five and ten year plan.  Sure, they flew drones around the room, held up a piece of the Facebook Plane.  But the emphasis seemed to be on:
360 photo and video
Facebook plugins & enhancements
Facebook Messenger and new chatbots
We also heard mention of Artificial Intelligence, and the potential for Augmented Reality (AR) to be the most social of platforms.
f8 Facebook Developer Conference is something social media professionals look forward to each year – Anticipating major feature releases on Facebook.  Considering what we heard at last year's f8, and what we were seeing on the platform during the year, many expected Facebook f8 2017 to focus more on Live video options.
But that was not the case…
Facebook f8 2017
In my opinion, Facebook f8 2017 was about changing the social media game.  In a way that some may not be ready for, and others will welcome.
A simple, hard fact: Social media strategies will have to change or get left behind.
This article will help you understand:
The one thing Mark Zuckerberg really wants us to know
Facebook's commitment to Connectivity
Why community is so important to Facebook
How Facebook Messenger really is your friend
New Facebook projects and technologies
And where the most AMAZING things are happening at Facebook (Clue: It may surprise you).
Facebook f8 2017: Making The Long Game A Reality
The latest edition of the Fast & Furious movie franchise released just before Facebook f8 2017.  Interruptive or convenient hype?  I'll let you decide.  This was evident in their presentation (note our lead image above).
It was nice to hear Mark Zuckerberg begin with mention of what he introduced at f8 2016 – The family of apps.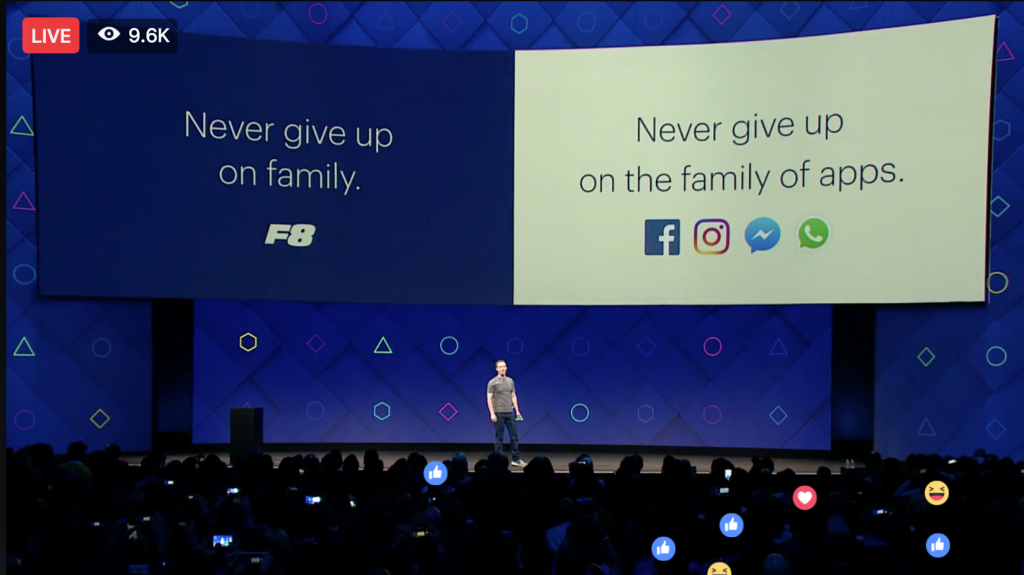 The family of apps is still a backbone of what happens at Facebook!  This strategic phrasing hinted toward their appreciation for community, and not forgetting who brought them to the dance, so to speak.
Zuck, and others on the leadership team, mentioned the ten year plan and flashed it on the screen more than once.  This gives the impression we are past the sophomoric phases of earlier years, and they are definitely following a plan…heading somewhere very calculated.
As an occasional critic of Facebook, I, for one, was happy to see this in both words and presentation.
THE f8 App
We heard mention of it at f8 2016, and you could tell Facebook's CEO was anxious to talk about it…
Augmented Reality.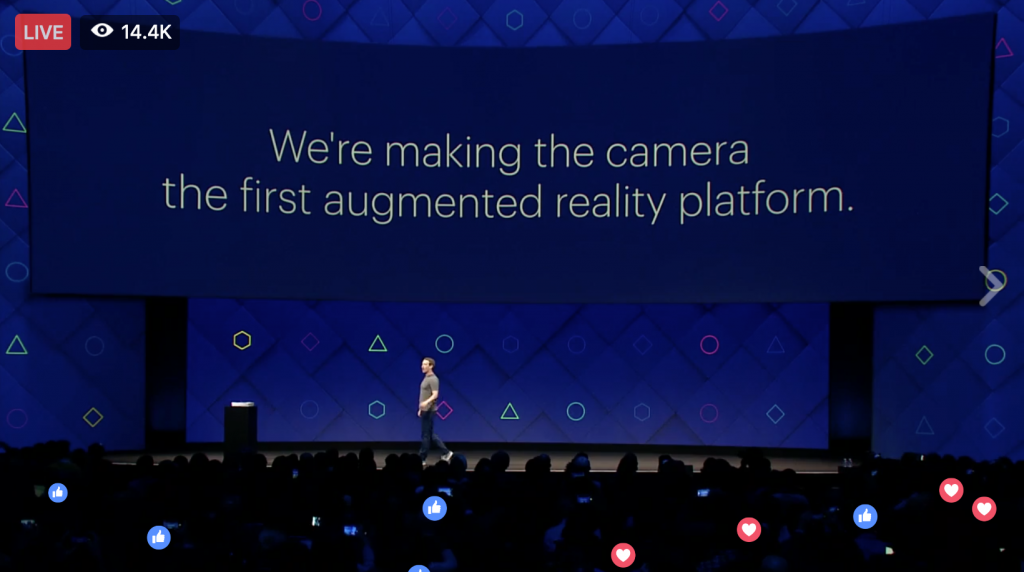 If you had tried the new Facebook Stories in the few days before f8 2017, you had already participated in a first — Facebook's Augmented Reality (AR) platform…
The Facebook Camera.  
You can connect with it via Facebook Messenger, or to use the Facebook Stories feature on mobile.  To make photo and video more fun, you get access to:
Frames
Filters
Stickers
Effects
So, those using Facebook Stories for business brand awareness, you might think how branded frames and filters could affect your marketing strategy and improve your reach.
Mark Zuckerberg announced it soon into his keynote, and affirmed it in a post just after Facebook f8 2017 had ended:
"If you remember one thing from F8…
Transforming the camera from a feature into a platform where any developer can build for augmented reality will be an important step forward…"
Camera Effects Platform
They launched it right there at Facebook f8 2017 – The new Camera Effects Platform.
You can apply here to design, build and release your effects.  Submit a frame, a filter, a new way to express yourself.  You'll be working with face tracking and 3D rendering.  Pretty exciting!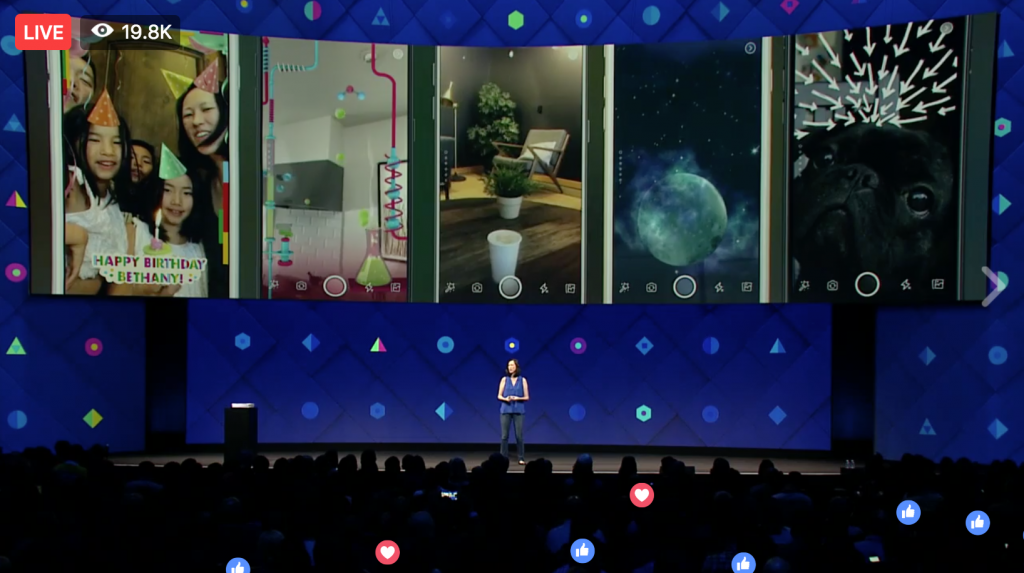 The Camera Effects Platform includes:
Create a simple frame, or a complex, interactive effect.
Augmented Reality
No need for funky glasses, or chasing things around like you may have with PokemonGo.  Using the camera, Facebook wants to connect us with family and friends in a whole new way.
The focus is three things:
Information
Digital Objects
Enhancements
With 3D Effects, Object Recognition, and Artificial Intelligence, you get a 360 perspective that changes 2D photo and video to 3D, and only promises to improve over time.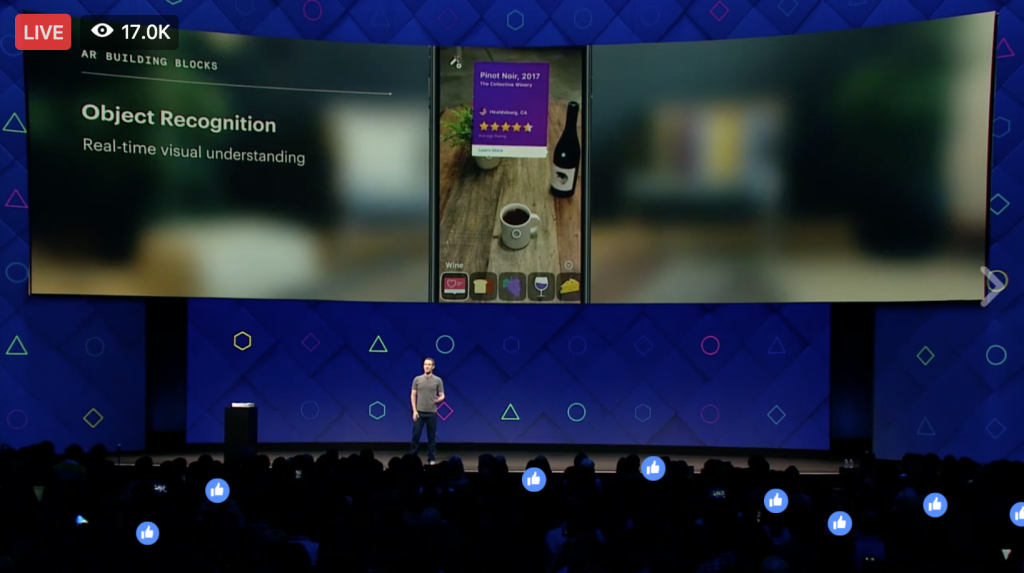 We watched documented improvement of image and clarity over a number of months using real, every day objects.
Very cool and fun – It will be possible to leave messages and objects for friends…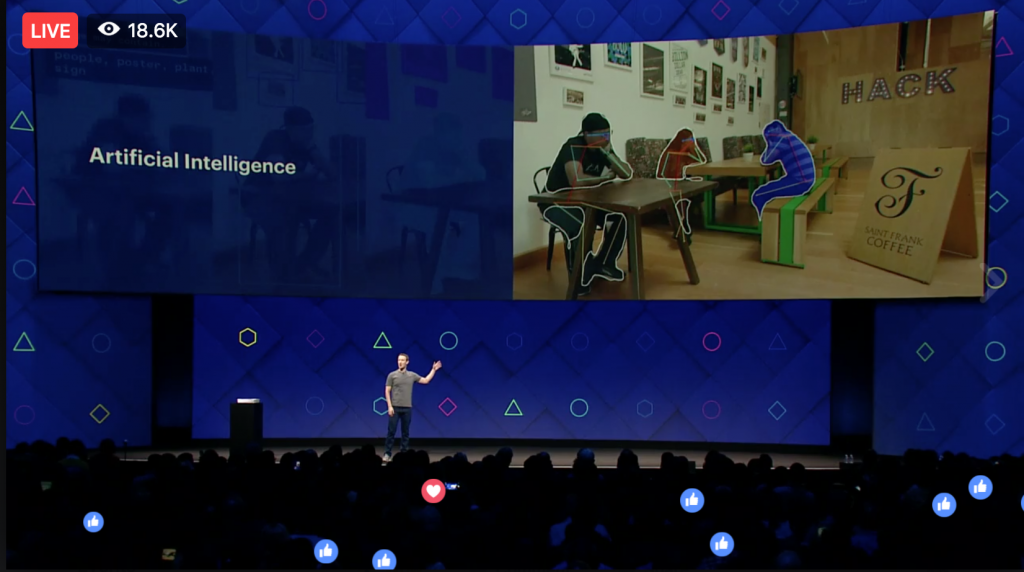 During the keynote, behind the coffee sign above, something sweet & refreshing was left there for a friend, by a friend. (Think Hunger Games with a nice twist).  In the future, you'll be able to leave items or messages for your friends too!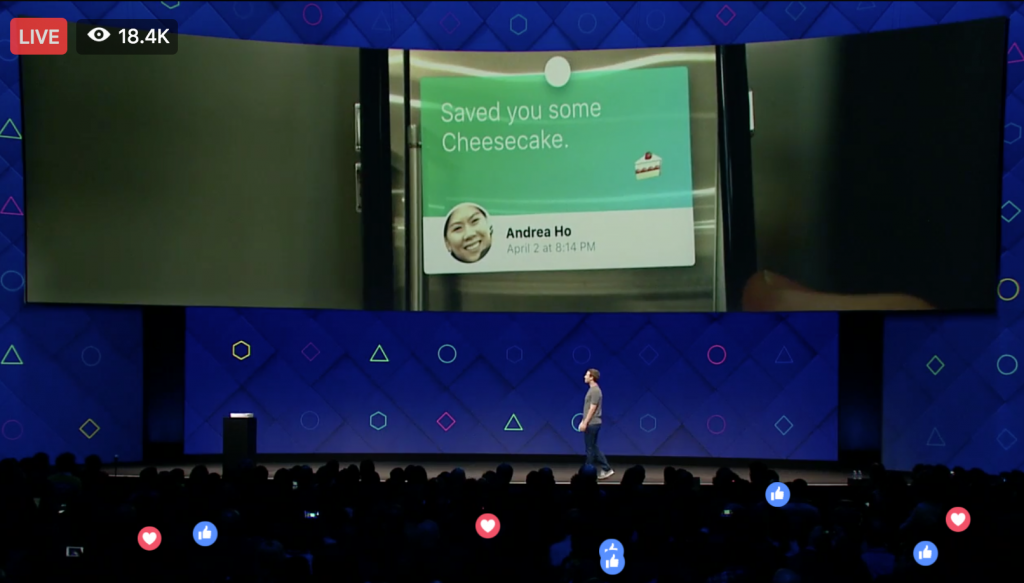 If you're shrugging this off, why should it thrill you? 
Consider:
If you're a business owner or a marketer, you'll be able to utilize details and sales information for potential customers.  People can shop and research in real time, and now in an interactive, social way.  A win for the shopper and a win for any business.
Virtual Reality
Oculus Glasses on!
This is perhaps the "coolest" thing presented at Facebook f8 2017…
Good news: There are more affordable goggle options now ($130, as opposed to $500+).  And, you get to use them in conjunction with Facebook's VR App – Facebook Spaces, available in the Oculus Store available in beta for Oculus Rift and Oculus Touch.
Building on the concepts from above.  Facebook's Virtual Reality is meant to be a way to connect with family and friends.
Once you have your Oculus glasses and downloaded the app, create your virtual self.  Once you have your virtual identity just the way you want it, you'll have access to:
Facebook camera effect
A VR selfie stick
3D imagery
360 video
Drawing/doodling
Memories from your Facebook Timeline
As well as the fun and experiences decided by you and your friends.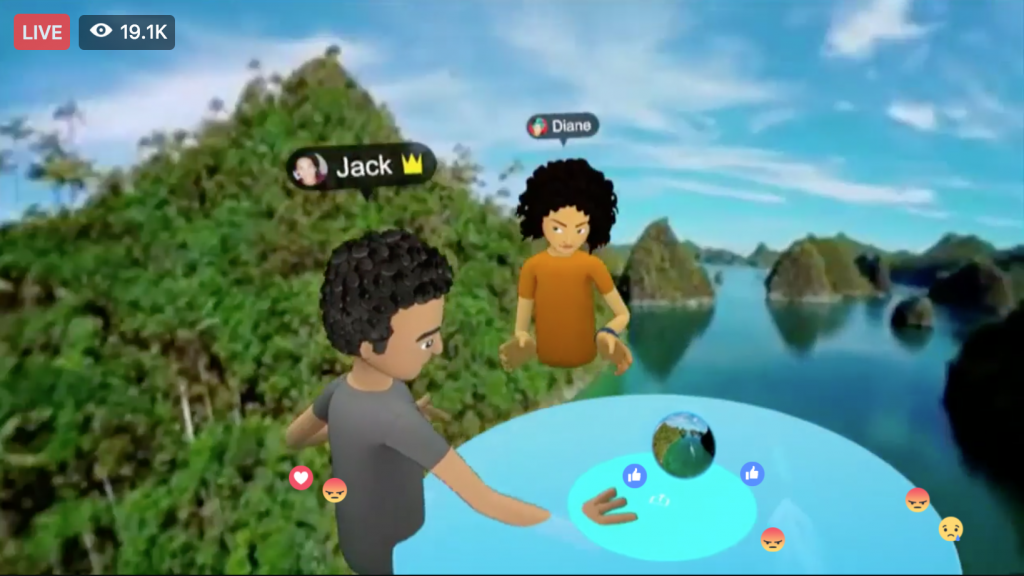 Mark Zuckerberg mentioned this technology has been used to bring medical students together to teach surgical procedures.
Thinking ahead to possibilities for business owners and marketers…
Restaurants could host gatherings for groups with available nutritional information
Keynote speakers could host impromptu discussions to tease keynotes at future events
Tourism destinations could let potential visitors experience tours and attractions
An amusement park could show off a new rollercoaster
Interior Decorators could share concept room designs – Right in the home
Educators can bring together students from all over the world
The options are endless, really.
At Facebook f8 2017 they mentioned a number of times what we saw was just the beginning.  There will be new ways of accessing the technology, which much more development on the way.
Developer Communities
In his keynote, Mark Zuckerberg expressed the importance of developing and nurturing the Facebook Community as a whole.  From there, each revealed technology and feature release was about creating additional opportunities for enhanced community.
It's almost surprising, but Facebook f8 2017 brought the first concerted effort the big blue made to offer community to developers.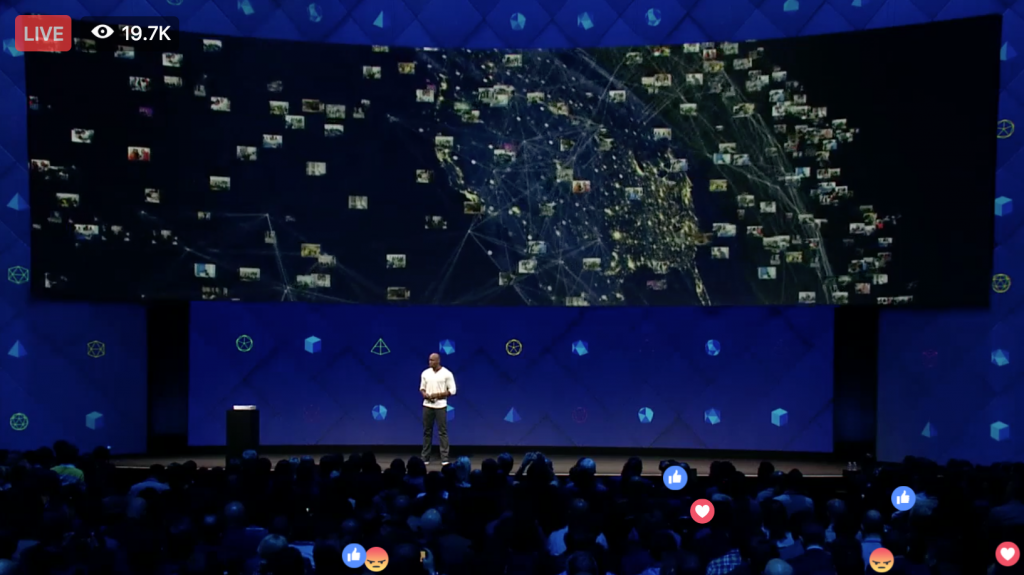 It is a world community, and developers of all types have been creating and collaborating for some time.  Now, Developer Circles are available by category and interest:
developers.facebook.com/developercircles
Facebook's intention is to connect communities to develop the future.  Once you create and/or activate your Facebook developer login, you can, "attend local meetups, collaborate in Facebook Groups and learn about the latest Facebook technologies."  In their words.
For marketers and developers this creates a multiplier effect so evolutions are smoother, and most probably quicker.
For businesses and those that rely on developers, it offers a stronger developer base and a better quality environment for users…customers.
Facebook Analytics
Some would rather drive nails in their arms than look at a bunch of charts and graphs.  But developers want to know that their app interfaces are successful.  Marketers want to measure ROI.
Facebook f8 2017 brought the announcement of Facebook Analytics.  Previously available just for apps.  Now, evolving to Facebook Analytics – For Everything.  Can't wait to hear more about that at… Facebook f8 2018, perhaps?
Facebook Messenger
Hang on to your mobile phone – Messenger announcements at Facebook f8 2017 were meaty!
Some Facebook Messenger Facts:
There are 1.2 billion Facebook Messenger users
Messages between people and business = 2 billion
100,000 is the number of unique bots built by developers
Those numbers are nothing to sneeze at!  At Facebook f8 2017, they announce Facebook Messenger 2.0.
People all over the world are using Facebook Messenger for casual communication.  Celebrities and businesses are using Facebook Messenger to:
Nurture relationships
Facilitate sales
Handle customer service
And that's just been the beginning.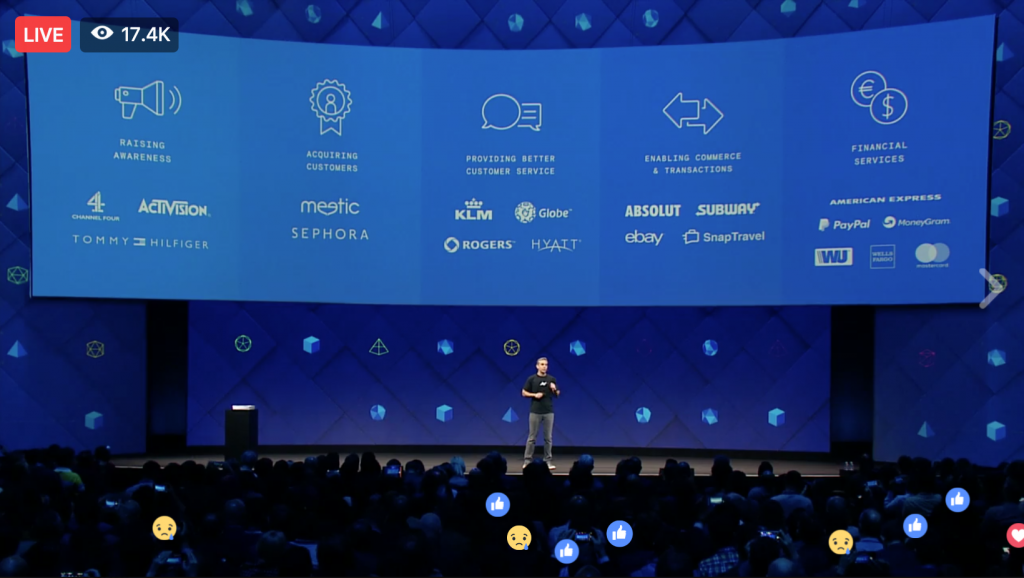 At Facebook f8 2017, Facebook announced intentions to leverage Messenger to help public figures and businesses:
Raise awareness
Aquire customers
Provide better customer services
Enable commerce and transactions
Financial services
Pictured above are the partners as of this year's f8 developer conference.  Partnerships were the theme at Facebook f8 2017.  They trickle through each category of advancement:
M (Facebook Messenger Assistant)
Chat Extensions
Messenger Business Bots & Smart Replies
Discover Tab
Parametric QR Codes
"M" – Facebook Messenger Assistant
When using your Facebook Messenger App, you will see a blue, "M."  That is your Facebook Messenger Assistant.
Using Artificial Intelligence (AI), it monitors your conversations with other Facebook Messenger users, and makes suggestions that are relevant to the conversation.  So, for instance, if you are talking about getting together, it might make a suggestion for a location.  You could even place an order for delivery through Chat Extensions.
Chat Extensions
While chatbots were made available for business purposes at f8 2016, chat extensions were rolled out for Facebook users in their personal Facebook messengers at Facebook f8 2017.
Chat extensions make turns the Facebook Messenger app into something interactive where people can truly share and experience during their conversation.  Payments, photos, videos, voice, and GIFs were available previous to f8 2017.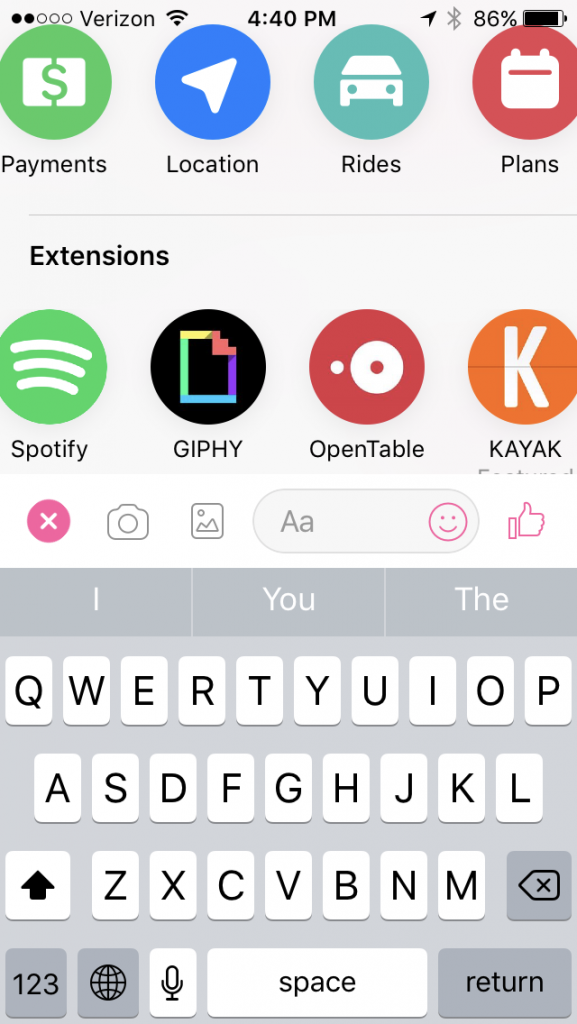 Here's a list of the newer extensions at time of publish:
Games
Location
Rides
Plans
Spotify
GIPHY
Open Table
Kayak
Food Network
Yahoo Captain
Swelly
Wall Street Journal
Trivia Blast
Scribble Chat
SnapTravel – Hotel Deals
See what happened there?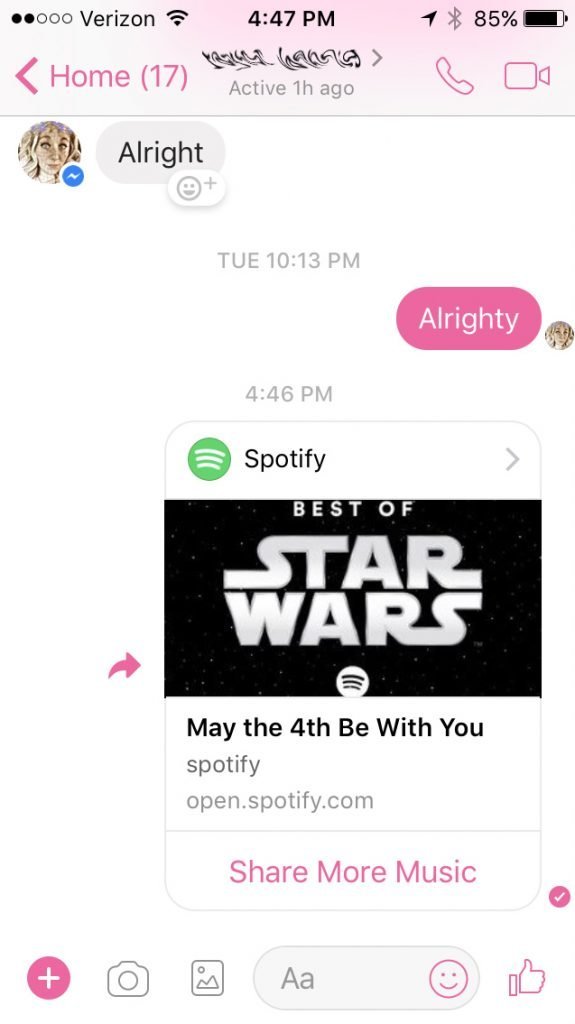 In Facebook Messenger, you can:
Book a ride
Check hotel reservations
Share locations
Decide on dining plans
Play games
Enjoy a song together
And more!
So far, the features and benefits have been geared toward the user.  From here, we'll talk about Facebook Messenger features that connect with businesses.  Remember, we all like to connect with our favorite brands.  And, studies show we now prefer to communicate via social media rather than call a hotline…
Messenger Business Bots & Smart Replies
Chatbots for Messenger on Facebook Pages were rolled out at f8 2016.  At Facebook f8 2017, they get better!
Chatbots can now offer a calls-to-action like:
"get support"
"check out our new catalog"
"shop now"
"schedule your appointment"
And other.  This is all about automation.
The already existing Auto-Response messages are upgraded to Smart Replies.  These can be really helpful for small businesses, as it allows for efficient handling of initial customer inquiries.
Facebook Messenger Discover Tab
This is totally new at Facebook f8 2017.
The whole idea is to give those that have invested in chatbots more opportunity to let people find them through a new Discover Tab.  Facebook users can search the tab to find experiences they are looking for.
Facebook Marketing Tip: This appears like something that could evolve like Facebook Ads has evolved.  In other words, those that find a way to utilize chatbots early and get creative enough to be found on the discovery tab will see long-term rewards before this feature becomes over-populated.
Parametric QR Codes
Some may remember the Scan Codes released in 2016.  Think Scan Codes 2.0…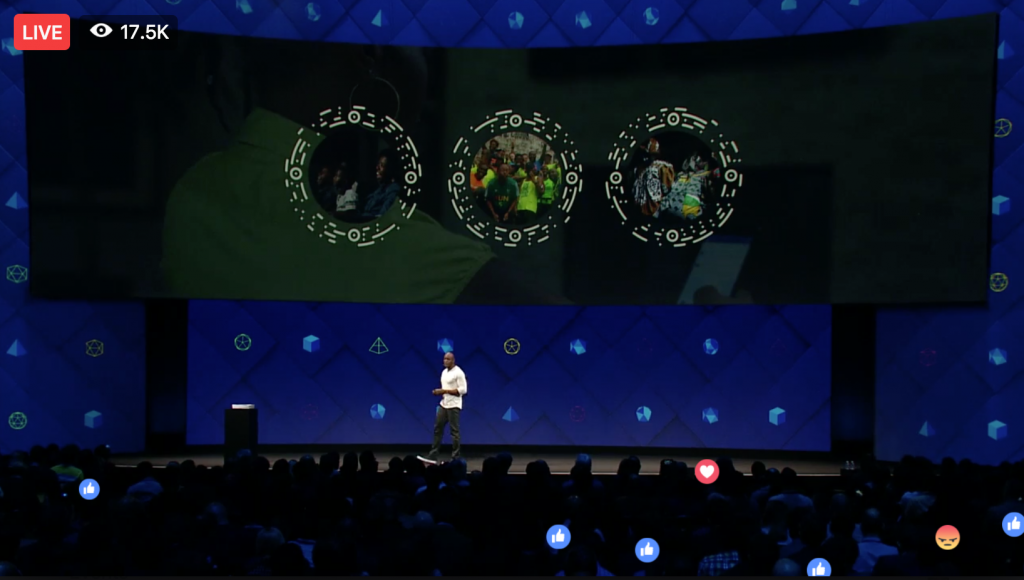 Above you see three Facebook Parametric QR Codes.  These are all for the same brand and can be used separately or together.
So, where the original Scan Codes help users communicate with your brand, and you can still use them, Parametric QR Codes can help your fans and potential customers understand your business and what it's all about.
A brand or pubic figure would create the Parametric QR Code, attach desired information or media to it, and users can scan and engage.
Some ideas for use:
Answers for FAQs
Product Explanation Videos
Link to new catalogs
Tourist destination details
Nutritional information for menus
Safety tips
Brief updates on latest projects
And that's just scratching the surface.
Live Video
Facebook has made live video possible through Facebook Messenger, Facebook Stories, and Facebook Live.  At time of publish, 2-person live video has not been rolled out to all users, but we have seen some with access post live videos using this feature.
No surprise…
Facebook Marketing Tip: Using live video is a great way to rank in your fans' & followers' news feeds and earn more opportunities to interact with them.
Enter GIPHY.  You saw that in Chat Extensions above.
Think of this as a way to add fun, branded effects to your Facebook Live broadcasts.  Another win: Your viewers can add effects too.  Using the front camera, you will see hashtags that allow switch of themes.  Using the back camera a microphone appears as if you are interviewing someone.  Super fun!
To access this feature:
Choose the "live" option in your Facebook App
In the upper right, tap the magic wand
Select a GIPHY theme at the bottom
Tap the blue "Go Live" button
And you're on your way!
Connectivity
Did you know there are still 4.1 BILLION people still not connected to the Internet? Yep!
We learned this at Facebook f8 2017.  Also, that Facebook intends to connect them ALL. While you think about that for a moment…
Here is how they are working toward doing just that: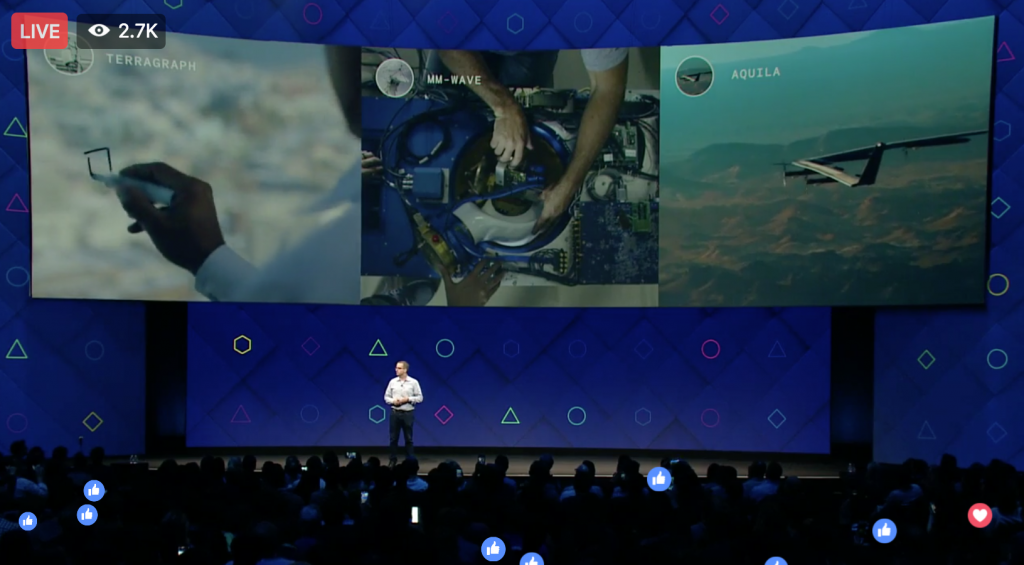 The Kliffnotes for this: Facebook is using a plane and other technology to go from land to stratosphere to make global connectivity possible.
They are also working on connectivity through buildings and using 360 video in communities to study and improve connections for real people.
Building 8
The best was saved for last because it is definitely the most amazing!  Definitely 10-year plan stuff.  Very cool, and profoundly impactful.
Building 8 developments solidify Facebook as a meaningful global and social citizen.  It is their lab of future gems. Here, again, some of the technology they need to make some of their projects possible does not exist yet.
A few of the things happening at Facebook Building 8:
Thumb to screen technology
Brain to screen technology
Hearing through skin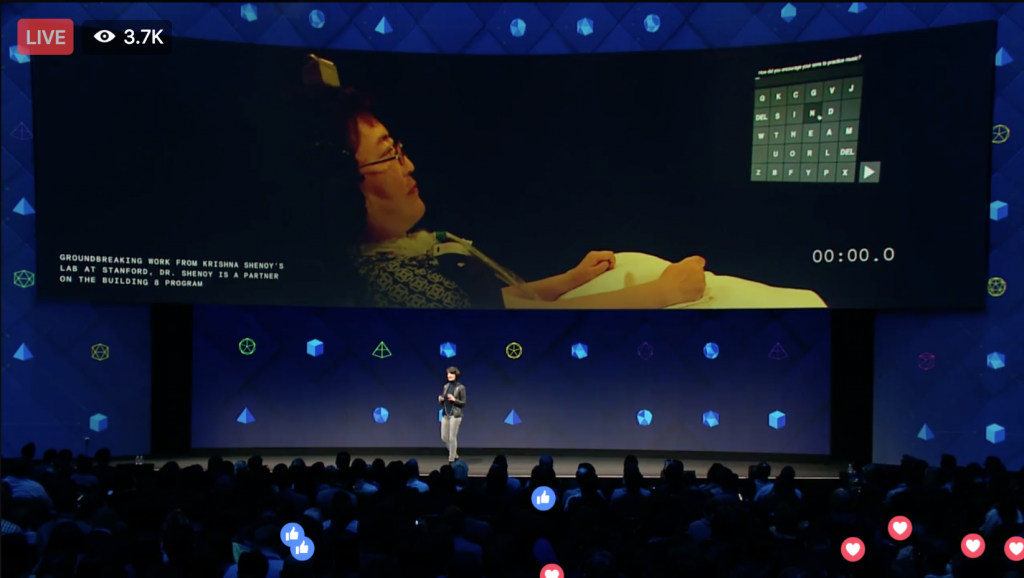 The above image looks like it features a woman wearing glasses playing with a video game or program.  Right?
What's really being shown here is something quite AMAZING!
The woman pictured is an ALS patient, and she's typing 8 words per minute using brain to screen technology.  WOW!  This is HUGE hope for those diagnosed with ALS, as their brain is still functioning at high speed, but their bodies cannot keep up.  A medical treatment breakthrough worth it's weight in gold!!
Now imagine:
Thinking in Mandarin and feeling in Spanish.
They're working on it!
Summing Up Facebook f8 2017
It is safe to say that Facebook changed:
Social media marketing
Video marketing
Customer service
Everyday communication
Medical care research
And where the human race is headed at this year's Facebook Developers Conference.
Your To-Do List:
Try the Facebook Camera
If you don't have it – Put Oculus on your list
Use Facebook Messenger
If you're a marketer, change all of your social media marketing strategies
Schedule time for Facebook Live video broadcasts
Then, stay tuned for updates.
There's a lot on this page, and a lot not even mentioned here.  If you're at all curious, check out the Facebook f8 2017 video library – You'll find recordings of all of the sessions, including the keynotes: developers.facebook.com/videos
Your Turn
What do you have questions about?
What part of Facebook f8 2017 was most fascinating to you?
Please share your thoughts and curiosities with me in the comments box below…