How to create a positive working environment? If they're smart, it is something all entrepreneurs and managers should learn and continue to learn about. This article outlines ten ways to develop a positive work environment…
Prioritizing A Positive Work Environment In Ten Easy Steps
If you want a business of longevity, your employees need to feel safe and comfortable in their place of work. Unfortunately, many businesses do not take the necessary steps to create a safe and positive workplace for their teams. This can lead to:
Decreased productivity
Low morale
Lawsuits
This article outlines how to create a safe and positive work environment at your place of business for your employees.
Establish Clear Policies And Procedures
Every company should have clear policies in place that cover every aspect of their business operation. This ensures everyone is held accountable for their actions, and safeguards the business entity.
Make sure all employees understand the consequences of not following the policies. More importantly, make obvious the rewards or recognition they may receive by adhering to them.
Be Flexible
This applies to:
Work schedules
Hours
Vacation time
Family leave
Showing that you are willing to accommodate thoughtful and earned requests from your employees will foster trust and appreciation toward the company and instills a positive internal brand.
Encourage Open Communication
Encouraging clear lines of communication between management and staff about ideas, issues or concerns is essential for creating a safe and positive work environment. For your employees make available:
Regular team meetings
Anonymous surveys
An open-door policy
To discuss anything they feel is relevant.
Promoting Diversity And Inclusion Nurtures A Positive Work Environment
Prioritize a culture where everyone feels respected and valued regardless of:
Race
Gender
Age
Sexual orientation
You want your team members to feel valued and appreciated for the skills and talents they bring to your organization. They will value your commitment to observing diversity and inclusion and will come to appreciate their equity stake in your company's success.
It is important to provide a workspace that feels safe and welcoming for all people that work for you.
Invest In Employee Development
Employee development opportunities will show that you are invested in the success of your team members. This can lead to increased employee engagement and pride in themselves and their workplace.
Consider providing:
Workshops
Seminars or webinars
In short, offer ways to help employees individually increase their skillsets.
Positive Work Environment 101: Show Appreciation
Expressing appreciation toward employees is key to creating a positive work environment.
Recognize them publicly when they do a job that positively impacts your organization. Reward them when they go above and beyond.
These gestures will boost morale, improve productivity and increase loyalty.
Provide Insurance
Providing company life insurance – health insurance and other employee benefits – can be a solid incentive for employees to stay at your company. This will give them a feel safety and security, knowing that they are making a wise decision for their family.
Promote A Healthy Workplace
Nurture healthy eating and exercise among employees. Encourage some friendly camaraderie outside of work to foster better relationships. Highlight activities for relaxation, such as yoga or meditation.
Also give them the tools they need to keep their workspaces clean and tidy.
Designate Time For Team Building Events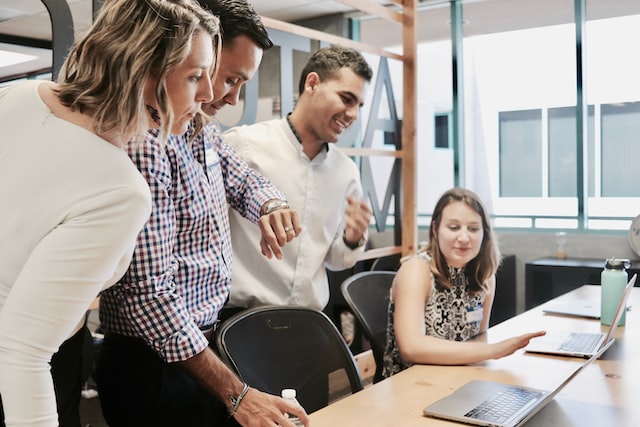 Want to foster better relationships between employees? Hold scheduled events that include all of your key staff.
Team building activities such as:
Topic expert programs
Challenge courses
Scavenger hunts
Karaoke nights
Board game tournaments
All can be great ways to engage employees in a fun way.
Conduct Employee Satisfaction Surveys
Regularly gathering feedback from employees about their job satisfaction can help you identify areas for improvement and make changes that will create a more positive work environment.
Employee satisfaction surveys can be effective. Method and execution are vitally important. Consider an outside party to handle everything up to examining the feedback.
The Importance Of Positive Work Environment
By following the above tips, businesses of all sizes can create a safe and positive work environment for their employees. You should see increased productivity and morale among your team. It can also prevent some potential future legal issues.
Encouraging open communication, being flexible, showing appreciation, and investing in employee development are key steps you can take to ensure everyone at your organization is happy and productive.