Transforming your personal online presence into a profitable business hinges on a well-crafted social media business strategy. This article offers nine key steps to elevate your game in the digital space and become a mobile entrepreneur with a robust plan…
9 Key Elements Of Your Social Media Business Strategy
Implementing an effective social media business strategy can turn your online presence into not just meaningful exposure, but also a pathway to solid branding. Below are tailored guidelines to navigate this journey successfully.
Master Platform-Specific Posting
Each social platform, from Facebook and LinkedIn to X (formerly Twitter), requires a unique approach. Gone are the days of cross-posting identical content.
The best content writing services, such as FATJOE, specialize in crafting posts that resonate with each platform's audience. Other content creation services cater to entrepreneurs and executives.
Choose The Right Platforms
While spreading your content across numerous platforms seems appealing, your social media business strategy will benefit more from focused efforts. Target one or two platforms initially, where your audience hangs out and competition is less fierce.
Establish a Niche: Specialization in Your Social Media Business Strategy
A solid social media business strategy calls for a specialized approach. Choose a niche that you're passionate and knowledgeable about. This elevates your authority, eventually making you an influencer in your field.
Product Alignment
Your product selection should mirror your niche focus. This ensures that your offerings resonate with your audience, providing more value and building your brand effectively.
You could also consider satellite niches moving forward, once you've gotten your feet wet. For example, a lot of gamers also enjoy comic books, so you might see a pattern emerge for related products.
Crafting A Resilient Personal Brand
The most successful businesses and influencers on social media have solid branding. Branding is more than a logo and a catchy name, and takes time, effort, and professional services to develop. It's a complex subject, but some of the required aspects of branding include:
Discover your strengths, weaknesses, and the things that matter the most to you.
Begin by using the available assets, such as time and money.
Come up with a mission and develop it into a personal statement for guidance.
Include personal details for story development to identify with your audience.
Take the time to cultivate a specific brand's personal identity and image.
Network your brand through various other channels across the web.
Proactively work on rebranding and development based on measurable impact.
Branding is possible with minimal assets, and you can even use AI for basic requirements such as logo development. But there needs to be something behind the imagery that your audience can identify with. This includes a personal story to strengthen the overall mission statement.
This foundation fortifies your social media business strategy.
Collaborate With Influencers: A Win-Win For Your Social Media Business Strategy
Becoming an influencer might be your end goal, but it is a long road. No one becomes an influencer overnight, and it can take around a year to even see any profit and 18 months to fully establish your business.
In the meantime, you can leverage the power of other influencers in the niche. Reaching out is the first step. But an influencer needs to see value in backing you up. Some may even ask for payment, but it is a huge help if you are established in the same niche.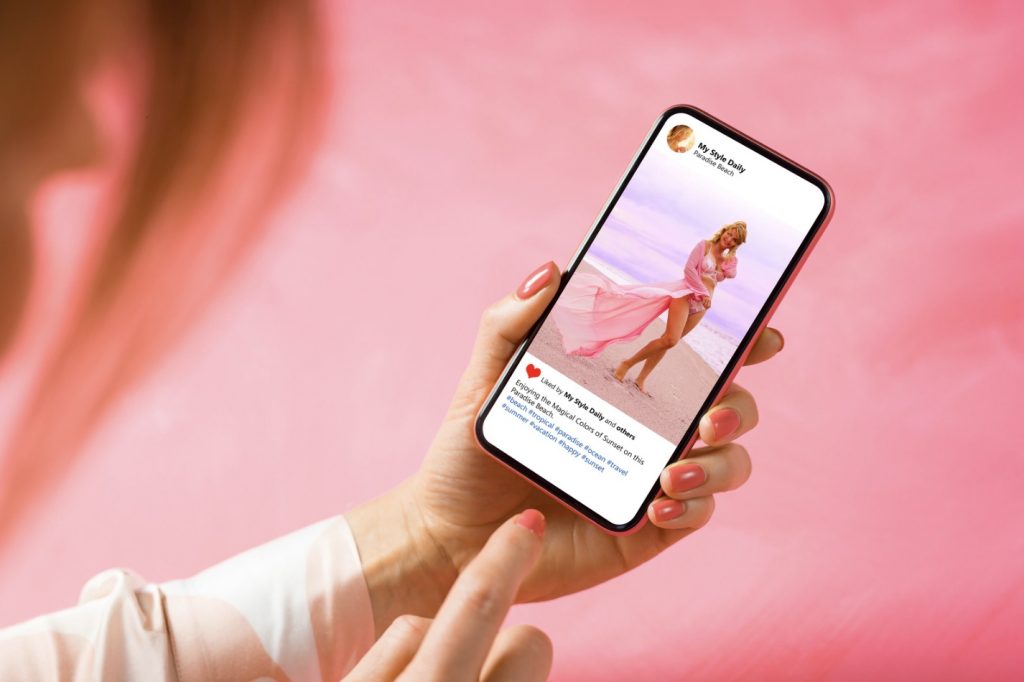 Utilize Analytics: Make Data-Driven Decisions
All social media platforms collect and store data, and much data is available to you as a user of the platform. Metrics such as:
CTR
Page views
Demographics
Are all collected. You can use this data to measure your audience and decide on content moving forward. You can use this data to refine your social media business strategy, crafting content that appeals more effectively to your audience.
For example, you can see if a product has been viewed more by men or women. This is valuable because you can decide to cater more to each or balance the data to increase the audience.
Hone Your Marketing Skills: A Social Media Business Strategy Necessity
Effective marketing is the lifeblood of a successful online presence. Like any kind of marketing, social media marketing is challenging but essential.
Marketing using your chosen social media platforms will allow you:
Open up your brand to the right audience
Minimize expenses
Maximize conversions
Most of this depends on the correct usage of data mentioned above. If this is a challenging area for you, consider outsourcing to professionals. This amplifies your marketing strategy, helping you reach goals faster.
Investment In Platform-Specific Ads
As stated, all social media platforms collect data, and for the most part it is collected to assist with advertising. Ads on social media are 100% reliant on data, and it works to help you as a user or business for your own advertising efforts.
Social media is free to use, even for business. But to gain any kind of meaningful exposure, you will need to invest some of your assets, time, and money into creating the right types of ads that work to attract a niche-specific audience.
Summary: Finalizing Your Social Media Business Strategy
A well-crafted social media business strategy involves multiple components—from platform selection and niche specialization to effective marketing and data analysis. By prioritizing these, you set yourself up for robust online profitability and brand exposure.