Every new entrepreneur wants the best small business strategy. That includes marketing. How to create a small business marketing strategy that brings new customers and drives success? This article outlines four proven tactics…
The Small Business Marketing Strategy Playbook For Smart Entrepreneurs
When it comes to marketing a small business, there are many things to consider.
What is your brand messaging?
On what online platforms will you have presence?
How will you track your results?
And so on.
It can be difficult to know where to start and where to turn for help. That's why we've put together this guide. Here is the right way to approach your small business marketing strategy.
Know Your Audience
Understanding your audience is the most important step in developing a successful small business marketing strategy. It is important to identify:
Who you are targeting with your product or service
Their interests and preferences
Their demographics
Their needs
By doing so, you can create customized campaigns that will more effectively reach and engage them.
Market research is key. This includes using tools like maxdiff to gather relevant information regarding the potential customers that suit your product or service. Additionally, consider lifestyle traits such as:
Hobbies
Interests
Other brands they prefer
You may also opt to survey past and current customers to gain insight into what they like about your products or services, how they use them, and any suggested improvements.
Set Clear Goals
Every small business marketing strategy should prioritize goals. This provides a direction and a sense of purpose, enabling marketers to:
Measure progress
Track ROI
Make data-driven decisions
When setting these goals, it's important to start with the intended result in mind — What do you want your marketing efforts to ultimately achieve? For example, do you want to:
Once a main goal is identified, marketers can create smaller milestones to reach that will help measure real-time progress.
Draft Brand-Centric Strategies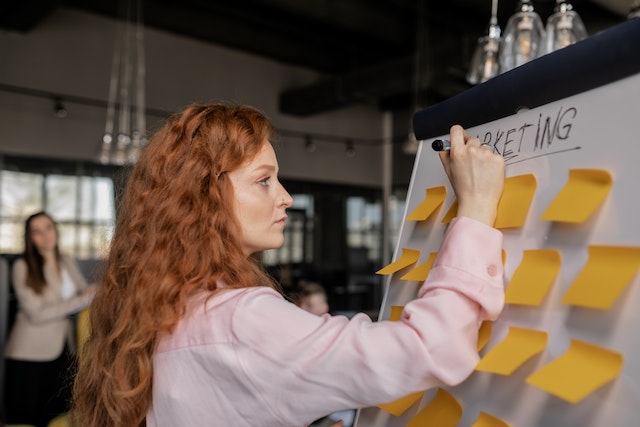 The best marketing strategies used by companies experiencing growth begin with developing a strategy to achieve each goal set. This includes deciding on which marketing channels to focus your efforts on, as well as crafting a brand message that will resonate with your target audience.
For example, if you are targeting millennials, then digital marketing channels may be more effective than traditional print advertising methods. Additionally, if you're trying to reach seasoned professionals in a specific industry, LinkedIn may be the best platform.
When it comes to brand messaging, understanding your target markets is key. Language and imagery should speak directly to the interests and needs of your intended customers. In turn, they will engage with your brand.
Market research is of high importance once again — understanding the:
Of your target audience will help you craft optimal messaging.
Monitor And Measure
In short, track results and make data-driven decisions. This type of follow-up is the most important component of any successful small business marketing strategy.
As previously mentioned, setting measurable goals gives you a clear direction that helps you track progress towards those goals. Using analytics tools or other reporting methods enables your marketing team to measure ROI for each marketing campaign and adjust strategies in real time based on the data collected.
Final Thoughts On Small Business Marketing Strategy
Creating a successful small business marketing strategy requires a combination of:
Research
Goal setting
Data analysis
By understanding your target audience, setting measurable goals, developing the right strategies and tracking results, marketers can create effective campaigns that reach desired objectives.