Social media success takes planning & keeping your social house in order. This checklist includes screen shots and video for optimizing your brand on seven social networks.  Use it now to as your guide to social media success…
How To Get Your Social House In Order For Social Media Success
The social media landscape changes so fast, brands, small businesses, and solopreneurs all stay breathless to keep up with platform changes and the latest techniques to reach their ideal customers.
Over time, we can become so focused on keeping up that we may forget to circle back and make needed updates to our "social house," or online properties.  That can actually detract from our social media success.
Blueprints And Floor Plans
Efforts to get your social house in order for social media success are common when:
There is a change of organization leadership
There is a change of social media strategy
A combination of both
Many times the simple addition of another social profile will spark these actions.
It is optimal to tidy your social media profile contents about once a quarter.  A great time to give this a bit more attention is at the end of a calendar year to set your business up for social media success from the very start of a new year.
This article will help you:
Understand how to optimize individual major social networks
Visualize what your target market sees at your social properties
Plan your steps for a clear and impactful social media portfolio
Starting with a clean and beautiful house can then springboard your social media success into the future.
Duck On The Porch?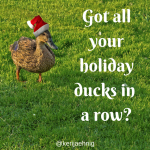 Everyone wants to experience social networking success…
Those small business social media success stories you hear about?  They had their ducks in a row, and their social house was probably in order!
So, are you ready to get started spiffing up your social house?
Social House Foundation – Vital For Social Media Success
When you're getting your social house in order, an important question to ask:
What social networks should I be on going forward, and why?
Social media success starts there – Aligning actions to goals and vice versa.
Preparing For Spiffy – 3 Steps
Some initial steps before getting into the nooks and crannies:
If you have not yet done a basic social media audit of your online presence, do that first.
Do a brief overview of your competitors – Where are they online?  What are they doing?
Make a list of how you can you use your brand's strengths to outpace competitors.
This process should take you a few hours or more, so you will probably want to set aside separate time before going through the following steps below.
When considering your competition, make lists to get a visual of what they are doing well and not so well so you can effectively assess your windows of opportunity.  Taking advantage of the sweet spots before your competition gets there will increase your social media success.
Now, the nitty-gritty…
Social Media Success: Checklist – Getting Your Social House In Order
Consider this the walls, windows, and doors of your social house.  There are a lot of details here!
Edit And Polish Each Social Property (Digital Windex)
You will be drilling down into the details for each social media profile on each social platform where you have a presence.  For each, you should review, as they apply:
Bios
Company descriptions
Brand history
Services offered
Links
Applications attached to the profile
Imagery and videos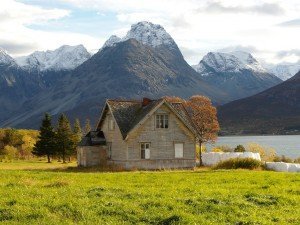 Imagery and videos are like the "gingerbread" on the house, and for many, this is often the most fun.
If you have reserved a social profile in your brand name for the sole purpose of assuring it be there for the future, do check in on it.  Make sure the correct links and imagery are reflected for your brand.  If it is more appropriate to leave the profile void of details, then at least change the password if it has been awhile since you visited.
Your social media success does not hinge on the number of profiles where you are active as much as it is attached to the quality of presentation.
Now lets get more social network specific…
Facebook
Facebook allows you many opportunities to be brand-forward, so what you enter in on your profile and Business Page directly contributes to your social media success on the platform, and your "FEO" (SEO, Facebook-style).
Use your brand and niche key words, and sprinkle them throughout your text.
For Facebook Personal Profiles:
Your Facebook Profile has categories of details: Timeline, About, Friends, Photos, and More.  Since your profile is your passport to the rest of Facebook, go through these with a fine-tooth comb.
Under About, edit and polish your sub-categories:
Overview
Work And Education
Places You've Lived
Contact And Basic Info
Family And Relationships
Details About You
Life Events
Remember, what people see here depends on your privacy settings.  Be sure to check settings for all apps connected to your Facebook personal profile (under More).
Also, hop back to your Timeline, and check out your left sidebar.  Do you feel comfortable with what is presented?  If not, head into your apps and edit your settings.
NOTE: One opportunity I see very under-utilized on Facebook are the Photos functions.  If you have not been in the habit of adding descriptions, change that now!  To pump-up your FEO, tag yourself on your profile photos and cover images, and add your social profile links to lead people to your most important online properties.
Social Media Success 101 – If you have a Facebook Page, be sure the first box on your Facebook personal profile left bar includes your job title and link to your Facebook Page.
For Facebook Pages:
Head right to your Settings area, found clicking the word link at the upper right on your page.  It's worth it to take time out to check and edit any settings for your Facebook Page right now. There are several to go through, but if you set your Facebook Page up well, it should be just checking and minor editing.
Under "About," main categories to focus on:
Page Info – Sprinkling key words in all relevant descriptions and correct, updated links
Milestones – Are there brand accomplishments that should be added to your Timeline?
Page Owners – Decide if you want your personal profile visible to the world here
Apps – Be sure all are reflecting correct imaging and details.  Remove or turn off any that do not apply any longer.
Now, get out from under the hood and check your work.  Be sure what is visible to the public is what you wish for them to see.
Give the left sidebar a scan and be sure what is visible is optimized.  Tag and enter descriptions for most recent images, and organize your videos into playlists, if possible.  Your feature video should be your best video, or a feature video for a current promotion or campaign.
Regarding Facebook apps, you can customize the thumbnail for three.  Customize the labels of the three you wish to feature viewable on the main Facebook Page display.
At the cover image area:
The holidays are a great time to get creative with the imagery!  But let niche and season dictate what happens here.  Tag and enter descriptions with the most relevant links.
Optimizing that same space, consider turning on the Direct Message function.  Staying open to messages from your fans is a great way to let the world be known that your business is approachable, and appreciative of customers.  (social media success juice)
Even more important – The call to action!  You have several options on how to use this valuable online real estate.  Facebook guides you through the step-by-step for:
Book Now
Call Now
Contact Us
Send Message
Use App
Play Game
Shop Now
Sign Up
Watch Video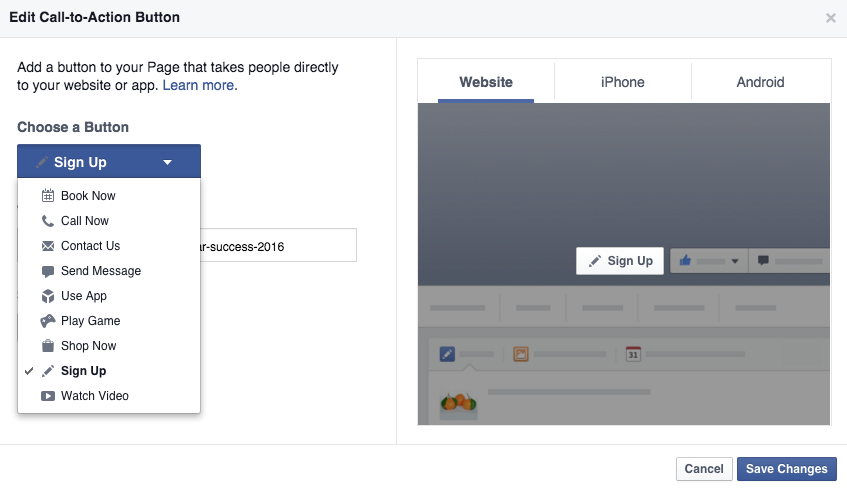 You can choose to promote your call to action, so make your call-to-action delicious to encourage your social media success here.  Don't forget to insert a correct web address link where the pop-up box asks for it.
For Facebook Groups:
If you have a Facebook group for your brand or organization, you might as well tidy up here too.
Facebook does not give you as many areas to edit in Facebook Groups.  The main areas you want to pay attention to are:
 Group Image – Decide on a banner, or to feature your most active members. In the far right of this space is a button with three dots.  Clicking this will let you get into your settings to edit your Group's name, icon, type, tags, privacy, customized web address, and the description to the most current preferences.
Group Description – This is how potential new members will find your group.  Make your words as relevant to the group's purpose as possible.  Use the tags feature wisely, as this is how your group will be suggested to others by Facebook.
If you've chosen to have a Buy/Sell/Trade Facebook group, you will want to learn about For Sale Group Features, and make the rest of the edits to your group fit with these purposes.
From there, tidy up your Files section to delete any really old files that are no longer relevant, or files members snuck in that really do not fit the group's purpose.
Facebook has many options that afford for just as many details to track.  Tending to them gives you a greater chance of social media success on the Facebook platform.
Twitter
After the intricacies of Facebook above, Twitter will seem like a breeze!
From your profile page, if you click on the "Edit Profile" button on the far right, just below the banner image, Twitter makes it easy to quick edit the:
Profile image
Banner image
User name
Bio
Theme color
Birthday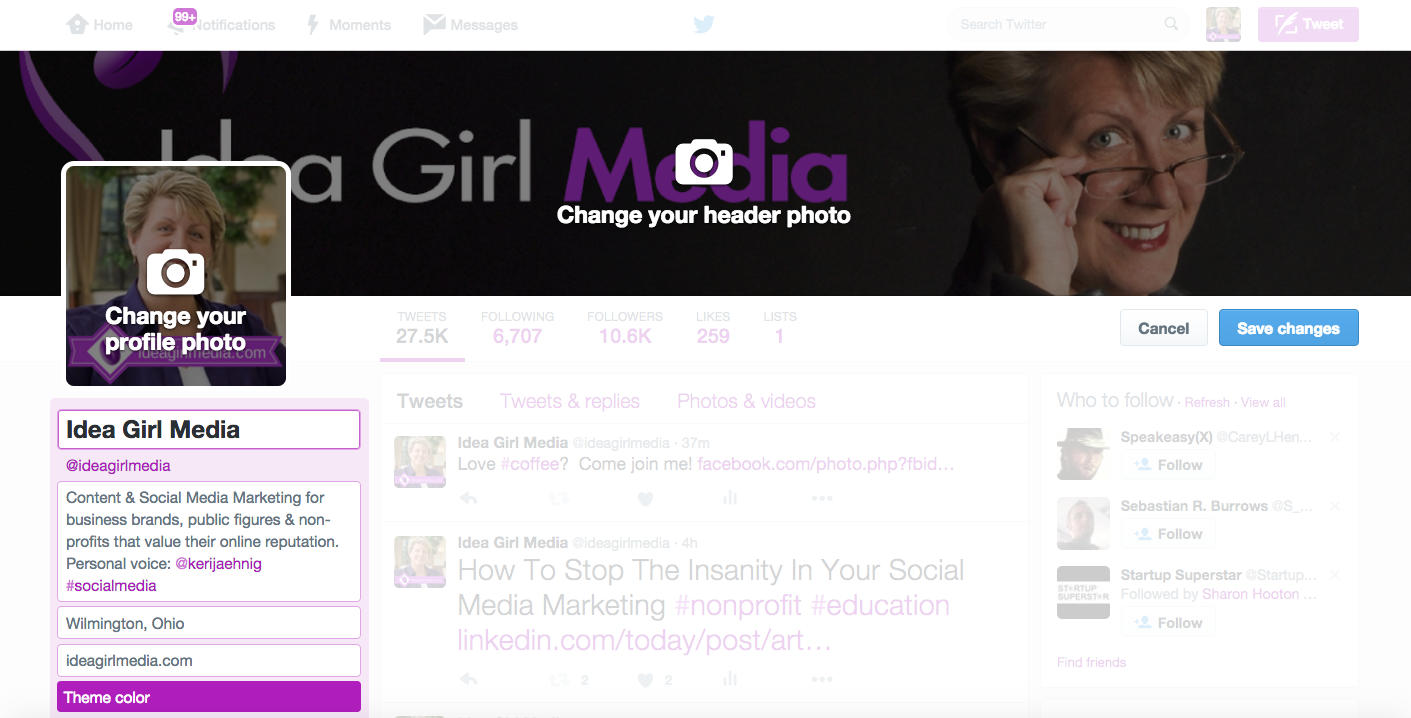 Always err on the side of caution when disclosing personal details online.
You get 160 characters for your bio, so be strategic with niche key words and one or two hashtags.
Your theme color can be one of the pre-set colors Twitter offers you, or you can use a custom color code to match your brand.
Regarding imagery, people like to connect with other people, so decide whether you will use a face image, or your logo.  If you have been struggling to reach goals, this might be a good time to test something new.  The banner image is very large, so be careful when choosing.  You want to avoid a fuzzy appearance.  It may be to your advantage to have a designer help you with something customized at 1500 x 500.
Give some attention to:
Followers
Photos/Videos
Lists
Keeping your following clean and relevant is key to social media success!  ManageFlitter (referral link) is a terrific tool that lets you keep control of this quite easily.  Optimally, you should be weeding your account weekly, but if you have not done this before, this is a good time to start!
Also take a moment to check the photos and videos connected to the account.  Delete any you do not want to see there.
Lists – This is a social media success tool all on it's own!  Keep your lists updated and relevant to your goals and your niche.  If you have not created any lists, this would be a good time to create one.  Try these categories:
Conversation
Competition (make it private)
Choose a key word or key phrase
Popular hashtags for your niche
Once you have made your lists, be sure to import them to any social media management tool you are using.
Not only will this make your engagement a bit easier, Twitter lists are also a great resource for social listening.
Before you log out, click your avatar in the upper right next to the "tweet" button, and click to head to the Settings area.
Periodically updating your account information and password is time well spent! 

This goes for all social platforms.
On the left bar also head into the following categories to update your preferences:
Security & Privacy
Email Notifications
Web Notifications
Design – For any tweaks to the appearance of your profile
Apps
Any app that you do not remember accessing in the past six months – Revoke access. Keeping the connection when you are not using it only leaves your profile vulnerable for potential hacks.
Because Twitter is still weighted with high priority in many social media strategies, keeping your account pruned will contribute to your overall social media success.
LinkedIn
LinkedIn is your professional passport online.  So, this may be the most important Fall Cleaning you do!
Watch the video for tips on editing your LinkedIn profile, LinkedIn Groups memberships, and LinkedIn Company Pages:
The video above takes you through editing various settings for getting your LinkedIn house in order, as well as optimizing your profile on the LinkedIn platform (LinkedIn SEO).
You will also find details on editing your memberships in LinkedIn Groups – It's fun to collect, but we also need to be purposeful in our actions on LinkedIn.
Sometimes adding a LinkedIn Showcase Page at your LinkedIn Company Page can contribute to your social media success.  We go over details about that in the video as well, and how that can help you get your social house in order.
Instagram
Once you are at your Instagram profile, spend a few moments exploring it as if you are another online visitor.
What are you compelled to do when you read the bio?
Is what you see appealing?
Not appealing?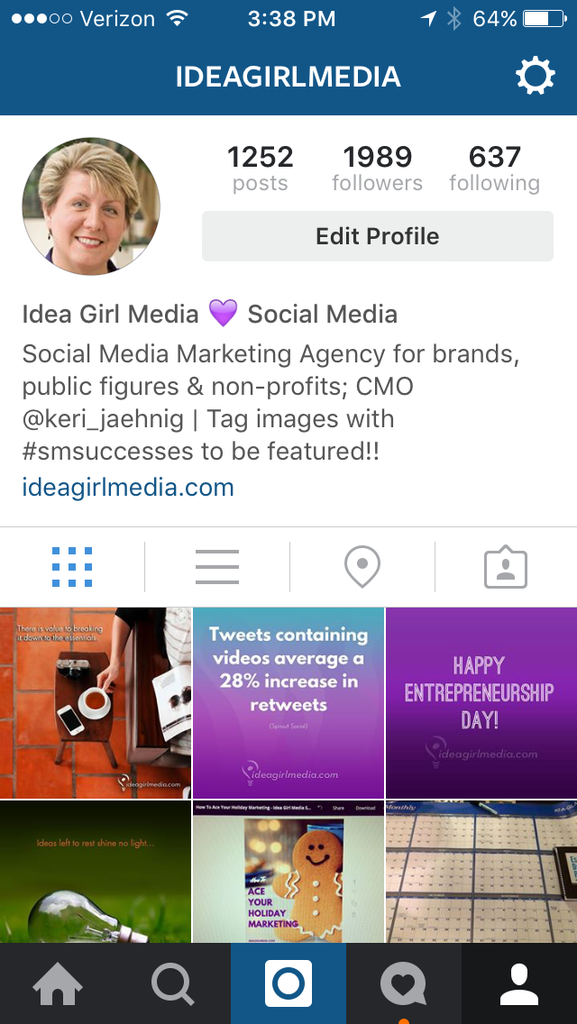 It may be easiest to click the "Edit Profile" button – This can be done on mobile or desktop.
The text in the bio should tie to your strategy goals, lead people to learn more about your business, and also draw them in to explore your Instagram gallery.  Edit your bio to be clear, concise, and include brand and niche key words.
Your link can be changed as often as you like.  Be sure this is always the link tied to your current promotion or brand project.
Once you are satisfied with the basic profile details, scroll down to click the box to let Instagram recommend your profile when recommending similar accounts, and click, "submit."
Approach the left bar of settings categories much like you did with your Twitter profile.  Update your profile photo if desired, change your password, and revoke access to unnecessary apps.
Next, inventory the gallery.  Your efforts should be a lot like curating a magazine.  If there are images or videos here that you may have changed your mind about, copy and save them, and delete them for now.  Your goal is to put forward your best brand presence.  You can re-purpose this content on other channels if you wish.
Always save your work as you go.
In the top upper right, click your ID name, and choose, "view profile."  Check to make sure you are satisfied with your final edits, and log out when you are finished.
Logging out provides safety to your profile, and your mobile phone.  Again, security strength always contributes to social media success.
Pinterest
Again, a very visual platform – Take a look at your profile as a regular web visitor before you log in to make any edits.  Once logged in, click up in the top right corder to the "Edit Profile" button, and click.
First, your profile image is very small here, so it should match all of your other platforms, or be a simple version of your logo.
Second, make any tweaks to your bio.  You get a space slightly longer than Twitter provides.  The box will turn red if you exceed the character limit.
Hopefully, you've already verified your website.  If not, do this!  It looks harder than it is – If you hand this off to your web developer, or if you are WordPress savvy, it will take ten minutes or less.  Get the instructions to verify your website on Pinterest here.
Save your edits by clicking the red button on this pop up box.
From there, you will want to click the button next to the Edit Profile button – It has a spoke wheel and arrow.  The first option is "Edit Settings."  Clicking that will bring you to a screen with multiple categories showing.
Up first, you can change your password and tweak your category if desired.  You have already completed the profile options.  So, from here, be sure all of the buttons reflect your preferences for notifications, and your preferred social networks are connected and enabled.
At the bottom of your screen, click the red button to save settings when you are finished.
Now that your general settings are refreshed, take an inventory of your boards:
Weed out any group boards that no longer reflect your brand's mission
Delete boards that no longer fit with your purpose for being on Pinterest
Combine boards that have evolved closely
Renew board covers (brand them all if you like!)

Over time, you can accumulate an abundance of pins.  The newer "move" feature is terrific for re-organizing Pinterest boards!  Simply click any of your board titles, and when you see all the pins for that board, in the upper right, click "move."  And then select the pins you wish to move, and to the preferred board.
During the process of organizing your Pinterest boards, it is important to tweak and edit board names as well board descriptions.
Update descriptions with most relevant key words depict of the pins on each board
Remove hashtags from board descriptions – You'll get more visibility in search
Use the most relevant niche terms in your board titles
For more tips on choosing Pinterest board names, 37 Pinterest Board Name Ideas That Will Get You MORE Clicks, Pins & Followers, should be helpful.
Now that you're off to social media success on Pinterest…
Google Plus
At the time of this writing, Google+ has just been updated to be more mobile-friendly, and it has a slightly new look.
The concentration is now on Collections and Communities.  So, while you will want to approach the elements of your profiles and pages very similarly to what you did with Facebook above, you should also keep in mind that this is Google – the largest search engine.  And it's connected to YouTube – The second largest search engine.
What you put here matters!  (And that's definitely social media success juice)
Google+ Profiles
Once you understand what you're working with, the profiles are a bit easier to maneuver than the original G+ profiles.  Click to edit your profile, and a box will pop up for you to edit:
Profile Image
Banner Image
Title
Communities that will be visible on your Google+ profile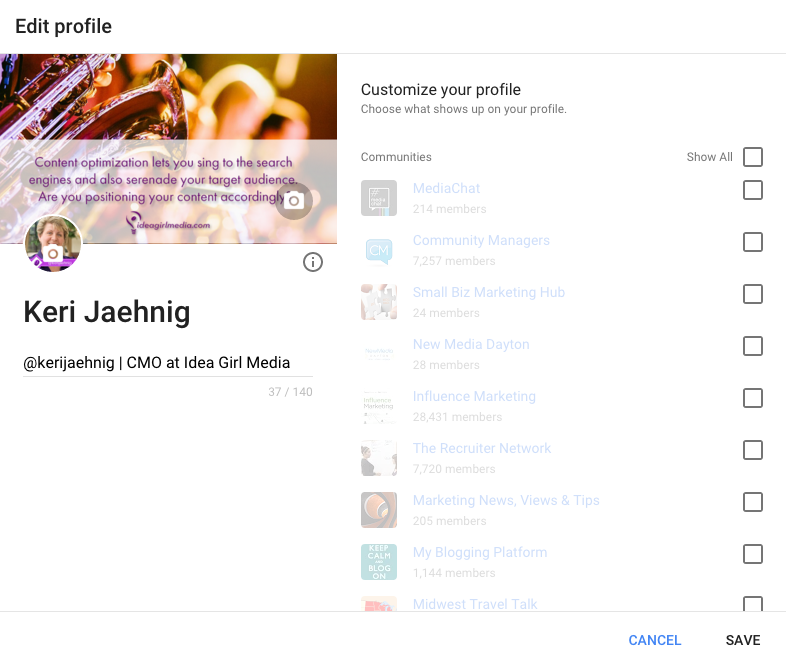 Very simple – Click the boxes that suit your preference, and click to save.
Once you're done checking out your refreshed profile look, head to the left side bar, and click "Settings." You'll be led to a screen with a series of buttons to switch on and off.  This is pretty self-explanatory.  Also, this saves automatically with the click or check.
Make the decisions that are best for you.  One suggestion: Under Advanced Settings, allow the circle stream in navigation.  If you have been around long enough to have curated connection circles, it's nice to be able to see what your contacts are up to, right?
Above Settings on the left, you can click on "Collections."  Here, you will see the collections you own and are following.  On any that you own, you will want to tweak:
Image banner
Color banner
Title text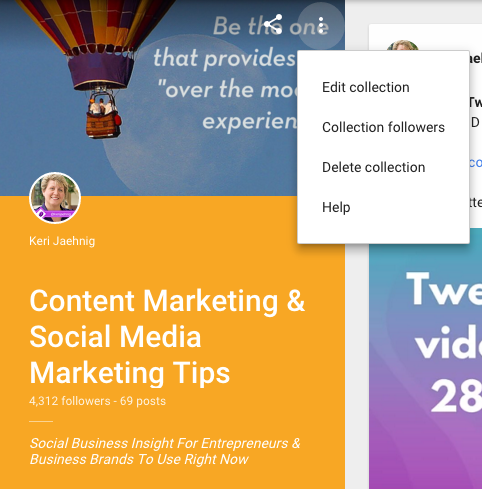 Just click the 3 little dots in the upper right of the Collection card and you are on your way!
Communities
You can reach the Google+ Communities you belong to on the left side bar via your G+ profile (or Company Page).  Once you click, you'll be taken to a screen that shows you any Community invitations you may have missed.  Accept or decline, as you wish.
Across the top in green, you can see Google+ Communities you are a member of, and this would be a great time to edit memberships – Hop out of any that do not fit your business goals.
Across the top on the far right is a tab for Communities that you own or Admin.  Just like the Collections, you will click the mini-card to reach your Google+ Community, and click the three dots at the upper right to tweak images and title text.
Don't miss the switch at the bottom to either make the Community available in search or to make it private, and only visible to Community members.
Before you leave any Community you own or Admin, take a tour through the content categories and make sure there are no posts to delete that you may have missed before now.  Negative or misplaced posts can inhibit social media success.
Google+ Company Pages
Before anything else, it is important that your business is a verified business by Google so you can be found by your target market online.  Your activities on Google+ will then also help give you lift in search.
If your business is not yet verified, or you have questions about this, be in touch and we'll point you in the right direction.
Due to the fact that Google+ allows Company Pages to interact in Communities, the sidebar on the left will look identical to the one you see for your Google+ Profile.  You should go through the same checklist above, making any edits and adjustments that are most appropriate for your business.
When you click the blue "Manage Page" from the Edit Profile box, this will put you into a totally different set of information to examine and edit.  You may want to work on this with your web developer to ensure any actions align with previous actions and don't deter from your social media success.
YouTube
If video marketing is a high priority in your social media strategy, then you will want to be thorough in your approach to getting this part of your social house in order.
Our society is more and more visual every day, so if you have NOT been doing a lot on YouTube, dust your channel off, and prepare to re-ignite.  Those that use video marketing, and do it well, will have an easier road to social media success.
YouTube is now feature-rich, and very much a social network.  Further, when people want to know how to do something, they search for a how-to video on YouTube.  When they arrive at your video, They want to play it, get what they need in a clear, concise manner, and either learn more or move on.  (HINT: You want them to stay and learn more)
For social media success on YouTube, you've got to be attractive, correct, wooing, and sticky!

In other words, your video needs to be well done, look good, include information that adds value for your target market, and leads your viewers to the next step that can help them and solve a problem.
It only makes sense that your channel should be easy to navigate, and each video with clear description.
NOTE: If you are working with a web developer to optimize your Google business listing with SEO, Pay Per Click, or other similar efforts, you may want to work with them to also optimize your YouTube channel under the hood, so efforts are in harmony, and not hindering your social media success.
DIY Tidy
From your main channel page, bring your cursor all the way over to the far right of your cover banner image.  Hover the mouse just under that far corner, and you'll see an "edit pencil" appear.  When you click it, you see options for:
Edit channel navigation
Channel settings
Translate channel info
Click on each one to customize your channel to your preferences and brand interests.  Be sure to enter your channel key words, description, and website address where you are prompted.
Under channel settings you will be asked if you want to link an AdWords account and to enter your Google Analytics tracking.  This is only to your advantage, if you are using these, and why you may want to work with your web developer to assure correctness and consistency.
When you've saved your work in this area, hovering your mouse over the upper right of your avatar and banner image cover area will show you the edit pencil to make any desired image changes.  The dimensions for YouTube are different than other networks, so again, you will want to customize images to fit the sizes so your brand looks sharp.
Canva lists the dimensions for YouTube channel art as 2560 x 1440.  The right design can be dragged and centered as your banner.
If you have a totally new channel, you can now add a section to make your YouTube presence more interesting, increasing your social media success.  If your channel is just being refreshed, go through each tab on your channel navigation:
Videos
Playlists
Channels
Discussion
About
Check to be sure there are no videos that are out of date, make playlists of your videos into sensible categories, show the channels your brand likes and recommends if desired, and fill out your About section as completely as possible.  The links you input here will show as icons at the lower right corner of your banner image.
Above your avatar image, you will see the words, "Video Manager."  Click here to head into individual videos for updating and editing text in your descriptions.  If you have not added other social media links in your descriptions, you may want to.
From the Video Manager, in the left under "Creator Studio," click "Channel."  Go through each of the sub-categories to finalize and update all of the settings under:
Status and features
Upload defaults
Featured content
Branding
Advanced
By uploading a logo image with a transparent background at the Branding section, you add a watermark to all of your videos.  This increases brand awareness,nurtures social media success, and decreases the likelihood of your awesome content being pirated out on the web.
Leading By Example…
American Express OPEN's YouTube channel is a great example of social media success, and well-used online real estate.  The branding is clear and sharp, their featured video is current and related to current projects, and they have used their navigation options well to showcase their other videos and playlists.  You can even see their recommendations of other brand and related niche channels.
Tip: Pull their channel up and reference it as you work on your own.
Before you head out, take the opportunity to view your channel as both a new visitor and returning subscriber (click the little arrow next to your channel name).
Same House, Different Room
Have you noticed that the process is similar from social network to social network?
Above you see details for popular social networks at this time. Others that may be appropriate to edit and polish are:
Slideshare
Tumblr
Vimeo
SnapChat
Periscope
Meerkat
Blab
And there are still others.  The important to thing to realize here is that you will prioritize your presence and presentation to where your target market hangs out online.
That factor alone goes a long way to social media success and starting a new year on-track!
Social House – Ready To Rock For Social Media Success
Congratulations – You're on your way to a solid foundation, painted the house, and decorated the gingerbread!
As you progress from one social platform to the next, the process will become easier and you will be able to copy and paste some of the details.  It may seem tedious, but the social media success you will experience makes this well worth the time investment.
Suggestion: Start well before a year's end and divide your time into bite-size chunks.  In turn, this social media success checklist for getting your social house in order becomes a map for your 30 days to social media success.
Now, the only questions for you are…
Can you now picture how a clean and clear slate can contribute to your social media success?
What curiosities do you have about the content above and getting your social house in order?
More experienced readers — What social media success stories can you offer from planning in this way?
Please share your thoughts and questions with me in the comments box below.  And please keep me posted on your progress, so I might feature you here in the future as a social media success!  🙂
➤ If you found this article helpful, and would like to hear about our upcoming projects that can help you achieve social media success, sign up to be among the first to know.