Are you looking for visual content ideas to improve your brand content? You're in the right place! This article walks you through five ways to make your content more appealing — to your readers and the search engine spiders (crawlers)…
Guest post by Nina Petrov
How The Biggest Brands Use Visual Content To Improve Their SEO
Have you ever googled something? Of course you have. But, have you ever bothered to look beyond page one of the search results? Or even beyond the top three results?
Search engines such as Google are in charge of what information we will find. They even influence what we look for.
If you want to be reached by a client or a customer, appearing first on Google is a must. If the surfers love you – Google loves you. And the other way around.
SEO strategies can be both underrated and overrated. Sometimes even with super quality content the best product can get overlooked.
Visual elements like:
Can make your website Google-friendly. Actually, they can do much more than that. They can make it user-friendly and win your target group over.
It's simple, really. We are visual consumers. This is how Instagram popular in the first place. We like seeing a pretty picture. 🙂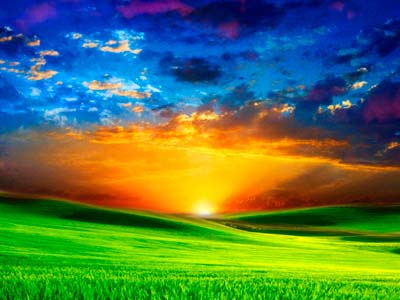 Adding visual elements to your content will make your brand more memorable. There are many content strategies you can apply within on-site and off-site SEO.
Let's get down to business discussing five visual content strategies to skyrocket your SEO.
Strategy No. 1 – Tell A Story
Think about creating compelling graphic content. What is the first thing that comes to mind?
Visual identity makes valuable contribution when it comes to content. However, the soul of each image that flashes in front of us is the story it tells.
Don't be a content creator. Be a storyteller.
Images are more engaging than plain text. But remember that what engages people is the message you are delivering with that image.
Proof: The multiple image slider feature on Instagram and LinkedIn. This feature became so popular on Instagram, that the LinkedIn team decided to give it a go. Brands around the world are using it successfully. Take a look (you may want to be logged in at LinkedIn:
Visual stories are not only more consumable. They are more shareable. Think of it like this:
Your audience spreads the word.
The buzz is created around your brand.
You go viral.
Tip 1: Say you are writing a blog post. You could create a series of graphics to follow the narrative of the article. Truly illustrate the points you are trying to make.
Tip 2: Tell a story in 4-5 images in one social media post. Your audience will stay with you longer, and Google loves that!
How will this help my SEO?
Google measures the time people spend on your website. They also measure the engagement of your posts on social media.
People will enjoy reading your content if you illustrate it and make it easy to follow. If they engage and scroll down your page, they might want to comment on your other posts.
This activity tells Google that your brand is relevant. The more people visit your page, the more Google will promote your brand to others.
Strategy No. 2 – Another Kind Of Content
Posting stock images to support your story is what most bloggers do. But, have you ever tried thinking out of the box?
Every brand is different. A funny challenge we all have is finding new ways to entertain our audience.
There are so many different types of visual content that you can play with. Experiment. Try creating interesting graphics:
Educational infographics
Compelling presentations
Find your own language to communicate with your audience. Choose the best way to present your brand. You are only limited by your creativity.
Work with a visual content creator that you are comfortable with. There is an exhaustive list of tools to help you create your content. Some of them are even free and offer a library of visual content examples.
Proof: The number of infographics shared on Pinterest. Infographics are a beautiful way to share a bunch of data. Who would have thought that one day they will be the most-shared content on a social media channel?
Take a look (you may want to be logged into Pinterest):
Choose a strategy to approach your target market. Opinions, announcements and interviews can be delivered in many ways.
Be interesting.
Be interactive.
Be informative.
Tip 1: Nearly everything you have to say can be described visually. Share new information about your product using a simple online slideshow presentation.
Tip 2: Share educational content via infographics. Every published infographic also needs to come with a paragraph or two of at least 300 words.
How will this help my SEO?
Every visual content you share on your website should be well-optimized. This means that the meta description of the content works to your advantage. Images get good traction on search engines. They are like candy to the "Google Gods."
People google infographics. A well-described infographic is easier to find, and so is the website it is on.
Charts
Infographics
Presentations
Are shareable content. If it is visually appealing and will help the viewer look cool, odds are they will end up on social media through other people promoting them for you.
And last, but not least, this type of content will inspire people to stay online with you longer. Sooner or later, you become Google's favorite.
Strategy No. 3 – Step Away From The Product
There must be a reason why a lot of people connect sports with Nike, don't you think? Nike keeps telling us success stories … stories that make us want to just do it.
Nike's communication with the audience doesn't focus on their products. It is all about what you can do with it.
Nike has created a brand that gives us courage. That gives us the strength to accomplish our goals.
What does Red Bull do?
That's right. It gives us wings.
Focusing on something greater than the product/service itself can be an amazing strategy. Showing it to the crowd results in a greater emotional attachment to your brand.
Proof: Red Bull's greatest investment was Felix Baumgartner's supersonic freefall from the stratosphere. Back in 2012, they invested $65 million into this campaign. This live stream was watched by 9.5m people. After that, no one will asked again why Red Bull gives you wings.
Watch the video and relive the moment:
This video amplifies the power of visual content.
Tip 1: Focus on the visual stories told by the people. Interviews and events are getting a lot of attention online. YouTube and Instagram TV are great resources to test this strategy.
Tip 2: Create emotional, real-life content that will resonate with your audience. Don't be afraid to move away from the actual item you are selling.
How will this help my SEO?
Marketing is NOT the same as sales. Resolving the content production bottleneck will help you grow faster and achieve greater engagement.
People care more about how you make them feel than the features of what they are buying. More customers make decisions based on their emotional responses.
Present something your audience can relate to. This type of content brings more views and engagement.
This will also rate you high on Google for the keywords people connect with your brand. Plus, it will open doors to new markets.
Strategy No. 4 – Create A Dialogue With Visual Content
Your customers sometimes get overwhelmed by the content they absorb. Break this pause by inviting them to participate.
There is a new generation of marketing coming up. Virtual reality cinema and gaming are just a step away from becoming a daily experience.
Get on board with this trend and spice things up. Use interactive visual content and animations. Let your audience live their own narrative of your brand.
Proof: The DUDE Map. Quartz interactive infographics on how men call their friends in different parts of the United States. This blog post, on average, has a 20% higher User Rank than other blog posts on this website (Source: Ahrefs).
Take a look at some of the Infographic:
Tip 1: Open your website and social media to user-generated content. Your brand will appear more friendly, and not a one-way communication street.
Tip 2: Don't simply share announcements. Ask lots of questions. People can be shy to comment. Occasionally, let them respond to a multiple-choice question with a reaction.
How will this help my SEO?
Boosting your audience's engagement, even with a simple comment or reaction, helps your brand's online authority.
Interactive content and user-generated content will reflect significantly on your User Rank. This metric, along with the domain rank, increases the odds of people finding your business on Google.
Strategy No. 5 – Find The Balance
Your content should be a combination of text and illustrations. You need visual elements to optimize your website. For this, you will need to find the perfect balance between text and images.
Now let's talk about the importance of visual content. As Neil Patel said, use as many images as you need. The visual elements you add should be a part of the story you are telling.
Don't stuff the blog post with random graphics. Find the silver lining between image and text. Some advise using 1 image per 150 words. Others say one image per 500 words.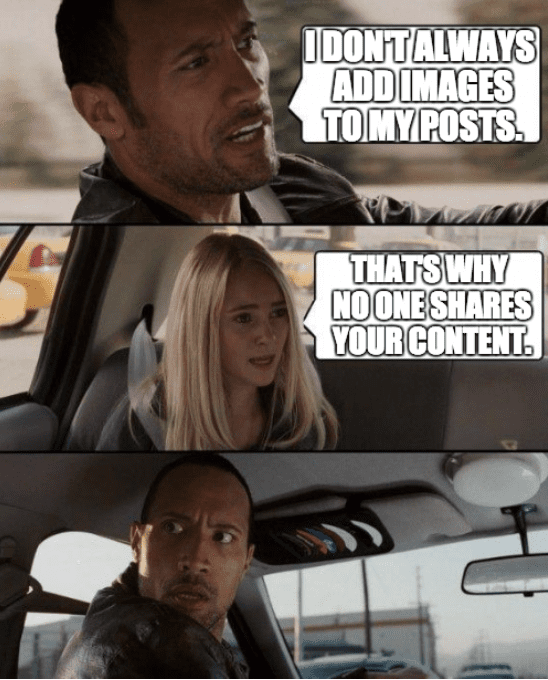 Tip 1: Unless you are publishing a scientific study, try adding humor to your post from time to time. Memes are a super fun way to "wake up" the reader.
Tip 2: If you have no idea what photo to add – visualize your words. It is better to highlight your point with a graphic than adding a random stock photo that isn't relevant.
How will this help my SEO?
The way you break up the text with images increases readability of your post. This is what Google measures carefully. The easier to read – the more your users will benefit from your post.
Images should help illustrate the points you are making. Use them to raise the interest and engagement for your audience. Be fun. You are not writing a novel.
The Conclusion On Visual Content – Think Like Google
Think – what does Google want? Which is the same as thinking about what your audience wants. Google's algorithm is created to listen to the people. Your job is to make yourself easy to find. With quality content – Google is your best friend.
Don't think about Google. Think like Google.
Visual content supports your story. If you are making a statement, it is important to submit all the evidence. Visual content (screenshot, video) is a great way to do that. Build the trust of the readers and you will have the trust of Google's spiders.
Don't forget to optimize every image added to your site. Alt tags are very important for Google to understand what your image is all about. Image title will allow people to find it using image search software.
Even when the image is self-explanatory, you still need to explain it in writing.
See a strategy you find useful?
Create beautiful content and prepare it for crawling.
Author Bio: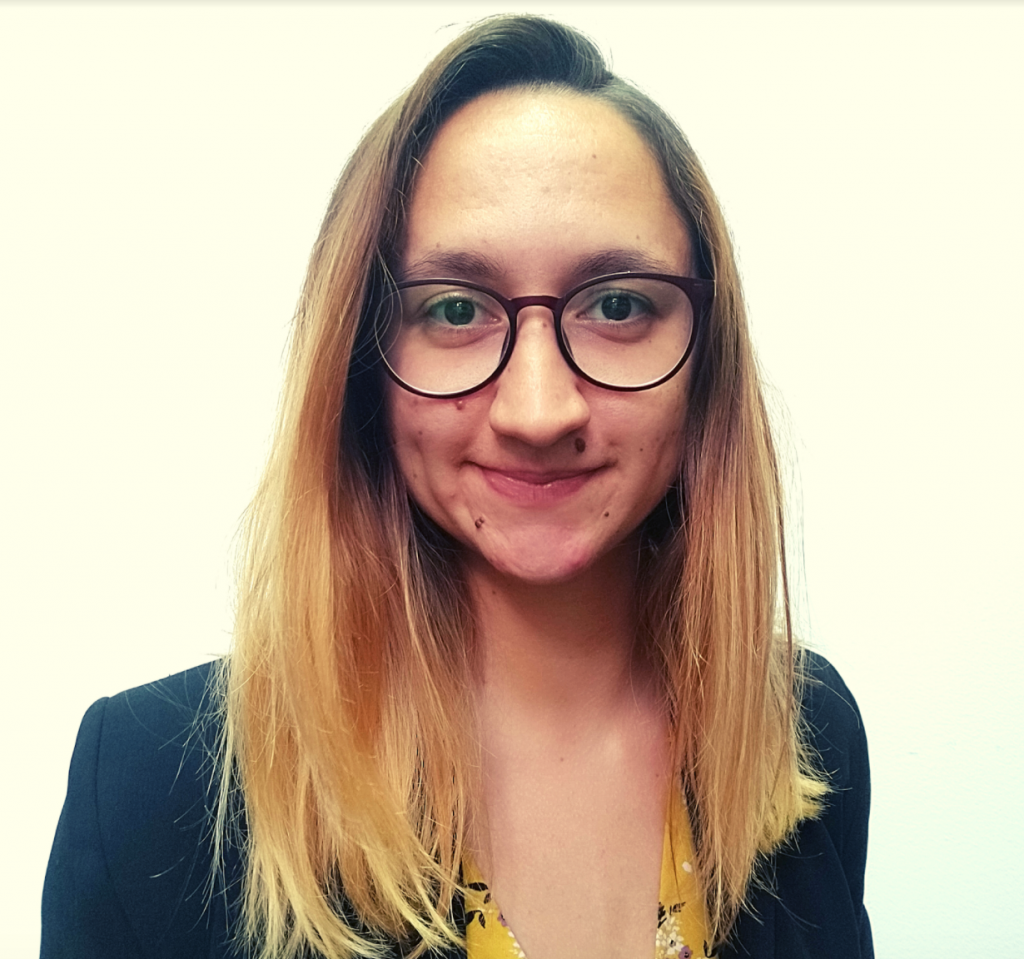 Nina Petrov is a content writer, passionate about graphic design, content marketing, and the new generation of green and social businesses. She starts the day scrolling her digest on new digital trends while sipping a cup of coffee with milk and sugar. Her white little bunny tends to reply to your emails when she is on vacation. Connect with her on LinkedIn.