Frustrated by changes to the Facebook News Feed?  Here's your guide on how to conquer the new Facebook algorithm after the changes promised by Mark Zuckerberg in 2018!
How To Conquer The New Facebook Algorithm After The Facebook News Feed Changes In 2018
How many times has Facebook made changes since you've been using it?
A lot and frequently, right?
Facebook's first big change to the Facebook News Feed was in 2011.  Right then, marketers were focused on the then new Facebook Algorithm and how to navigate it for Facebook marketing success.
Now, each year, marketers and users alike look forward to Facebook's f8 Developer Conference where they announce changes that will affect the social network going forward.  While the announcements may not always be about the Facebook News Feed or a new Facebook Algorithm, the developments usually do affect the user-centric Home Page.
Politics And The New Facebook Algorithm
If you used Facebook during and following the US Election in 2016, you probably experienced it: Tension from highly controversial posts pulling people to one side or another.  It ended friendships and drove people away from Facebook.
Quality of sources sharing news became a hot topic – Very often controversial.  In fact, many people gave up on Facebook for awhile, or stopped logging in as often.  According to Nielsen and Pivotal, 24% less.  
Turns out, the Russians actually did meddle in US elections via Facebook ads and on other social networks.  Facebook reported on advertising placed by Russian sources, but this was largely unheard until thirteen Russian individuals were indicted.  You can view the Russian ads that deceived Facebook and Instagram users in list or slideshow format.
The result?
Facebook senior staff announced their commitment to study what led to the problem and make Facebook a better place.
Words From The Top
In January 2018, Mark Zuckerberg, Facebook Founder and CEO, shared the vision for the time we do spend on Facebook to be meaningful and enjoyable, and more focused on posts from family and friends.  News would be more community-driven.
First, Mark said this:
Then Mark said this:
Immediately marketers were concerned about Facebook Pages.  Very quickly we heard, "Facebook Zero is here!" Meaning, no organic reach at all.  That is a concern for brands if they have invested a lot of time and money on their Facebook Page presence.
People soon reported seeing:
Lots of old posts
Posts from friends they haven't heard from in awhile
Too many sponsored posts
Interesting posts from Facebook groups
And of course the general comments from users of both satisfaction and dissatisfaction with Facebook.
What did this really mean?
A new Facebook Algorithm.
New Facebook Algorithm: Winning On Facebook In 2018 And Beyond
This article will outline:
What you need to know about the new Facebook Algorithm
How to win in the Facebook News Feed going forward
Facebook marketing options you may be forgetting
Smart ways to shift your social media strategy
Let's explore in more detail…
What You Need To Know About The New Facebook Algorithm
Remember, Facebook's intention is to bring everyone a better overall experience with the new Facebook algorithm.  Also keep in mind that most Facebook users' friends lists are big enough that we would be overwhelmed if Facebook showed us all of the available content (inventory) in our news feeds.
Facebook has been direct and said that they will prioritize person-to-person connections because they believe this will trigger active and positive engagement.  This leaves brand Pages and marketers at a disadvantage, since Facebook now does not prioritize the person-to-brand connection.
So, the key is to know how you can optimize the efforts your brand makes to land in the Facebook news feed!
The new Facebook algorithm is based on four factors:
Inventory (available content)
Signals (considerations about the content)
Predictions (considerations about the connection)
Overall Score
Brands and marketers should be focusing on Signals, because they can affect that component the most to sway the new Facebook algorithm in their favor.
A "cheat sheet" for signals that affect Facebook news feed content rankings:
Post type
When the post is made
Time spent with the content
How informative a post is
Comments
Replies
If a post is shared via Messenger
Reactions
Overall engagement
Prioritization will be given to comments, shares, and reactions as the most favorable interactions (signals).  Secondary signals are clicking, watching, or viewing/hovering.
New Facebook Algorithm Tip: Avoid making posts with "engagement bait."  In other words, any type of instruction for people to comment.  This type of post will actually be demoted in the Facebook news feed.
Make sense?
How To Win The Facebook News Feed Going Forward
Let's go over some practical ways to get fans and followers to engage with your posts.
Encourage Super-fans
Help your fans and followers understand they can opt to see your posts in their news feeds first.  Meaning, Facebook will prioritize your posts for them in their news feed.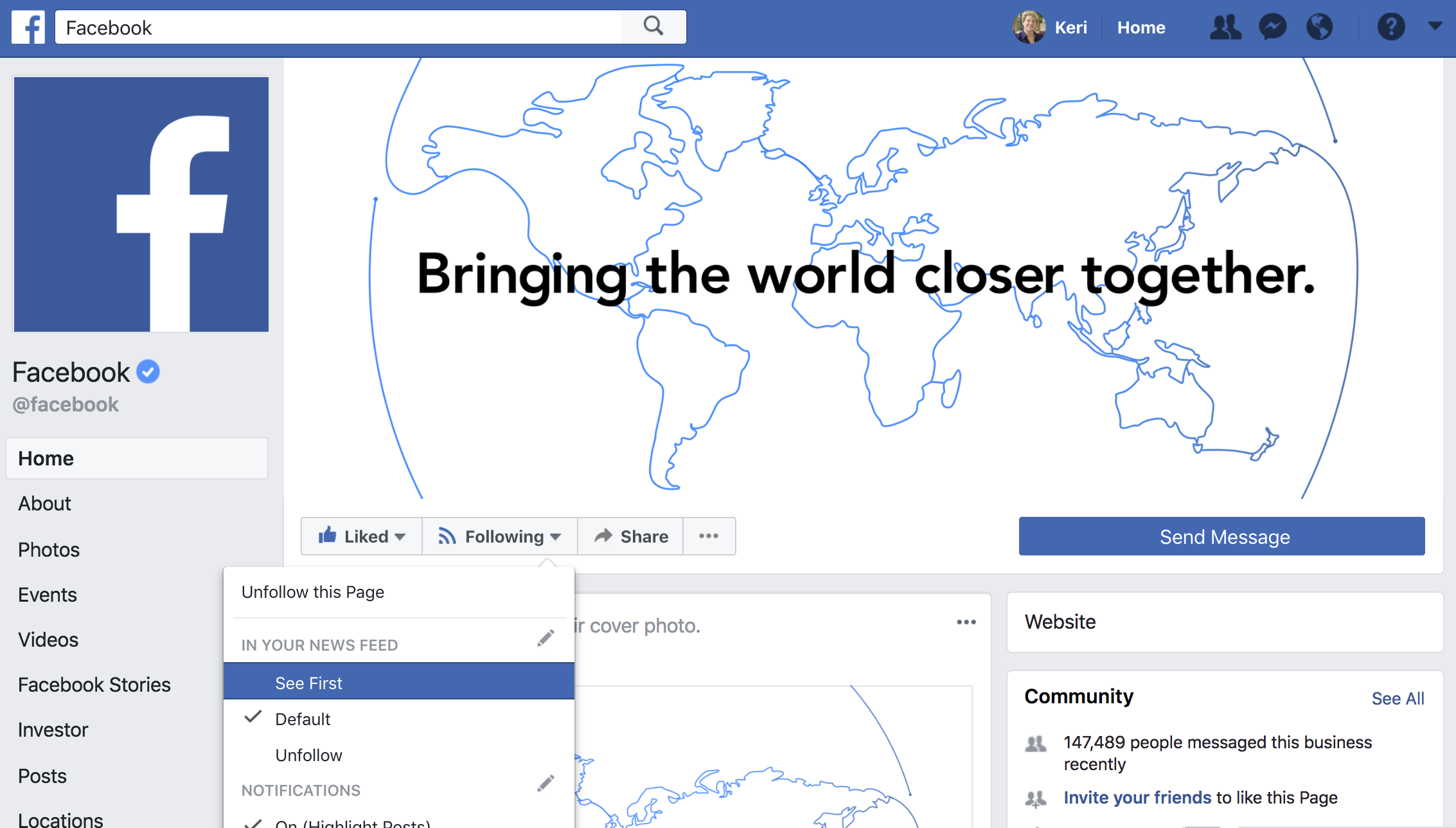 The effect?  A "new Facebook algorithm" customized just for them prioritizing your posts at the top!
Once a fan opts to do this, the posts appear with a blue star in the upper right corner – The looks is similar on desktop and mobile.
You will see the most benefit from this feature by reminding your fans about it from time to time in newsletters, Facebook posts, and in your webinars.
Encourage Active Community
Facebook Groups are possibly an under-utilized opportunity to keep fans and followers engaged.  Groups nurture activities that encourage engagement, and Facebook Groups posts are still given more priority in the Facebook news feed.
Also true, members do tend to watch their notifications for group activity, since posts are usually made by like-minded people.
Very similar to Pages, Facebook Groups offers admins a way to help members see groups posts that mean most to them.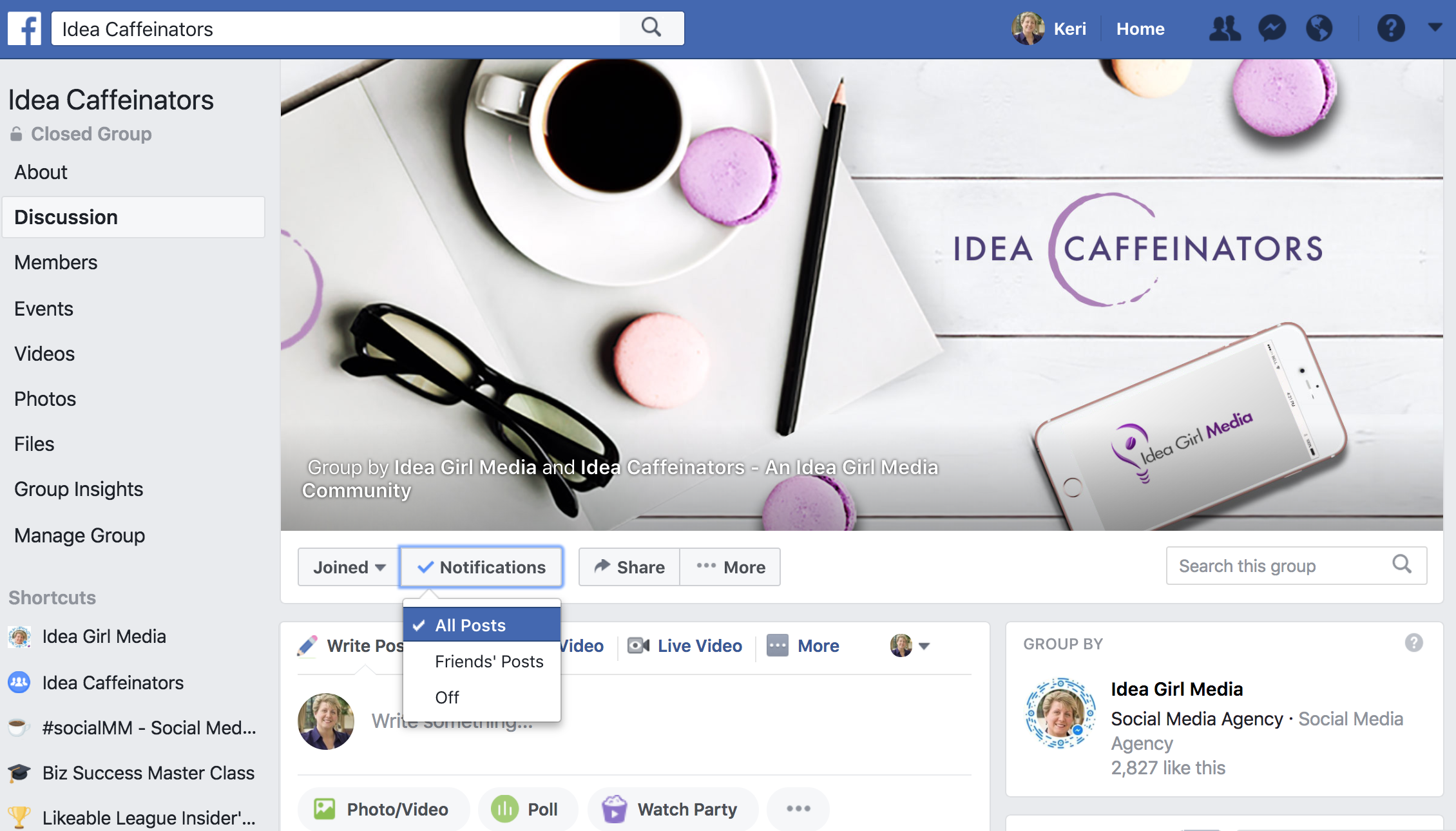 Admins can simply recommend to all Facebook Groups members to opt to get all notifications.  Remind them from time to time via group posts, email newsletters, and live broadcasts for each group.
Organically Uploaded Video
Whether it's a tour of behind-the-scenes, a quick tip, or a promotional video, organically uploaded video files get the most traction and reaction with the new Facebook algorithm.
Feel free to still upload to YouTube or Vimeo.
Live Video
You get those notifications that "Your Favorite Facebook Page" is LIVE now, don't you? So do your fans and followers!  Why shouldn't those notifications come from you/your Facebook Page too?
There are fun filters and other tools to make your live videos fun, and it is an excellent way to stay connected with your audience.  Additionally, it keeps your fan base engaged.
Use Interactive Post Options
Facebook has released new features that allow Facebook Page admins to get creative and have fun with their posts:
Background colors/patterns
GIFs and stickers
Lists
Background colors and patterns are fun, and can even help you amplify your brand (I used a purple pattern below, which is an Idea Girl Media brand color).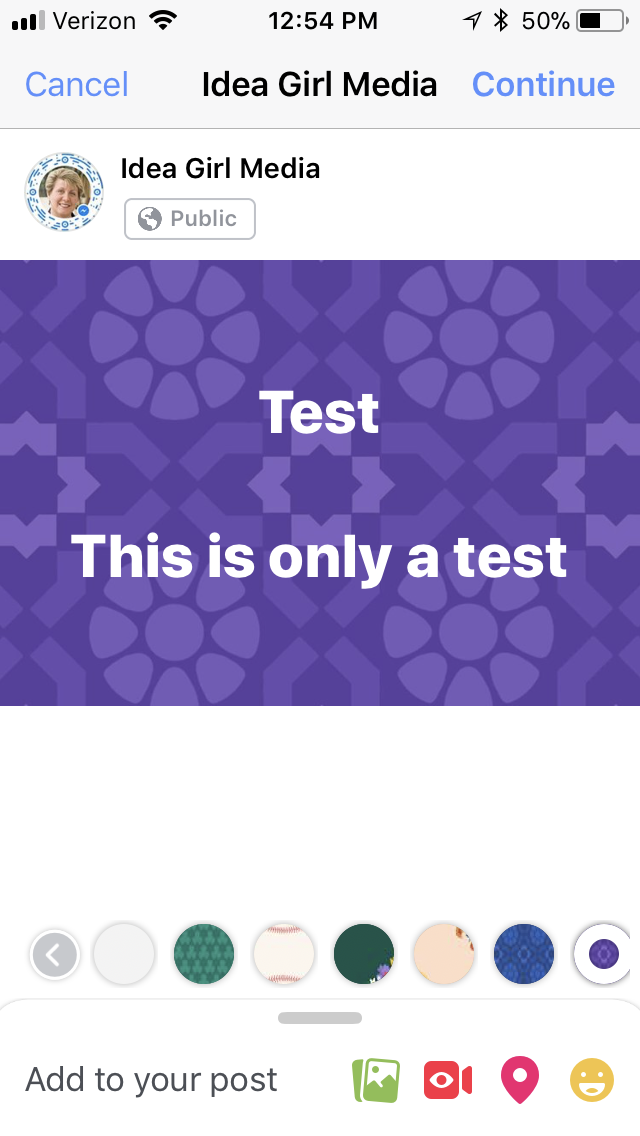 Use the Facebook Pages Manager App to implement this fun colors and patterns option!
You've probably already seen GIFs and stickers in comments while using Facebook.  As an admin, use them to keep comment threads fun and upbeat.  Check in every so often to see what new sticker packs are available, and use the search option for GIFs.
Lists – A new feature at the time of publish.  Not available for Facebook Pages yet, but creative Facebook Page admins can find un-spammy ways to include their business pursuits in their list posts as a regular user.  Here's an example: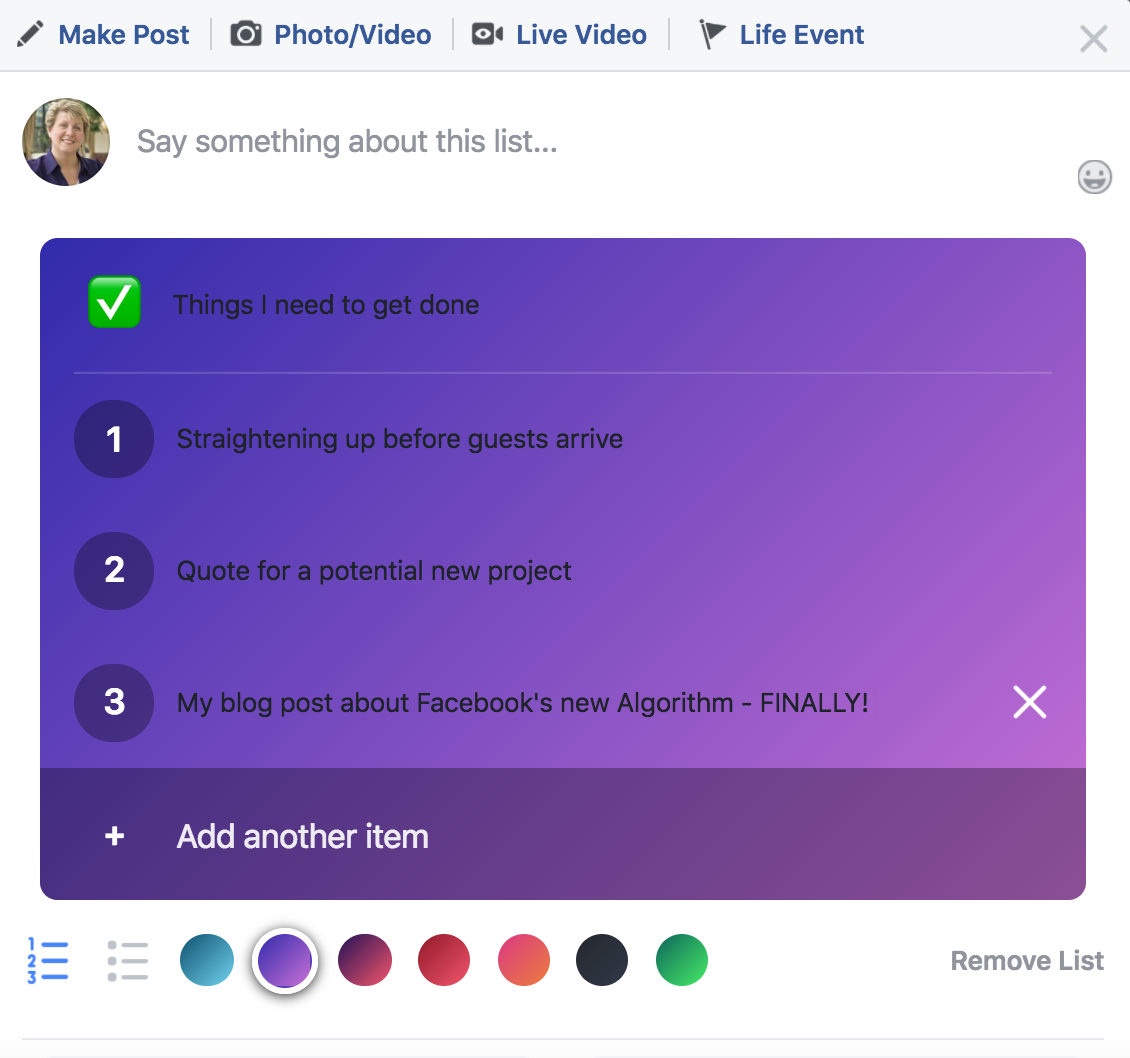 For list posts, Facebook offers a plethora of list type choices, and you can use brand colors here too!
Any way you can make your Facebook posts fun and entertaining helps you win the news feed and the new Facebook algorithm!
Be Edutaining
If you've been following this blog for any amount of time, you should have seen me mention this multiple times.  Good content is educational and entertaining.
The goal is to offer value, and information and perspectives that your fans and followers cannot receive elsewhere.
Facebook Marketing Options You May Be Forgetting About
Have you enjoyed others' Facebook Stories, thought you'd eventually get around to it, but haven't really used them yet?  You're not alone! But don't wait too long…
Facebook Stories are a clever way to stay top of mind and rise above the noise in the new Facebook algorithm.  Check it out – You're literally "top of mind" on mobile:
On desktop (or laptop) you will find stories at the top on the left sidebar of your Facebook Home Page: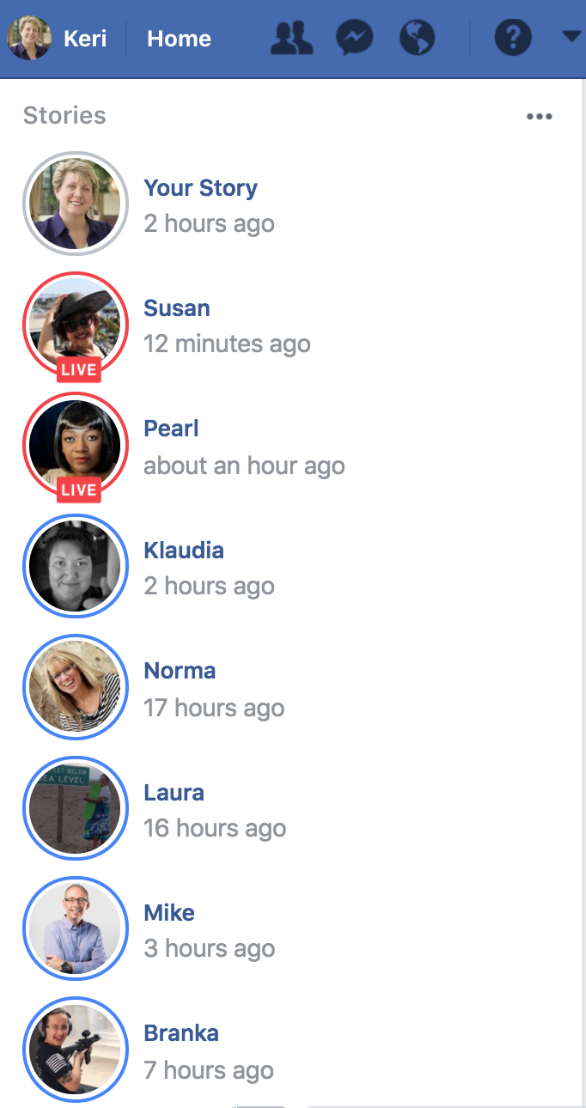 Facebook Stories are meant to be fun and easy.  Plus, you can use the live video option which generates a lot of attention via notifications!  No sweat efforts, as they disappear in 24 hours.
Facebook Stories are available for users, Facebook Pages, and Facebook Groups.  Clever entrepreneurs can use them, periodically, as the ambassador of their business brand to help drive the new Facebook algorithm in their favor.
Facebook Groups
You should absolutely have a Facebook Page for your business. But the new Facebook algorithm, as discussed above, is a very big reason to also have a Facebook Group.
Facebook now allows you to connect Facebook Groups to Facebook Pages, which increases brand awareness.  Further, once you do this, the Facebook Page can interact in the group, which increases brand amplification.
Facebook Groups can be used for:
Empowering super-fans
Communicating with key team members
Membership club support
Organizing an event
Discussing special interests
And more.  While the opportunities with Facebook Groups are limitless, and some features have changed, the key components haven't changed too much since the initial surge of energy regarding Facebook Groups For Business.
Own a group that you let go and would like to reactivate?  Here are easy tips to revive a Facebook Group.
Facebook Messenger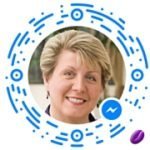 Each page has a Messenger Scan Code to help users reach communicate with your Facebook Page easily via mobile.
Besides using Facebook Messenger at your Facebook Page to communicate with existing and potential customers, your brand can also offer:
Direct advertising to the Facebook Messenger
Chatbots for customer service
Subscription messaging
Discover – For users to explore and find your page or bot
Chat plugin – Start a conversation with your website visitors via the Facebook Plugin
Facebook has expressed interest in really developing this app in their ecosystem, and it's part of their long-term plan.  It would be worth your time to explore the possibilities at your Facebook Page under "Settings," and then "Messenger Platform."
Facebook Watch
Facebook Watch is really "Facebook TV."
In the very early stages, Facebook invited content creators to create a Show Page and feature videos that users could subscribe to watch.  Examples:
Cincinnati Zoo's Fiona Show
Stephen Colbert
News Organizations
Returning The Favor with Mike Rowe
And many others – You're sure to find a favorite!
Facebook Watch is not open to everyone as creators, but Facebook plans to roll it out to more soon.  For now, you can:
Discover video content
Search for specific Facebook video content
Follow favorite publishers
Save favorite video episodes
Choose from suggested shows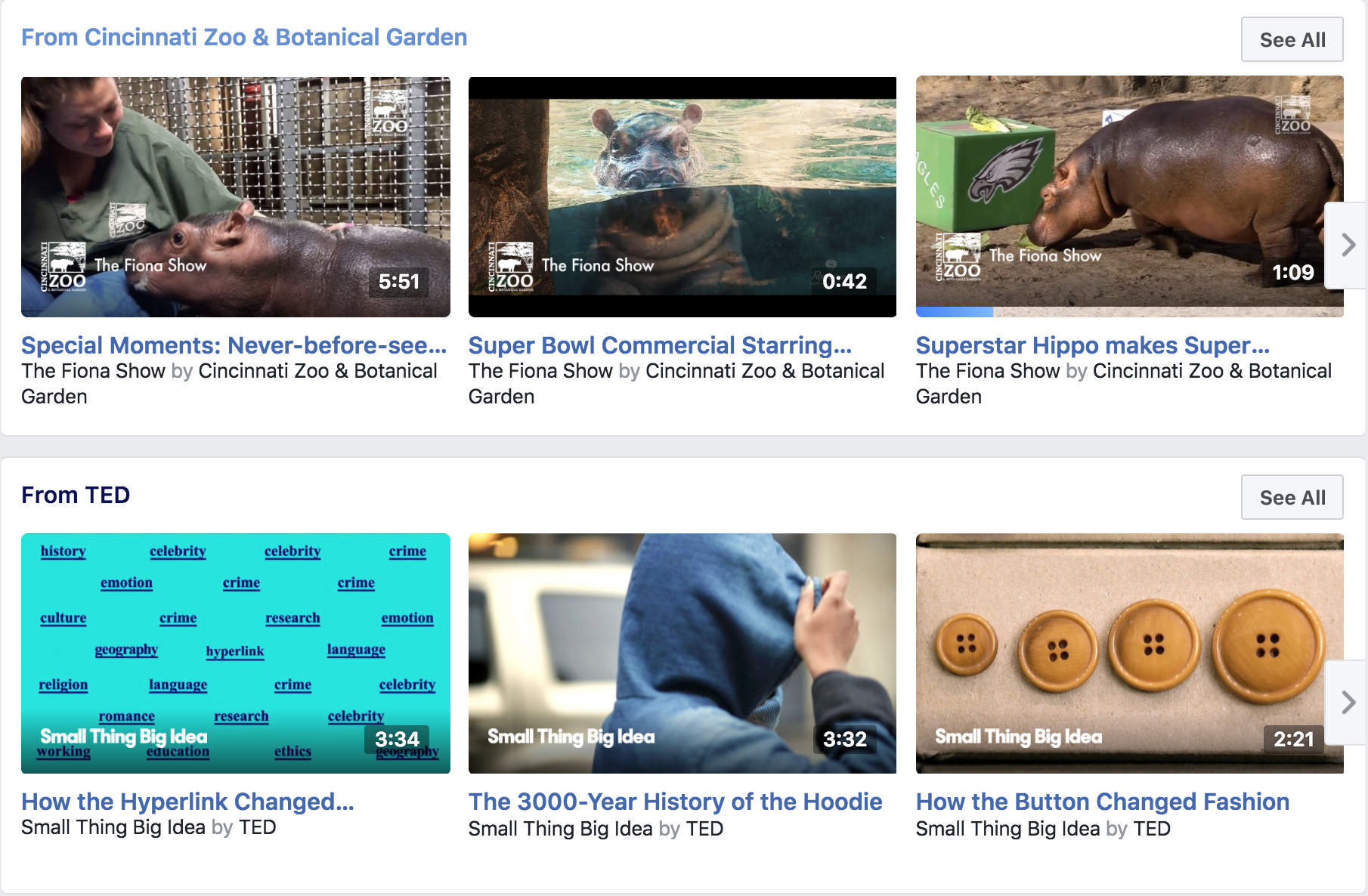 You can also apply to create a Show Page.  And there may be eligibility for Ad Breaks.  Those with Show Pages will want to utilize the Branded Content Policy to connect your show to sponsored content.
This area of Facebook is still in it's infancy, so if you excel with video content at all and have not gotten involved yet, this is a great opportunity to do something stellar that would set you apart from your competition in the Facebook news feed.  Your viewers will get notifications when new episodes are released, so this would be a huge advantage in being a leader in the new Facebook algorithm.
Already applied to be a Facebook Watch video creator, and waiting for your approval? Get busy with your Facebook Live videos to practice!
Others may decide to take things more slowly – View the Facebook Shows & Show Pages Overview.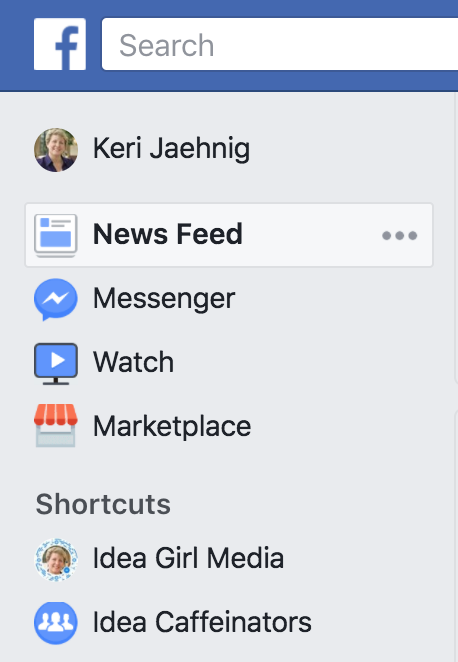 Facebook Marketplace
Where Buy And Sell Facebook Groups are perfect for collaborating within geographical communities to match items with new owners, Facebook Marketplace is more like "eBay and Amazon meets Facebook."
Any Facebook marketer wanting to sell items online can easily do it on Facebook via Marketplace.  So, if you are already involved in Ecommerce, this is a logical next step.
You can find it on your own Facebook Homepage near the top of your left sidebar on desktop.  Once you get there, it is very easy to navigate.
Search for anything via the search bar.  You also have Facebook Marketplace tools and categories at your convenience:
Browse
Buying
Selling
Saved Items
Filter by price
Filter by location
Also shop by category:
Home & Garden
Housing
Entertainment
Clothing & Accessories
Family
Electronics
Hobbies
Vehicles
Classifieds
The "Selling Something" blue button is very easily found on the left sidebar, and the platform guides you through posting an item for sale.
Perhaps the most forward-thinking aspect about Facebook Marketplace is it's immediate dedication to be mobile-friendly.  Right from the start, Facebook Marketplace has been found front and center on the mobile app.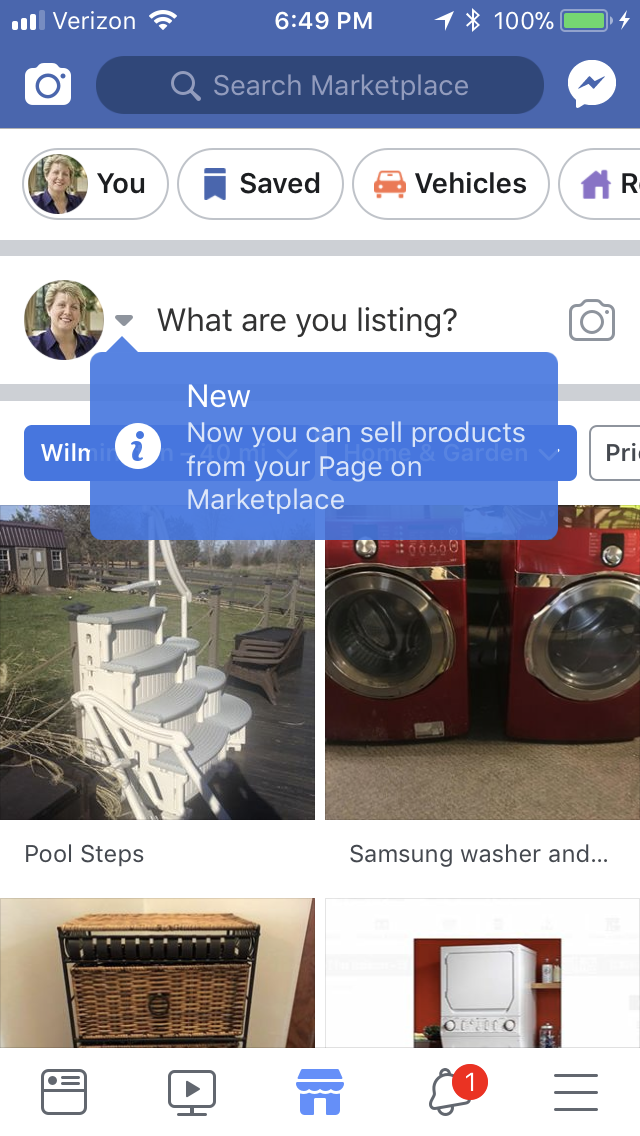 Above is a view of the Facebook Marketplace tab on an iPhone – Note the blue Marketplace icon in the center position.  Also notice how easy they make it for both buyers and sellers.
Those frustrated with the new Facebook algorithm should find Facebook Marketplace a fruitful avenue for Ecommerce and Facebook marketing.
Smart Ways To Shift Your Social Media Strategy
Much of the time, the first thing we hear when Facebook makes a change is, "ugh – why did they have to do that?"  Yes, they have their bottom line in mind.  But often, the changes made present an opportunity to be more efficient or shift to a better route.
If the new Facebook algorithm has you frustrated and you are not seeing the same level of success, it's time to shift your social media strategy.  Below, find a few options that may be new to you or friendly reminders.
Use Facebook Ads To Sponsor Content
Some have been using Facebook Ads for a long time and seeing good ROI.  Others have opted for organic efforts only and made the best of it.
This new Facebook algorithm is another step toward realization that if you want to be successful with Facebook marketing you will have to use Facebook Advertising.  Even if it is only to sponsor strategic content at a minimal level.
Don't forget – There are other social platforms.  Try their social ads opportunities too.
Email Marketing
Have you ever heard the phrase: "The money is in the list?"  It's true.
Be more regular with your email newsletter and lead your subscribers to specific posts to participate in conversation about a question you've asked on Facebook, a video you posted, or a promotion you have going.
Diversify
Facebook is not the only social network.  Expand your social media portfolio and change where you spend time on social media activity.  LinkedIn, Twitter, Instagram, and YouTube can all bring good ROI.
Podcasts
People grout their day with podcasts and subscription media.  Even big news outlets are setting up podcasts for their anchor personalities.
In turn, experts in many fields have started podcasts with much success.  For entrepreneurs it can be a new way to connect with fans and target market in an energetic and personal way.
A great way to get started is to do a search for podcasts in your niche and get an idea of your competition.  Also think about simply being a guest on a podcast of a potential collaborator.
Whether you decide just to do occasional guest spots on popular podcasts in your niche, or start your own podcast, podcasting can be a powerful medium in your online marketing formula.
Winning The New Facebook Algorithm
We covered a lot of ground above.  From the Facebook news feed history, to changes in the Facebook algorithm, on to how they have adjusted over time, and how you can shape your social media and Facebook marketing strategies to your brand's advantage.
Summing it up, you can win the new Facebook algorithm – Both on and off Facebook.