What is video marketing? You probably already know that answer. If you're here, you probably already have an idea of the power of video marketing. This article details four video marketing benefits and why they are important to your marketing strategy…
Your Brand's Online Videos: What Are Top Amazing Video Marketing Benefits?
When you're thinking about where to allocate your marketing budget, as well as your time, you might be tempted to go with standard tactics and historically reliable options:
Graphic advertising
Search marketing
Boosting social media posts
But, did you know that your reach and impact can be expanded simply by including multimedia like video?
Here, we will look at some of the advantages of using video marketing in your strategies. We give you four video marketing benefits for small business.
Boosts Brand Reach
If you're looking to get your brand before the eyes of as many people as possible, whether it's trying to draw traffic to your site, improve conversions, or simply increase brand awareness, then video is excellent for that. That data consistently support using video in your social medi strategy.
The rule of thumb for social media marketing is that photos typically get much greater reach than text posts alone, and videos get even better reach than images. That is the benefits of video content on social media.
Of course, you have to create videos that fit each medium, which usually means short, snappy, and to the point on popular social media.
Adaptable And Organic
One of the contemporary benefits of video marketing is it's easier than ever to simply start filming somewhere. You don't always need a full video crew to create a marketing video.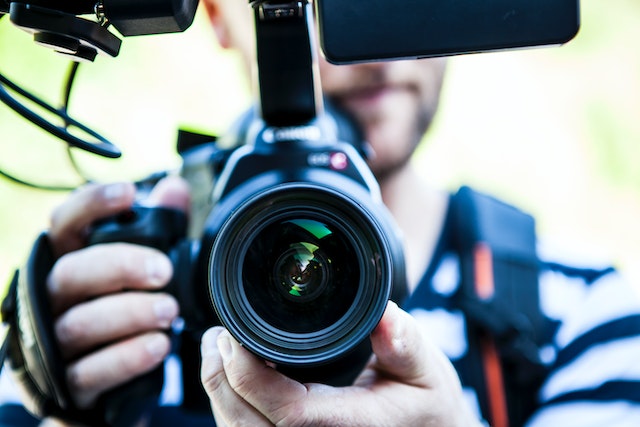 If you attend press events, host your own, go to trade shows, or have pop-up encounters with your customer base, then options like a remote video production kit can make it much easier to point and start shooting. Aside from heavily pre-prepared content, you can take advantage of the ability to show your products and services at their best in real time.
Brings Trust To The Brand
People tend to put more faith in businesses that are willing to invest more time and effort into their brand. So constantly improving your representation is important.
One of the big benefits of video? It gives you a way to fully humanize your brand, including:
Visuals
Audio
Choice of who does the talking or appears online
What's more, video can be a highly educational, used for product demonstration and customer experience, giving your target market even more reason to trust your brand.
Word Of Mouth: People Share Videos
As if the increased reach alone wasn't enough reason implement video on social media, video marketing statistics say that people share videos with one another. Be it through social media or otherwise, and they do it a lot.
We are in the age where viral videos are a norm: there's always something that's spreading like wildfire — for good reasons or bad. Trying to ace a viral marketing strategy is far from easy, and not guaranteed to work. But videos get shared, regardless. Viral or not.
The Bottom Line On Video Marketing Benefits
How you use video is just as important as simply making the choice to use it. The point remains that it's a largely under-considered medium for small business marketing.
The reality: it's not too difficult to start seeing video marketing benefits in a reasonable amount of time.
Just start.