You may have video marketing ideas yet looking for video marketing strategy examples to affirm you're on the right path. If this describes your position, you also know video content creation takes talent. Here are the steps you should take for success…
Your Video Marketing Strategy Template For Social Media Content Excellence
Nowadays, almost every company prioritizes social media marketing. It not only grows the businesses but also makes them successful in generating more revenue than the other companies ignoring social media marketing.
Making videos for your business and uploading them on social media platforms gives you the most convenient way to positively engage your target markets. These efforts:
Generate great business leads
Promotes your brand
Attract more of the population
And much more.
However, attracting the audience to your business is not as simple as it looks. But if you make a robust plan and stay determined to do so, you can do well. Here, we will share insights to help you decide your social media goals and how to implement them in-house.
So let's look at the seven easy steps to a victorious social media video marketing strategy…
Step 1: Decide On Your Marketing Goals
It is most important to define your key purpose for content marketing from the beginning. It can be:
Lead generation
Developing brand ambassadors
And other. These are the significant targets you should be hunting.
Follow the goal setting methods below:
Specific: Include details to your goal. For instance, if you want to maximize the traffic to your website, you can plan to publish more blog articles each week.
Measurable: Make your goals measurable in numbers. For example, if you wish to generate more leads through marketing videos, set the parameter (by 15%, 20%, etc.).
Attainable: Make your goal realistic based on experience and analytics. For instance, If publishing more blog articles has affected your website's traffic, focus pm more of the same.
Relevant: The goals and marketing strategy must complement each other.
Time Limit: Set a realistic deadline.
Step 2: Decide On The Platforms
Each social media platform offers different features and unique video formats. Start using them according to the formats they follow.
According to a survey by Statista based on February 2019 video marketing statistics, people spend almost half of their time on:
…Watching videos.
You can choose any of the social networks, but you should start with only one. We have organized the list of common social media platforms and their details to help you choose.
Facebook

FB Live
Stories for 24 hours
Portrait Feed Video

Instagram

Go Live
Reels
Long-form Content (IGTV)
Portrait Feed Video

Twitter

Stories Content
Live-streaming
Landscape and Portrait Feed Video

YouTube

Livestream
Short video
Portrait Video
Landscape Video
The most important element in your decision should be to offer video where your target markets are present online.
Step 3: Set A Logical Production And Release Schedule
Choose the optimal type of videos that make good sense and suit your:
Goals
Audience
Video marketing strategy
Platform
This will help you understand how many videos you can regularly produce, and at what frequency.
Also note that some social media channels show the content to their users according to their interest, time of the day, and when they logged on. This is also customized to each user based on their privacy settings and consumption patterns on each platform. In turn, it will be necessary to figure out the best time of day to upload and share content on the various social media platforms.
So adapt your video production process and release a schedule accordingly to optimize each video upload for the long-term.
Step 4: Plan Your Content Production
A well-planned content creation strategy can ultimately save you time and money. It does not matter whether you map it with a flowchart or use a pen and notebook. You should be more concerned about creating and positively presenting your video.
You might consider contracting a videography company or video production agency, as they can diminish your stress. The team would take care of producing the video content according to your specifications. They'll edit, optimize and get it to you in a beautiful form — something that could take you hours and hours. All you would need to do is provide instructions with a deadline.
If you still want to create and produce in-house, then you would need to take care of these steps:
Purchase all the required equipment
Scriptwriting
Script editing
Storyboard the videos
Organize top-class filming for a shoot
Get the most reliable and suitable team
Look for reliable video editing software that allows you to easily polish the visual content, and also gets good reviews online.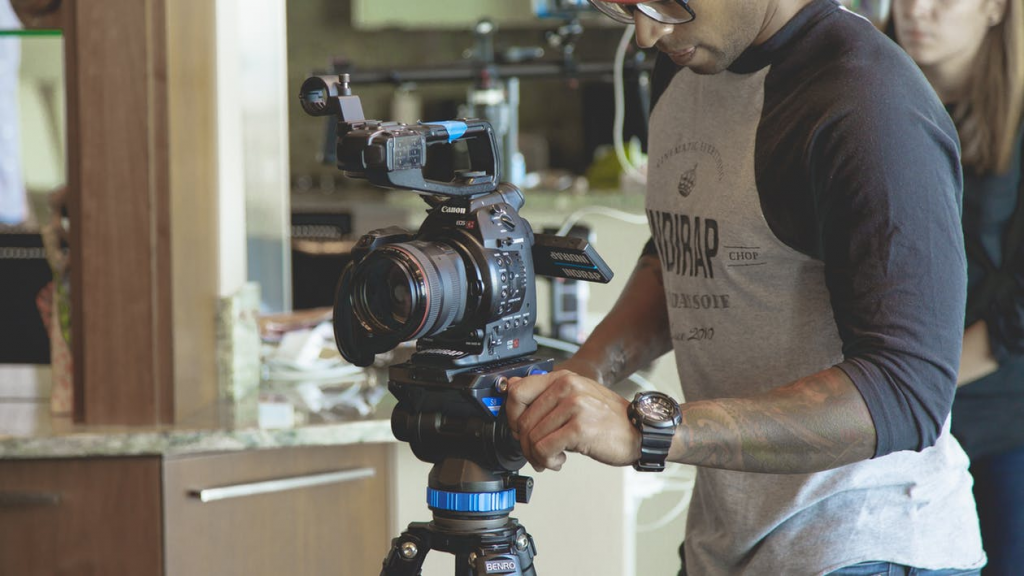 Step 5: Use SEO Sensibly
SEO is a proven way to make your content discoverable. Creating good videos is one thing and using SEO correctly renders an excellent mode of business marketing.
Bring your video to the top of search results with:
The right keywords
Meta tags
Strategic titles
Keyword-rich descriptions
Using the right keywords is most important for lead generation and increasing traffic to your website. YouTube is the second largest search engine, second to Google (they own YouTube).
Logically, uploading your videos to YouTube will help your SEO efforts. You can also improve your video view counts by embedding them into blog posts and sharing your video links on social media.
Step 6: Strategically Upload And Promote Your Videos
If you have created a couple of videos and are ready to upload, then do it! 😃
You can utilize your choice from a large number of social media marketing tools available on the internet. These tools are essential to your content creation process and help you edit and present intriguing videos on social media.
But the more important thing is promoting your video content so that it reaches the maximum target audience. Consider two things:
On-platform Optimization: You need to follow specific strategies on each platform to make your video discoverable. These include adding perfect captions within the video, correct hashtags on Instagram and Twitter, and attractive descriptions on Facebook.
Paid Promotion: Social media platforms use sophisticated tools for paid promotion. Use them to boost reach for your most important videos.
Step 7: Analyze Metrics To Optimize Your Video Marketing Strategy
This is the most important step. The performance of a video is based on analyzing statistics for:
Watch time
Shares
Likes
Comments
Each platform has different metrics to measure performance, and you need to understand them well before going to production. The used metrics for analysis correlate with your goal.
Add a call to action or website link and use the right keywords to optimize video performance. It will even allow users to watch old videos, also improving their performance metrics.
Final Thoughts On Your Social Media Video Marketing Strategy
This article explained the seven easy steps for a victorious social media video marketing strategy. Follow them, and you will be able to make the best marketing videos for your business.
The result will be increased traffic and more leads to your website.