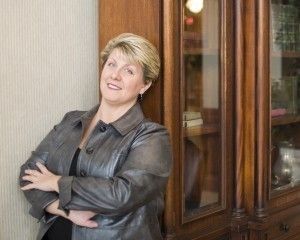 "Social Media Marketing should feel like serving a healthy lunch to friends." ~Keri Jaehnig
I am the Founder and CEO at Idea Girl Media, and am known as "the idea girl" for my enthusiasm in successfully probing creative angles to promote my causes. I have authored such pieces as, "Your 12 Step Social Strategy Blueprint," and "Podcasting For Marketing: A Smart Content Marketing Strategy."
Kay Frances, author of The Funny Thing About Stress, describes my technique: "She was able to take what was basically a murky concept for me and turn on the light bulb!"
The Global Landscape
My background includes more than fourteen years in international education connecting people globally and nurturing long-lasting relationships. During that time I was designated by the U.S. Department of State to manage and market cultural education experiences, working with merit-based scholarship winners and future leaders from both Eurasia and Middle Eastern regions. A peacekeeping initiative. It was my enlightened pleasure to train with a former U.S. Ambassador, and an Imam that consulted on Capitol Hill. This positions me well for social media marketing work with regulated industries.
As a veteran to the worldwide landscape, I've led in-depth trainings for groups outside the United States. Well-versed in engaging followers and encouraging dialogue around targeted topics, I became savvy as an early adopter of social media marketing – through email and online forums.
Social Media Influencer
Some know me as a social media leader.
First to use email marketing for political campaigns in my region.
Received Honorable Mention in the Expert category, Small Business Influencer Awards.
Managed online marketing efforts for a 4-man, highly contested political race, achieving 51% of votes.
Influencer for multiple brands sharing their marketing messages about products and services as a brand ambassador.
Chosen as a social media speaker for several organizations and events giving solo presentations and leading panel discussions.
Achieved a #1 ranked answer on Quora: How Can You Tell A Good Social Media Strategist From A Bad One Before It's Too Late.
I help business brands and public figures achieve social media success and positive online reputation.
Award-Winning Performance
Some know me as an executive content strategist. Others know me as an award-winning online marketer.
Managed back-to-back top social media campaigns that received state-level awards for a Convention and Visitors Bureau (tourism).
Received Commendation from the Senate of the State of Ohio for Outstanding Attainment in Social Media.
Earned Award for Electronic Media – Electronic Publications (Graphic Design) from APEX Awards for Publication Excellence.
Presented with Top 100 Marketing & Advertisers Award by MARsum, industry event.
Honored with a Grand Award in the Electronic Media category for the Social Media Process & Standards Guide drafted for a prominent California University, by APEX Awards for Publication Excellence.
My clients typically experience:
Increased traffic to their websites
Significant fan and follower engagement
New leads generation
Collaborative strategic alliances
Awards given by respected sources in their industries.
I am proud to say one of my clients achieved a multi-million dollar investment due to the amazing innovation from the leadership team and the online presence I created to showcase their work and share their brand message.
Newsworthy
Yet others know me as a media collaborator and social media crisis consultant.
Events I have promoted have been featured by media sources like People Magazine and 60 Minutes, as well as local and regional TV news stations.
A real estate development project I promoted was located adjacent to a ranch negatively affected by a murder that brought nationwide news attention and landed on the cover of TIME magazine. This could have tanked our efforts, but instead we were able to respond in a way that accelerated it forward with additional sales and positive interest.
It is true that the most contentious moments can be opportunities to shine.
From Another Social Media Professional
Some know me as a social media mentor.
"You pushed me to bring my A Game to the table in running my company in ways you will never fully grasp.  You keep me motivated to do my best work every day."
Those I have mentored have seen lucrative growth.
Social Media Thought Leadership
Aside from my own blog, you may have seen my work at:
Social Media Today
SteamFeed (founding contributor)
Search Engine People
WiseStamp
TabSite
She Owns It
Among others.
In earlier days I was a Sprout Social All Star – a select group of influencers chosen to provide feedback about their social media management platform.
My social media marketing insights have been featured at:
Forbes
Business Insider
Hot In Social Media
As well as several other top marketing websites, and top marketing podcasts like:
It's A Small Business World (B2BeeMatch)
Curatti On Air
Thought Leader Life
I am also mentioned in the book, "Credibility Nation: For Professionals Who Want To Be Seen As Credible."
Community Leadership
Some know me as a community leader.
Ran against 3 long-time incumbent candidates for our local School Board with a recorded margin of only 1.1% keeping me from the elected seat.
Served as President of the Board of Directors for my local YMCA.
Graduated with honors from Clinton County Leadership Institute.
Maintained active membership in the local PTA.
At a time when a regional anchor employer discontinued 8,000 jobs in my community, I raised more than $30,000 for a local non-profit in 6 weeks.
Additionally, all through my daughter's school years, I volunteered in the classroom, on boosters' committees and at events to foster positive evolution of our small town.
On A Personal Note
I was raised by service-oriented, determined parents who supported my interests in music, dance and international cultures. I am the daughter of an Army Captain and Vice President of Sales and Marketing for a Marriott Company, and a female entrepreneur.
My husband and I live in Wilmington, Ohio … where our daughter is a business manager and part-time realtor. Rob is a recovering elected official, having served four 2-year terms on our local City Council. We both enjoy wine tasting, as well as hydroponic gardening indoors, year-round. Each summer, we look forward to new varieties in our outdoor gardens … especially homegrown tomatoes.
Non-fat lattes, travel and quick wit make me smile, and I am always enthused to meet new people.
=====
About Idea Girl Media
Idea Girl media is a boutique social media marketing agency that has evolved to serve a global clientele specializing in:
Social media audit
Social media strategy
Customized social media marketing campaigns
Executive content creation
Online channel asset positioning
Online reputation management
Social media business training and advocacy
Honored, our work has been sub-contracted by other communications and marketing agencies.
Idea Girl Media has served brands and public figures in the fields of:
Apparel ♦︎ Automotive Technologies ♦︎ Education ♦︎ Entertainment ♦︎ Executive Recruitment ♦︎ Green Industries ♦︎ Government Agencies ♦︎ Home Design ♦︎ Interior Design ♦︎ Internal Communications ♦︎ IT ♦︎ Market Capital ♦︎ Real Estate ♦︎ Real Estate Development ♦︎ Restaurant Dining ♦︎ Retail ♦︎ Speechwriting ♦︎ Trauma Recovery ♦︎ Transportation & Logistics ♦︎ Travel Services ♦︎ Entrepreneurs From Several Niches
Something fun:
Keri Jaehnig – Untraditional Resume
***
Click here to learn about the 12.5 reasons to hire me
If you were led to this page from the "12.5 Reasons" page, and are ready to learn more about how we might work together, I would smile and encourage you to click to contact me so we can talk optimistically about next steps.