Note: If you do not see three tweet collections below, please hit the "refresh" button.
Are you active on Twitter?
Do you wish you could keep some of your tweets for future reference?
Good news – There are a few tools available that will help you do that!
First Things First
You need a Twitter account set up and in use in order to use these tools.  If you do not have an active Twitter account, then these tools are not for you.
Assuming you have a Twitter account, you also need to have tweeted recently, or the tools will not be able to help you curate your tweet story – a collection of your tweets.
You will also need to know a few vocabulary words:
Tweet – A post to your Twitter account.
Hashtag – A keyword or code used as a topic of conversation on Twitter.
URL – A web address; shortened or full-length.
RSS Feed – Really Simple Syndication.  This allows publishers to syndicate content automatically to online sources.  This allows readers to subscribe to an online source's content for timely updates.  There is usually an orange "chicklet" signaling an RSS feed availability.
Embed – In this instance, to place or insert a widget into your blog post or website.  Just like you see YouTube videos on Facebook – That is an embedded media.
Publish – To make the curated collection final and available to others via URL or embedded widget.
Don't have a Twitter account but want to try it and the tools described here?  Check out my tweets & contact me – I'm happy to help get you started…
Why Curate A Tweet Story?
I can keep valuable quotes from others.
This gives me another source and tool to study for tests.
Might help me preserve a fond memory.
Taking part in online conversations, or educational webinars, I've found it helpful to refer back to these tweets.
On occasion, it has helped me share valuable information on my blog.
3 Free Tools To Curate Tweet Collections
1. Keepstream
"Keepstream is a social media curation tool that helps organize tweets, Facebook posts, and website bookmarks into shareable, embeddable collection pages."
I originally learned about this tool via my Twitter stream from a friend of the company founders.  I found it easy to navigate through the functions and easy to understand.  You can add and drop or drop by timeline to make your collection.
I loved the ability to curate information from both Facebook and Twitter.  The bookmarks were of less interest to me, but the option to curate them is available.  You can also easily share to Facebook and Twitter right on their site to notify your friends once your collection is complete.
Plus, curators can direct friends to follow them to learn of updates and new collections, and the options are easy to find and use.
Currently, Keepstream supports embedding to the following:
Blogger.
Squarespace.
TypePad.
WordPress self-hosted blogs.
They are pursuing options for Posterous, Tumblr, and WordPress.com.
Here's a tweet collection from a webinar on selling from Ace of Sales:
A couple of experienced drawbacks:
My blog doesn't love the embed code.  You might have to hit refresh to get it to come up.

The Twitter API was not always cooperative with Keepstream.  On several occasions I had to come back to start over.
On the upside, their personnel are quite responsive if you tweet them for help! In addition to the above tweet collection, I also have collections from a webinar with HubSpot, and live tweets from the breaking news of Osama Bin Laden's Death.  See them here.
2. Storify
"Storify is an online platform to tell stories through elements of the social web." Storify hopes to empower increased collaboration between authors. They offer you a drag and drop option, and re-arranging is quite easy by dragging up or down in the order.  I also liked the option to add written words to the story. There are also more options to curate from:
RSS Feed.

Twitter.

Facebook.

YouTube.

Flickr.

Storify.
I used this tool to curate all of my tweets from Social Media Success Summit 2011, and a recent webinar from Mari Smith:
(I'm hoping to model the ten qualities of social media superstars).
Storify offers the opportunity to auto-publish to Facebook, Twitter, WordPress, Posterous, Tumblr, and MailChimp.
One experienced drawback – I opted at first to auto-publish to my blog.  When I found that wasn't the best option for me, changing it was not easy.  Their system would not let me automatically change this for myself, and getting someone to respond and listen was a challenge.
Another – They offer the opportunity to follow a user, but it is not clear.
Now that the issue is fixed, I love the ability to keep collections as drafts to finish later, and I really like the picture-happy widgets that are produced.  Other than the auto-publish snafu, Storify is aces!  (But I wish they offered the opportunity to include information from Facebook Pages),
3. Tweetwally
This tool is fairly new – I found it through a recent announcement on a popular social media website.
You log in with your Twitter account, and choose a #hashtag or user name to get started.  From there, you can use the keyword search and opt to include tweets from another Twitter pal to find specific tweet content.
You get to choose your tweet collection URL – cool.  Unique, they offer options for viewing including projection or iPhone.
Where the other two have white backgrounds, Tweetwally offers the opportunity to customize with your own colors, or a few of their pre-selected colorful choices.  That's what I like about it.
Here are a few tweets from a casual Twitter chat with some Triberr Tribe-mates: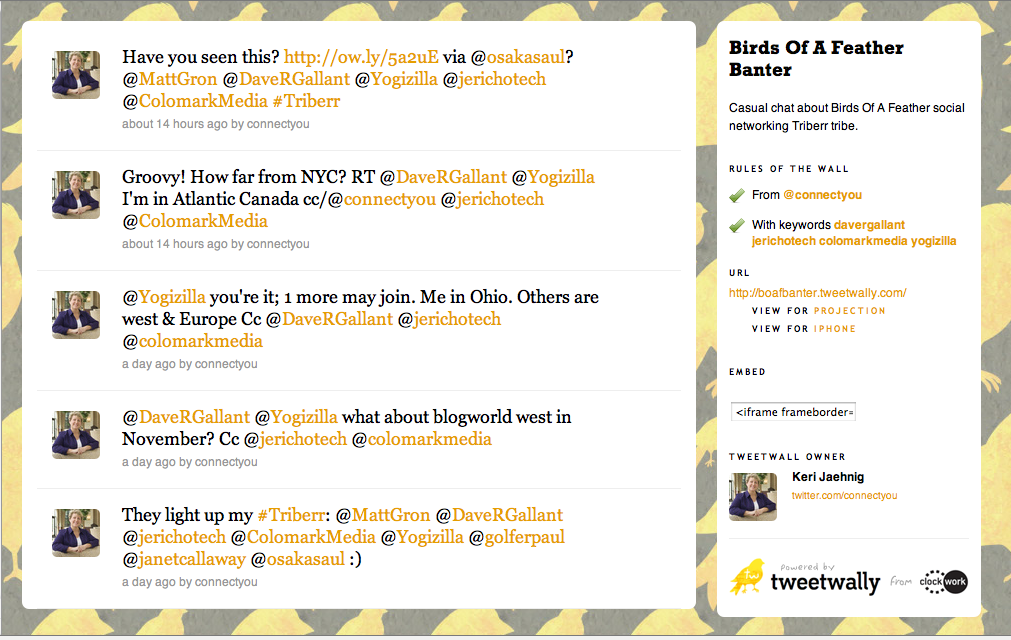 The customization is nice.
Drawbacks experienced:
The platform's instructions are not clear.
You can only have one curated tweet collection per account at a time.
If you opt to create another tweet collection, the first is over-written.
Their search mechanism did not allow me to come up with the curation I wanted, no matter how hard I tried.
On the first try, I was not able to get the desired tweets to appear, supposedly due to the Twitter API.
In creating my custom URL, it would not accept what I wanted to use, and the reason automatically given was not accurate.
Hint: Do not use capital letters in your URL.
Their response time is better than Storify's was, but their attached Twitter account is unclear to the unknowing user.  Email was more successful.
Honestly, Tweetwally has some potential, but it seems half-baked.  I came away frustrated at each interface.
In Conclusion
I find it quite helpful to keep collections of tweets.  I'm glad to have the resources above available.
My favorite is Storify for all the options and the groovy result upon publish.  But Keepstream has enthusiasm that the others do not offer.  Should they ever offer more options for curation, I think they would be my top choice.
Are there tools not on the list above?
What do you like or dislike about each?
Please tell me your thoughts in the box below…